Hire app developers – and leave nuances to experts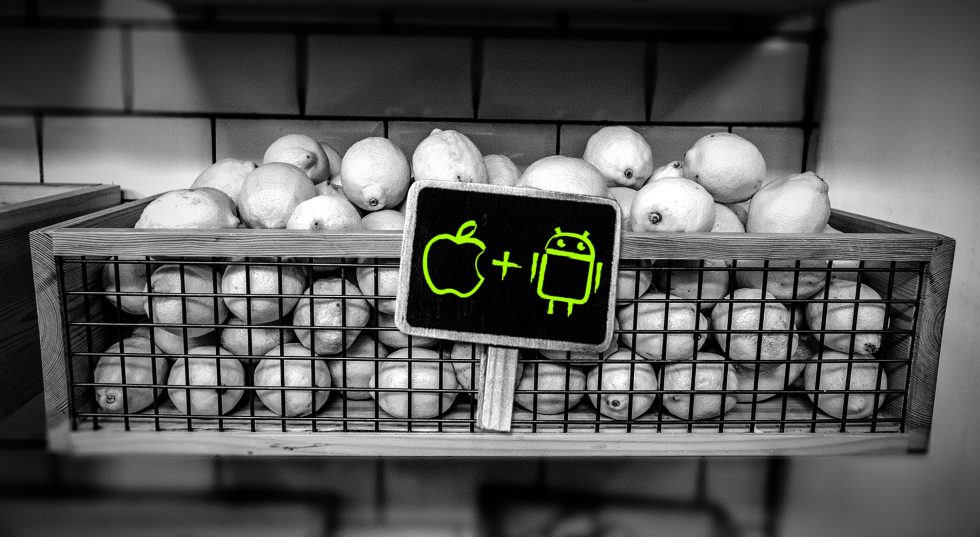 Need to hire app developers for building a solid application for your business? Stay in full control of more important matters without micromanaging the whole process. Click below!
Igor G.
// senior mobile developer
Igor has been an experienced Android developer in the industry since 2008. He would be valuable to your project as a developer or a team/tech lead.
Florin M.
// senior mobile developer
Florin is a passionate dev with 9+ years of experience. His solid hard skills are perfectly combined with business-oriented thinking and communication talents.
George K.
// middle to senior mobile developer
George has 4+ years of experience, including developing SDK for video calls and SDK for synchronization of HLS streams, real-time chat, and a car-sharing app.
Roman I.
// senior mobile developer
A mobile dev with 7 years of experience. His excellent skills and deep understanding of the business niche make him an outstanding expert for any project.
Kyrylo B.
// senior mobile developer
Kyrylo is a high-skilled iOS developer with 6+ years of commercial experience in Swift and Objective-C. Need a kick-ass app for iOS? — Kyrylo is here to help!
Jim is a CEO planning to launch a mobile application. His company is still new and lacks an HR manager, so Jim decides to hire app developers himself. «It can't be too difficult,» Jim thinks.
Now, he's spent five days straight browsing through resumes, and he's still not even close to hiring an app developer.
You, on the other hand, can start your work day confidently. Plan the launch of your app while jogging in the nearby park. Cycle to your office listening to how Nathan Latka grills yet another startup founder in his podcast show. Skim through your company's yesterday stats, making sure it's doing great. Enjoy your morning coffee – it tastes especially good when flavored with a pinch of daily success.
And when you need to hire app developers to build a solid application for your business, you know that you don't need to understand all the subtleties of programming. With us on your side, you can stay in full control of more important matters without distracting yourself to micromanage the hiring process.
Think you can hire app developers
on your own?
Then answer these questions first.
Can you make random strangers work as a team?
You will need to make a bunch of devs who see each other for the first time work as a team. It's a pain in the neck. You already run a startup and have your own staff to manage. Do you want to hold a team of strangers by the hand all the time?
Or would you rather delegate this hassle to someone who makes a living on recruitment, instead?
Do you know what language will work best for your mobile app?
Here is the sad truth. Just like in web app development, for each mobile platform there are multiple programming languages used to write mobile apps. Guess who will have to spend weeks figuring out the nuances of developing apps in Java, Javascript, React/React Native, Kotlin, Objective-C, C#, Swift, etc?
You don't have to do this, really. Contact us.
Do you know how to lower additional development costs?
You will have to choose devs based on their rates in addition to their skillsets. If you thought to hire in-house devs because they are reliable and work well, think again. When you work with in-house devs, you automatically add extra costs to the overall price of your mobile app:
Equipment

Paid vacations & sick days
Speaking of salaries
In-house app developers in the US cost a lot, regardless of whether you are looking on the West coast or East coast.
Palo-Alto area annual rates are so crazy we're not even listing them here.
Besides Palo Alto, the most expensive mobile app development in the US is in San-Francisco. Generally people there will expect you to pay them up to $98K annually.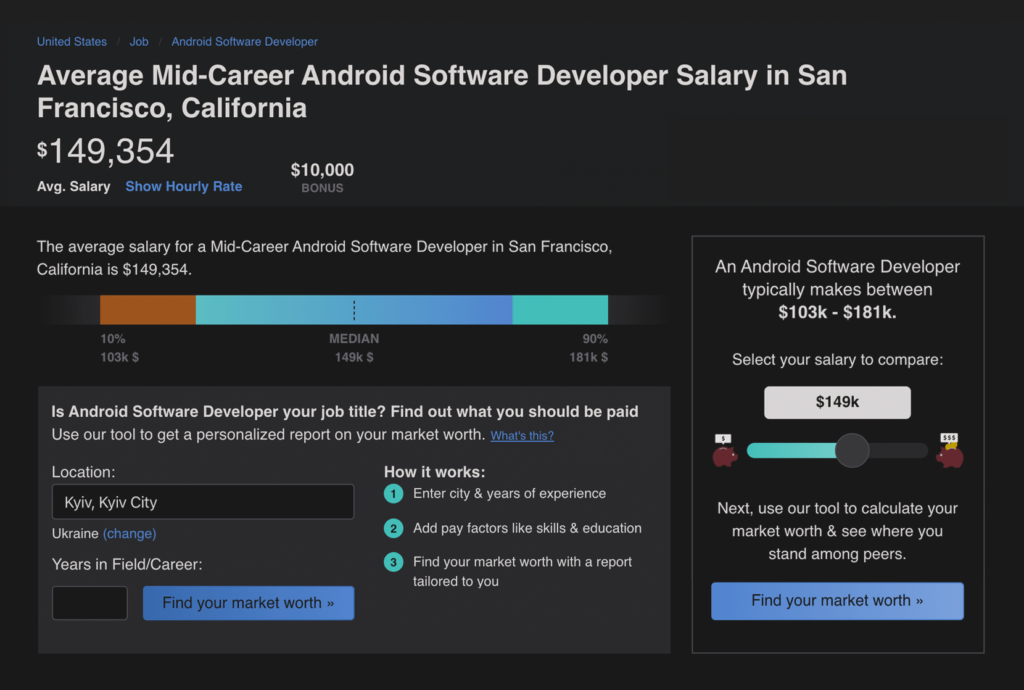 These rates are closely followed by those in New York. An app developer in the NYC area earns on average $88,563K per year.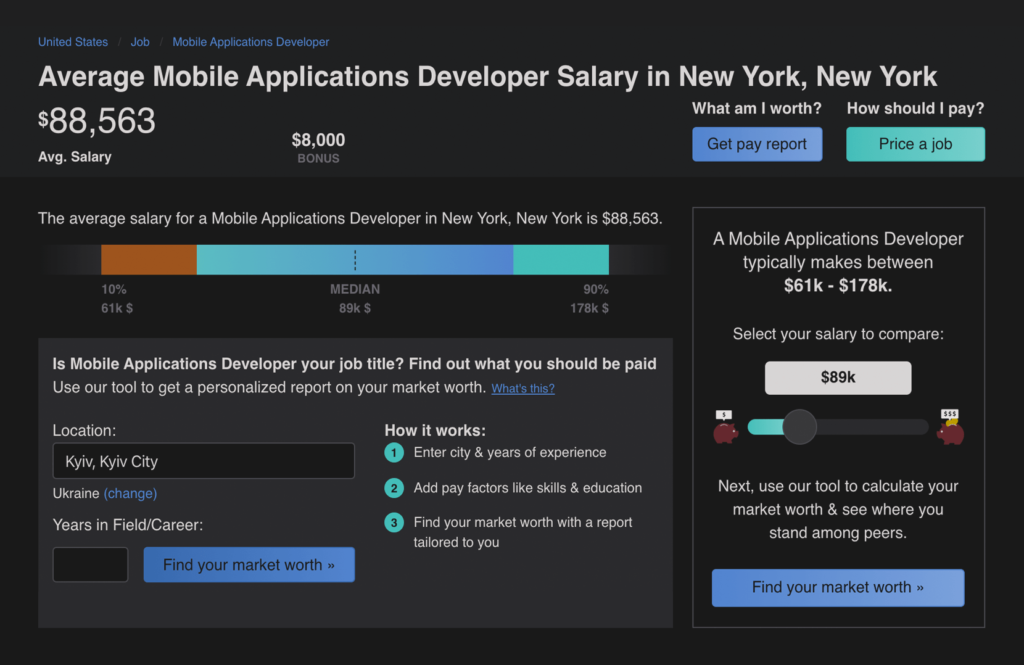 Mobile app development in Chicago is more affordable and costs about $76K per year.
(Just remember that when we say «more affordable» we mean «still expensive, but at least you'll have enough money left to buy a cupcake.»)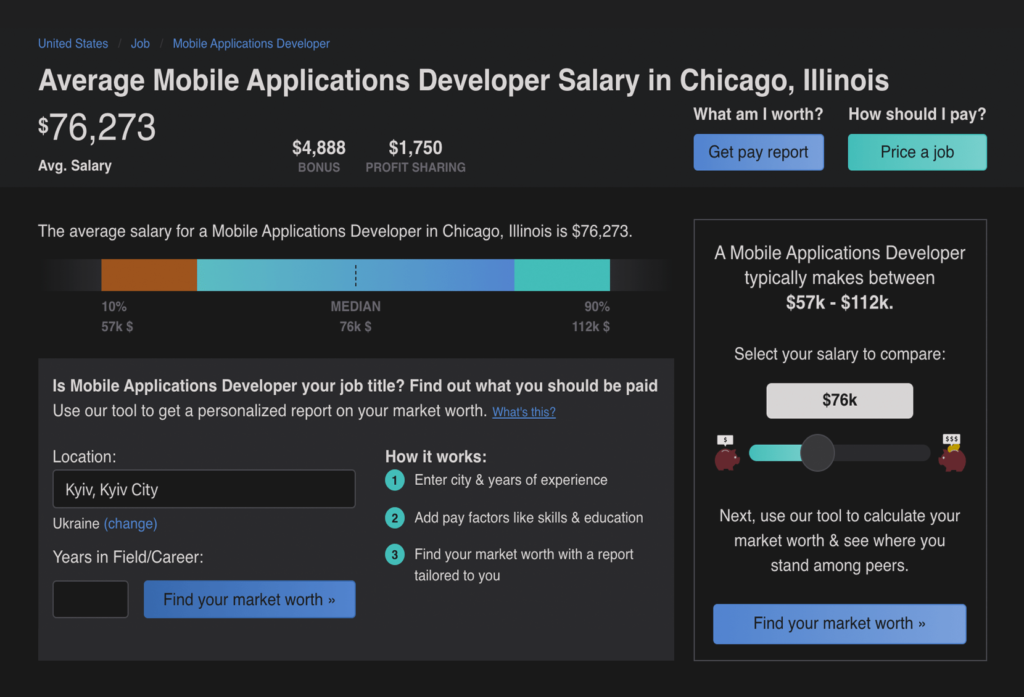 Half a year ago, Atlanta, GA used to be a state with more affordable app developers, compared to other states on this list. Now, it's going to cost you $82K to hire an app developer there.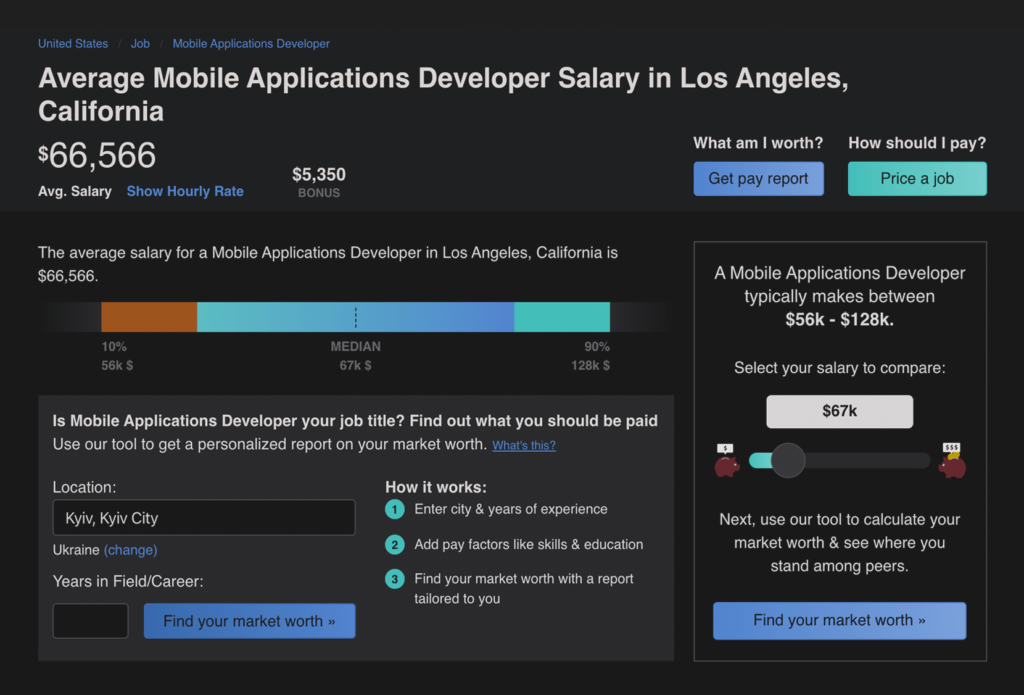 It looks like hiring in the United States can cost you a fortune. A team of just two app developers hired in New York will expect you to pay them $170K a year. And probably, this is going to be a year of development. Creating an app is not that easy, and you will probably need a larger team to speed up the process.
And we're not even talking about the costs of working with app development companies! Perhaps, when your business grows old and mature, you will be able to afford the luxury of an app development company. An average mobile app development agency has staff to sustain, taxes to pay, and operational costs to cover. Guess who will be paying for all this?
Now, when you are starting out and every dollar counts, an agency might not be the best choice.
Cheap alternatives don't turn out well
If you're thinking of hiring in India, think twice. Indian developers are well-known for how low their annual salary rates are. Before you type in Google, "Hire mobile app developers in India," consider these important notes:
High-quality app development can be more or less affordable but is never cheap. Regardless of the country, qualified app devs will charge you for the value they provide.
The lower you pay, the poorer quality of work you get. It's an axiom.
Fair trade is always better than profiteering. So do pay fairly. You don't want to develop your company exploiting the labor of those who are forced to work for pennies.
Here is what awaits your app if you make poor hiring decisions
If you feel like you lack hiring experience, chances are you hire an inexperienced or unskilled developer. A freelance app developer who is not competent enough can subject your app to a number of unnecessary problems such as: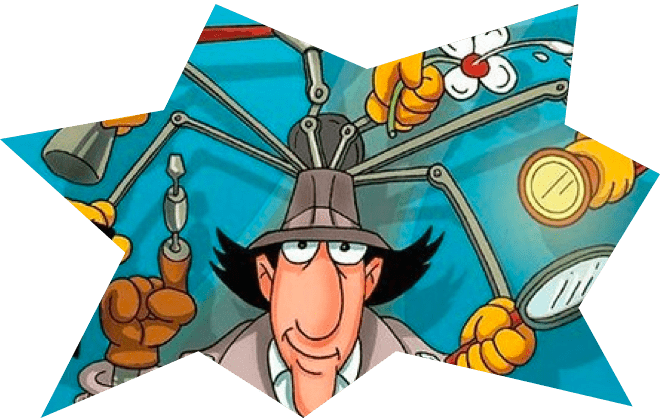 Trying to build a poly-functional suite that flies to space and orders a beer. A simple but focused app is more than enough.
A lack of beta-testing. This can cause the final version of the app not working as intended, lacking functionality, malfunctioning, etc.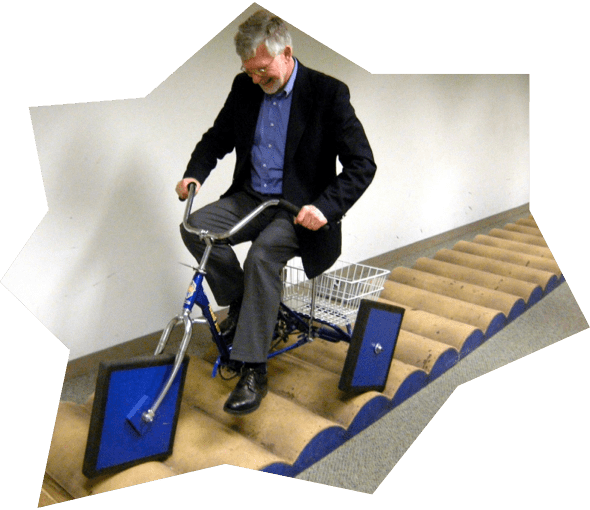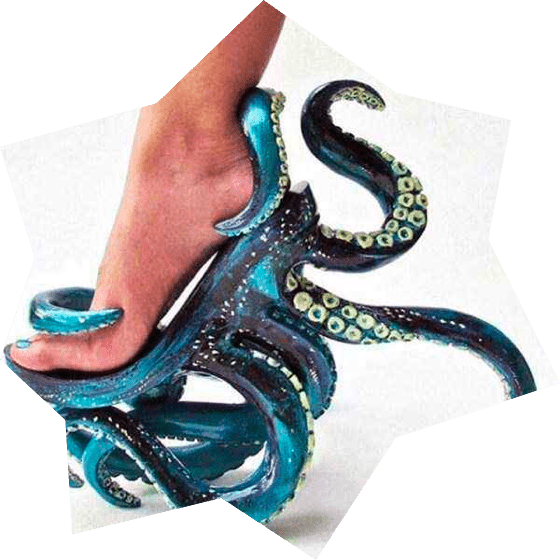 Neglecting functionality in favor of UI/UX, and vice versa. It's never good. This is why you need a team of devs: to do both sides of the development right.
Developing for too many platforms at once. This leads to expenses, optimization issues, and missed deadlines (because in many cases devs need to write code for each new platform from scratch).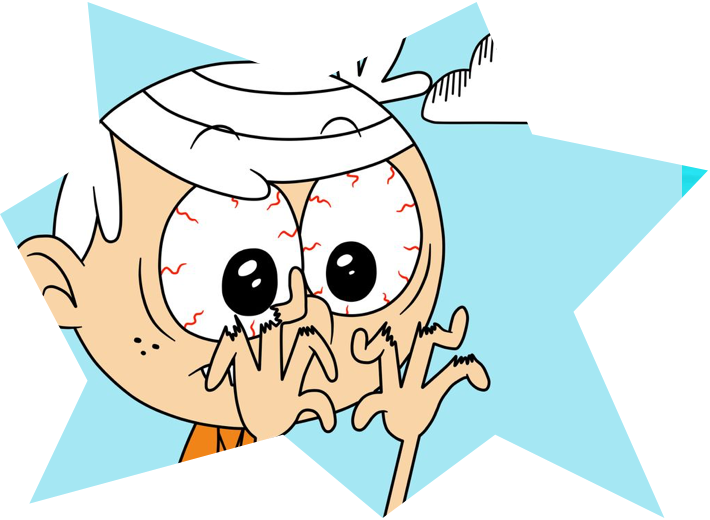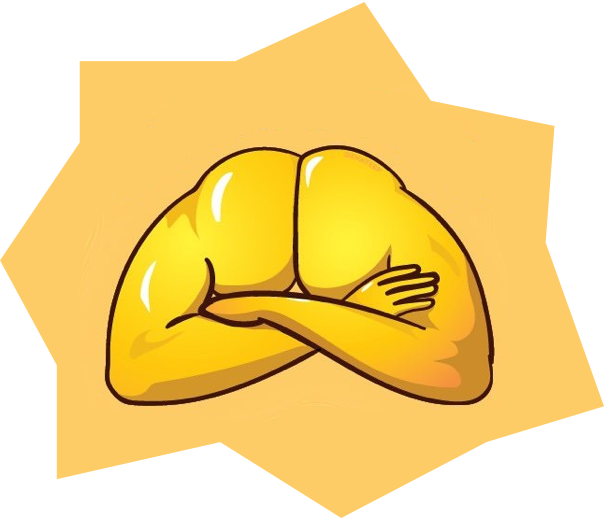 Bugs,
spaghetti code,
poor technical execution.
The fastest way to start developing your app now
You tell us what you want, we tell you whom to hire. We are a freelance marketplace for vetted developers. We do this for a living.
Before you tense up because of the F-word, know that we completely negate nearly all known risks of working with freelancers. However, outsourcing app development with Lemon is perfectly safe.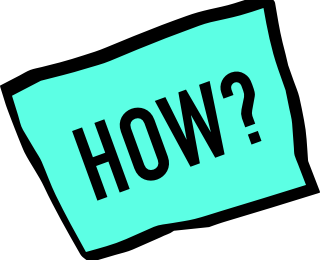 We've already hired 350+ developers for you
We've already hired devs for all possible tasks, mobile app development included. Many of them are used to working together in teams.
If you are unsure whom you should hire and what platform you want an app for, we'll help you make an informed decision.
We'll help you to select the best possible dev
98% of our customers hire the first freelancer dev we offer them. If you know you want an app but have no idea what developer you should hire, just rely on us. Lemon.io knows what's best for your project.
Combine skills of multiple devs for maximum result
From Megaman to Ultra-Mega-Mega-Man. Our broad talent pool allows you to get all-star developers to work on your specific tasks. We'll help you choose the right specialists for your project.
Hire at 50% of US developer rates
We mostly vet and hire app developers from Ukraine and Eastern Europe.
Compared to the US, Ukraine has a 40% lower cost of living, which results in lower salary expectations.
On the other hand, as a European country, Ukraine has high standards of quality and developed work ethic.
For you, it means that you can find app developers for as low as 50%
of the US rates. Just check out the hourly rates of our freelance developers:
$40
Mobile Apps
Development
Many mobile app developers do the coding thing just to make a living.
Ours don't.
They eat app development, drink app development, breathe with app development, and marry app development. Their children are app development, too.
Here is how we make sure of it.
If a candidate fails a single stage (even the last one!) we never hire them. Yep, we're that badass.
Solve any project-related issues right away
Our customer support gets in touch with you the moment you ask for assistance. It stays with you until you say, «Thanks for the help, it's okay now.»
We constantly monitor the work of our freelancers when they work on your projects. Join us, it's fun! We have a special time-tracker that lets you keep a record of the number of hours a dev spent working on your mobile app. If they slack off, you'll know it.
(Trust us, they won't. We have cameras installed all over their homes. We've taken their favorite waifu pillows hostage. They have nowhere to hide. Lemon is omnipresent.)
App developers you can hire right now
We've already selected some app devs who'd make a great team. Together, they can create an app your users will spend hours on. They can work on your order right away.
Whom do you choose?
TL;DR
Lemon knows everything about app development.
We have front and back end developers who know all possible languages used for mobile app development.
We are a freelance marketplace with a strong emphasis on vetting and quality assurance.
Our prices are affordable because we hire developers in Eastern Europe.
We support and accompany our clients while they work with our devs.