Lemon.io Review:
Check Out Our No-Filter Selfie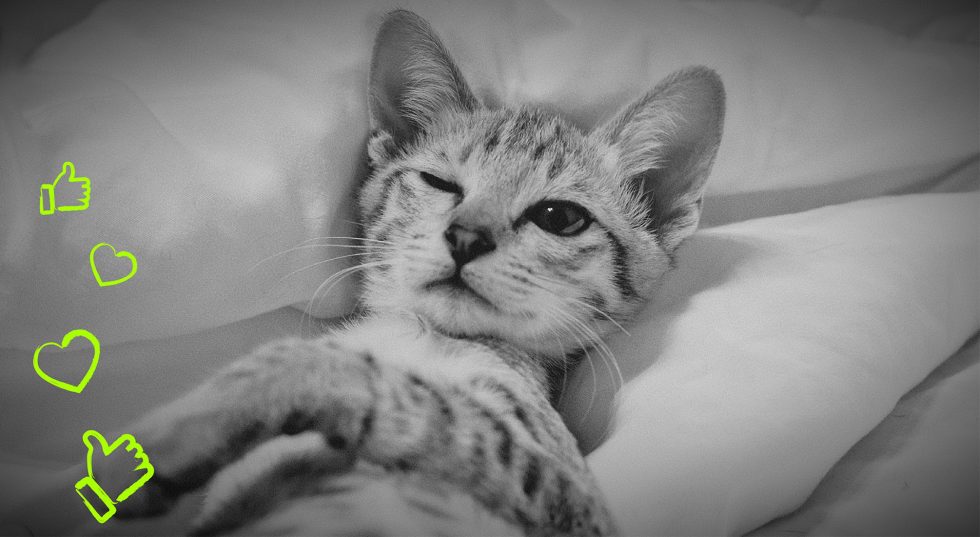 Lemon.io goes against the rules and reviews its own services. Lay hands on some inside info about Lemon.io. Do your best to convict us of lies.
Here's a table of contents to help you quickly get to the section of the Lemon.io review that interests you the most.
One-stop talent platform review
Disclaimer!
Yep, we're reviewing ourselves.
You might think we're pressing the Like button under our own selfie.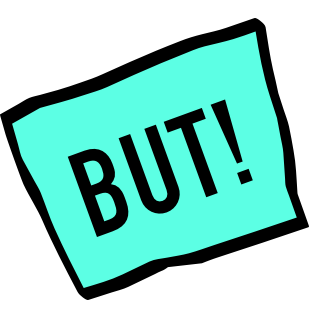 We did our best to stay objective and unbiased in this Lemon.io review. We are perfectly capable of critical introspective analysis (whatever that means).
Our content department interviewed other team members about their work. Whenever we make a bold statement about ourselves, there is a quote by another team member to support it.
Now, see how Lemon.io ticks from the inside.
The 911 for your project
Hiring on regular freelance platforms is often like Russian roulette. If you are unlucky, you hire the wrong person, who can potentially ruin your entire project.
That's because generic freelance platforms rely on bidding. When freelancers registered on it start applying for your job, you must manually review their bids (rates, terms, portfolios, and testimonials from other users). This is time-consuming, and you may run into a scammer or mishire.
Contrarily, when you recruit on platforms for vetted developers, it's like calling 911:
You have a problem
You make a call
Trained professionals
solve your problem
When you submit your job description, a tested, qualified engineer is ready to work on it. The platform needs little time to find them in its talent pool.
Lemon.io is an illustrative example of such a platform.
Small but efficient
So, what is Lemon.io, exactly?
Unlike our bigger competitors, we are a company of just 71 people who work and hang out together.
Our talent pool currently consists of 1000+ remote developers whose personal and professional skills have been verified prior to hiring.
Someone would say it's not much. That is true.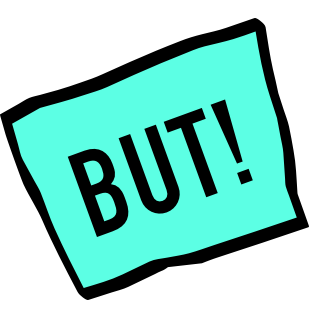 We personally know all developers from our database. We know what they are great at and what they suck at. We know what inspires and concerns them. When you submit your job description to us, we know which one will be the perfect match for it.
Besides, if you've ever played video games, you know that a smaller size often means great agility. We believe we have the fastest matching among other vetting platforms.
What we promise you
You get a specialist within 48 hours
Minimum actions are needed on your end. Just submit your order description and tend to other matters. The next day, you will have an engineer for your project ready and able. Their experience and skills will be the perfect match for your needs.
Sometimes our standards can get us into tight spots. Yevgeniya Kruglova, our Head of Talent Acquisition and Strategy, recalls one of the many cases when we were in a pinch:
We had a case when one of our React devs was finishing a project, and got booked by another customer. Suddenly, the first project our dev was working on got prolonged, and we had no suitable substitute for the second customer.
This was completely out of the blue. A real emergency, with alarm sirens and all that. We had to launch our secret referral program to fix the situation. Basically, we asked our devs to recommend other good devs to us.
We found a developer, and within half a day, we tested and interviewed them twice. The next day we introduced this dev to our new client. They have been working together ever since, the project is still in progress.
No hiring or management experience needed
Even if you have zero experience in hiring and managing remote developers, engineers registered at Lemon.io got you covered. They work proactively and don't need to be instructed on every little detail. They can also consult you on how to make the best possible use of their talents.
And we'll be there to back you up if something doesn't go as planned.
Perfect price/quality balance
The study we did in Feb 2020 – Jun 2020 shows that American companies hire freelance developers in Eastern Europe as often as in the US and Canada combined.
Why is it so?
Because Eastern Europe means quality of work standards that are close to American. It also means decent rates and Western work ethics. 27% of the companies repeatedly hire devs from this region because of the great previous experience.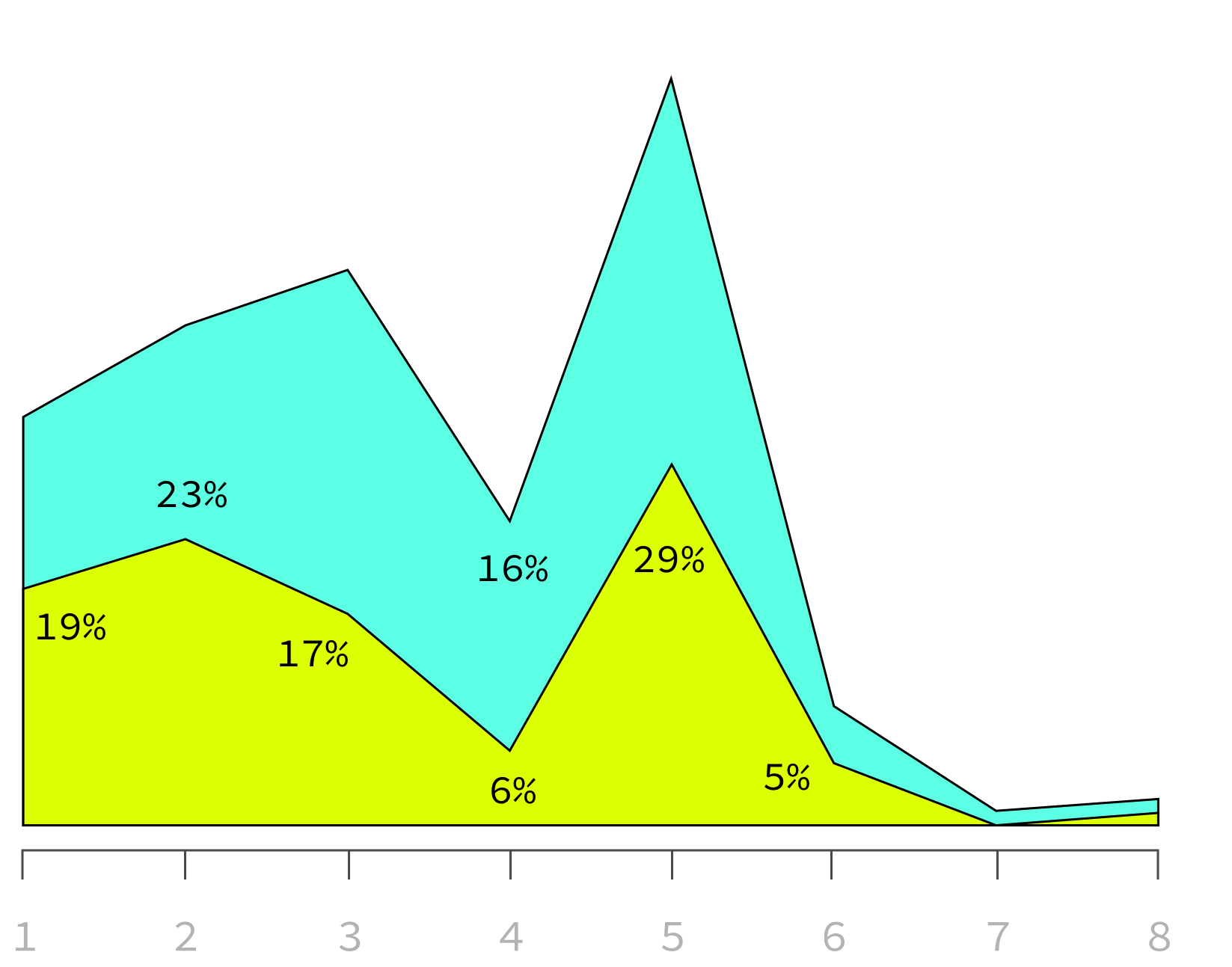 1.

They have the best rates

2.

They have the biggest pool of talent

3.

Because of the language spoken/communication specificity

4.

The location is in the most convenient time zone for me

5.

I have great previous experience with developers from there

6.

I've heard only good references

7.

I have no preferences

8.

Other

This Lemon.io company review covers the prices in detail later.
No hidden catch
We aren't a big platform. We have limitations. Sometimes, there might be no dev available to work on your project. Or no master with a required skill set in our talent pool.
In such cases, we will honestly inform you about it. If it's the only way we can help you, we will direct you to other platforms that might have the candidates you need.
How Lemon.io makes it possible
Better safe than sorry
So, how does the Lemon company work?
We never hire people based on their portfolios or recommendations alone.
Lemon.io is a talent platform that matches customers with verified remote developers. The verification is done through the special screening process and is called vetting. Unlike the bidding platforms (Freelancer or Latium, to name a few), developers who want stable workloads and decent payment apply to cooperate with us. Before we recruit them, we test our candidates on multiple criteria. Those developers who successfully pass all vetting stages get hired. When you submit an order to us, we select one (or several) of our champions and assign them to your project.
A weird genius? Give us two, we hire
So, who are the devs we recruit?
Mostly, Lemon.io developers are from Ukraine and other Eastern European countries. During the vetting process, it often turns out many of them are workaholic fanatics of programming. Also, half of the devs in our talent pool obsess over pet projects of some sort: games, apps, websites, etc.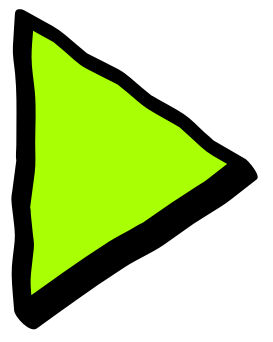 Together with our Talent Acquisition team, our CTO Anvar Azizov personally interviews every dev applying to work with us. Here are some things that sunk into his mind:
People code all kinds of weird stuff. Like, an AI that can predict the results of Dota2 games. Or a chess clock that can keep track on the turns players take. We even had a guy who created himself a smart house –– something about automating the heating system with Arduino micro controllers. Or, there was a dev who created a messenger specifically to chat with his wife.
We pay so much attention to pet projects because we believe they are a good indicator of a developer's dedication. You must really like to code if you do it apart from your work duties, for free.
Our developers speak good English, and both their hard and soft skills have been approved by our talent acquisition team.
The insides of our vetting process, revealed
To make this Lemon.io review even more credible, we're unveiling our Holy Grail – the vetting process.
To make sure we find you the best of the best developers available, we make them undergo a series of testing procedures:
I was outreaching for WordPress devs on LinkedIn, and found this guy named Aleksandr, a graduate of Kharkiv Polytechnic Institute. He passed the initial English test, and I scheduled a video call to interview him and check his soft skills.
When it's the call time, I wrote Aleksandr in Ukrainian, "Okay, are you ready?" And he's suddenly like, "Sorry, I don't speak Ukrainese."
Turned out his name was not Aleksandr, and he was Chinese.
Well… nope. Usually, the questions we ask are rather typical, because we want to get a grasp on the candidate's capabilities. Like, we ask if they ever had experience of remote work, working in different time zones, stuff like that. We also want to know how they can manage time and cultural differences, what technologies they prefer to use, and why.
However, many candidates never reach the interview stage. On average, out of 100 candidates, we distill 4 worthy champions this way.
How much does it cost?
What's the average Lemon.io hourly rate?
So, what salary does Lemon.io company offer the devs?
The Lemon-offered developers are ready to work for $45 (mid-level devs) –$80 (senior-level devs) per hour. We have many middle- and senior-level devs working with different technologies. Here are Lemon.io rates to facilitate your calculations (the lower bar is for mid-level pros, the upper one is for seniors):
$55-$80
React Native, React, Node.js, Ruby
As you can see, the pricing is rather affordable. For comparison, developers working for industry leaders tend to charge about $60–$150 per hour.
Fees and commissions
Lemon.io company is a mediator between customers and developers. For the time and effort we make to distill the best remote developers within our reach, we take a 20% commission.
Think of us as your sidekicks on a small salary.
In the time of need, when the COVID-19 pandemic threatened small businesses around the world, we cut our commissions and encouraged our devs to lower the prices, too. We called it a Don't Panic! offer and focused it on biotech, med, and logistics startups, to contribute to the global fight against the virus.
Is Lemon.io legit?
It would be strange if Lemon.io review written by Lemon.io authors blatantly claimed, "Yes, Lemon.io is legit."
We believe testimonials and references from satisfied customers work better than anything we say about ourselves. We've gathered a small collection of reviews from Trustpilot and G2Crowd to illustrate the claims we made in this review.
Some of them mention Coding Ninjas – this was our old name before the rebranding. The team, the professionals, and the quality of service remain the same.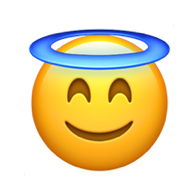 The good
So, to start with, we are proud to have 98% of positive reviews on Trustpilot (out of 60), and 100% of positive reviews on G2 Crowd.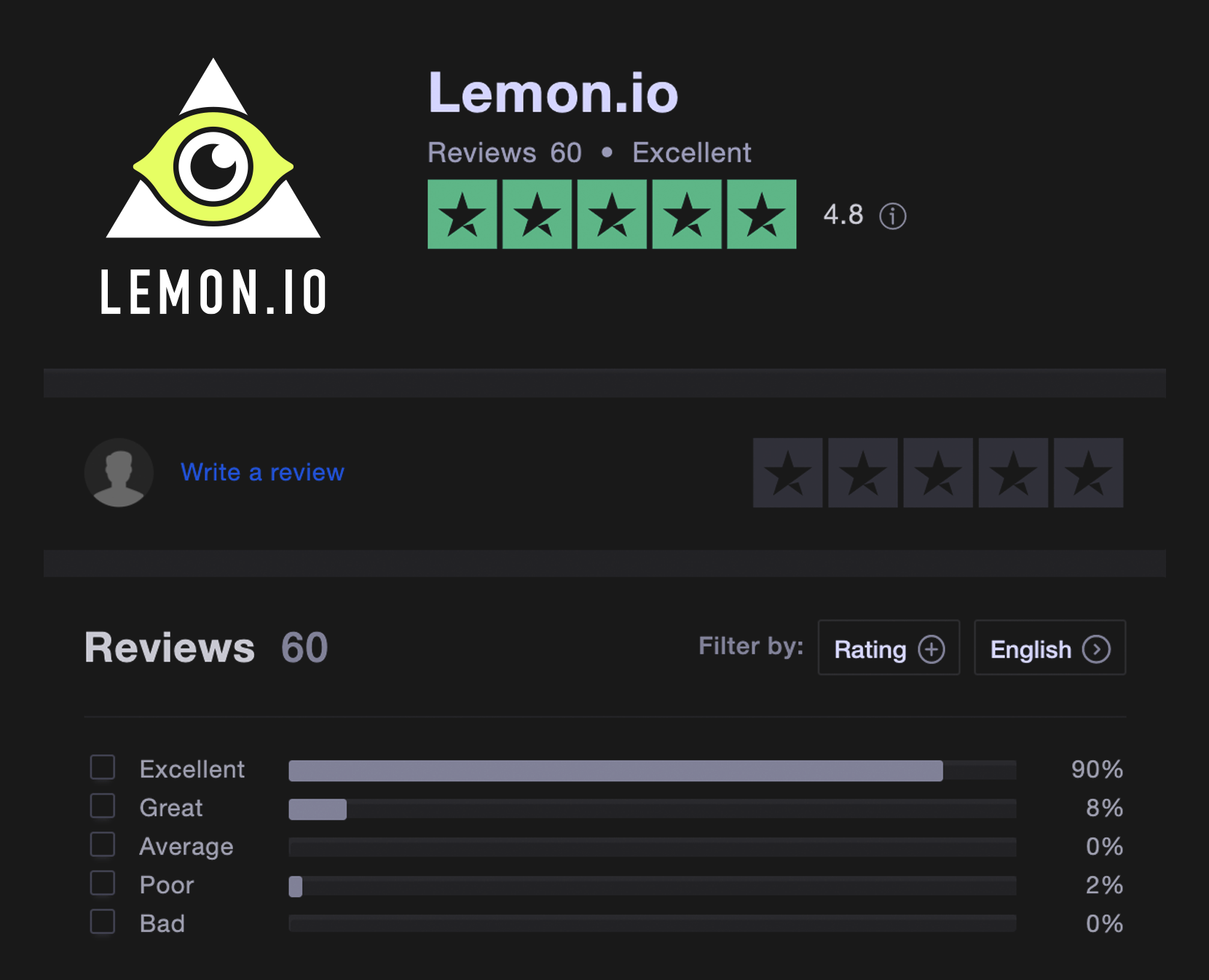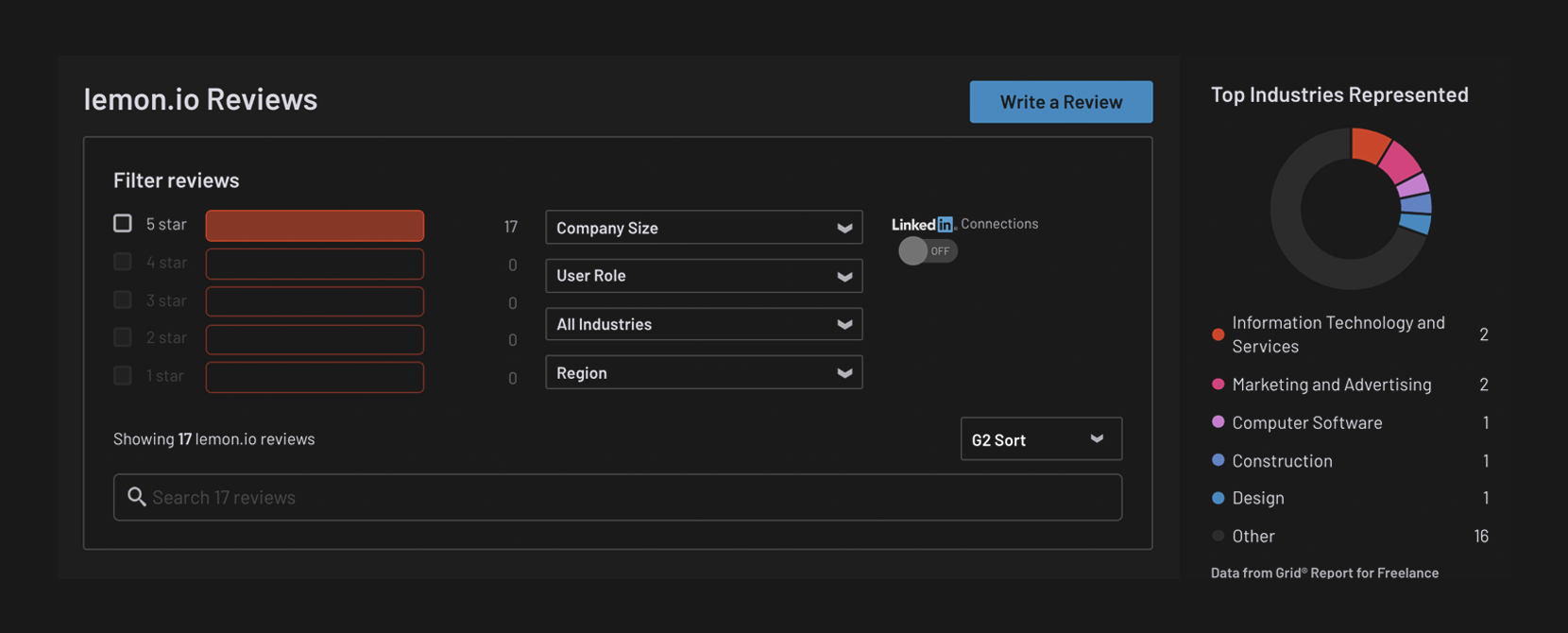 Many returning customers and clients have been working with us for years.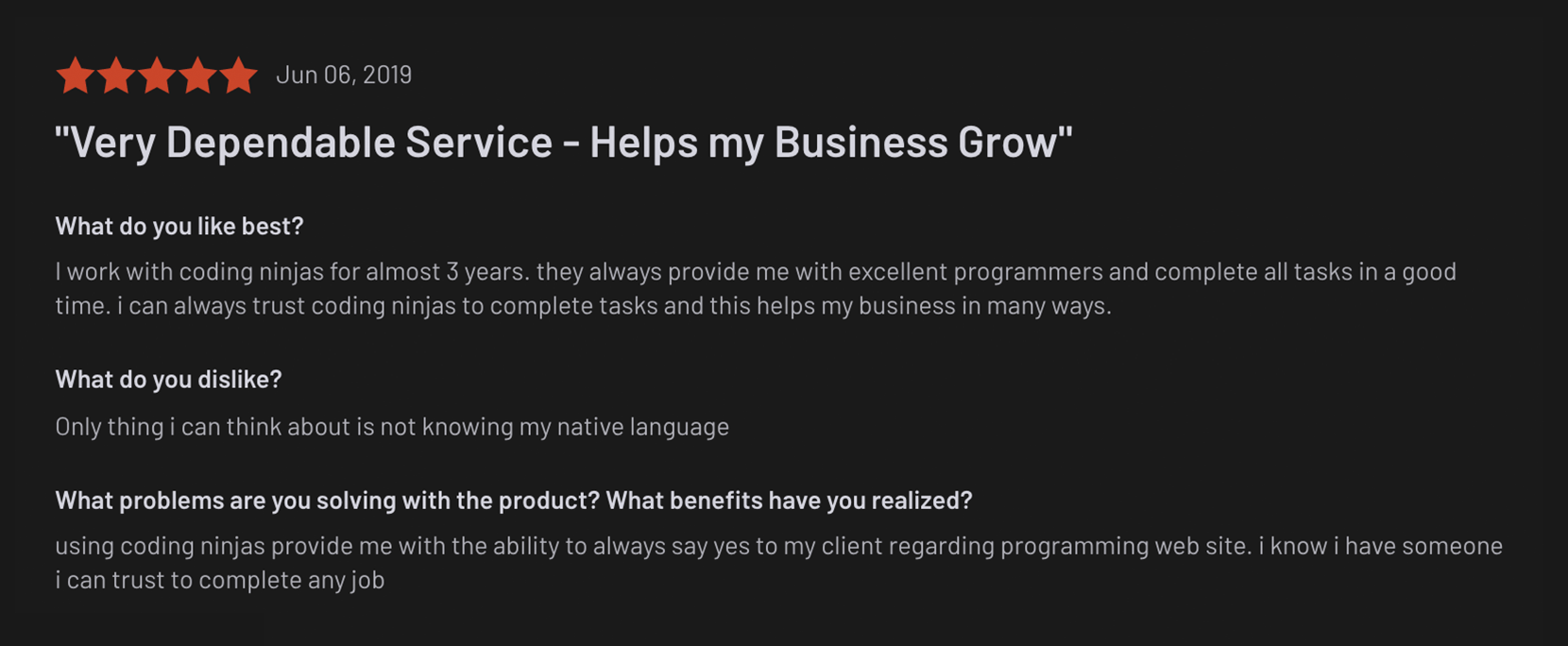 Customers often commend us for the fast matching, good rates, and qualified developers that we provide.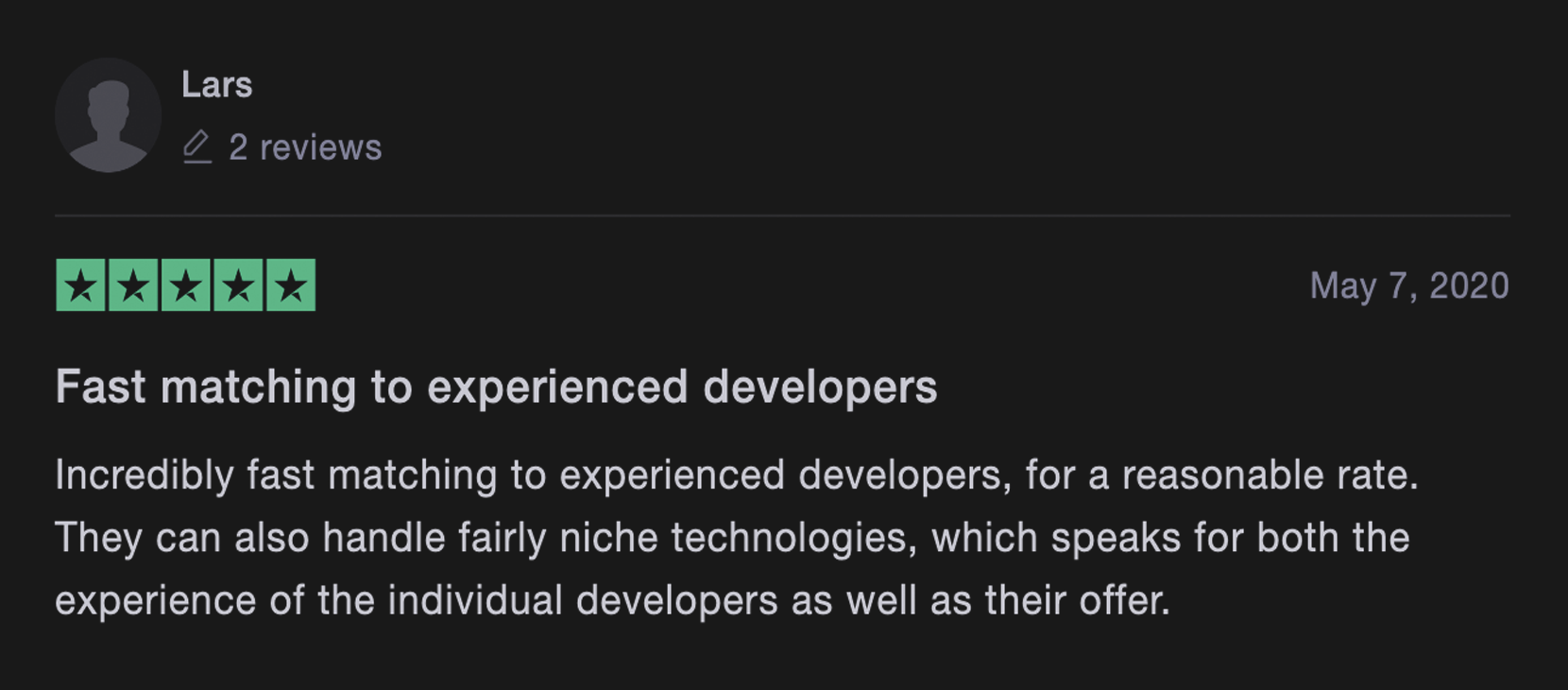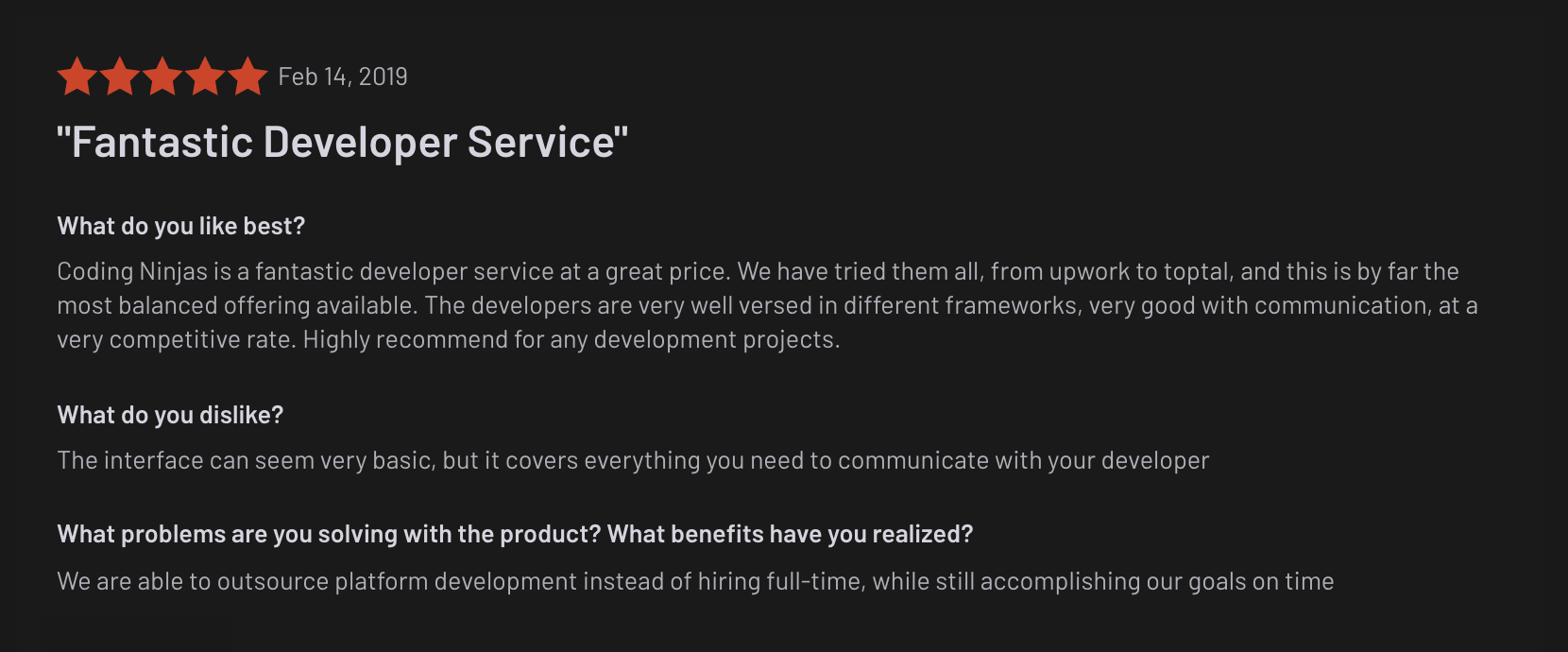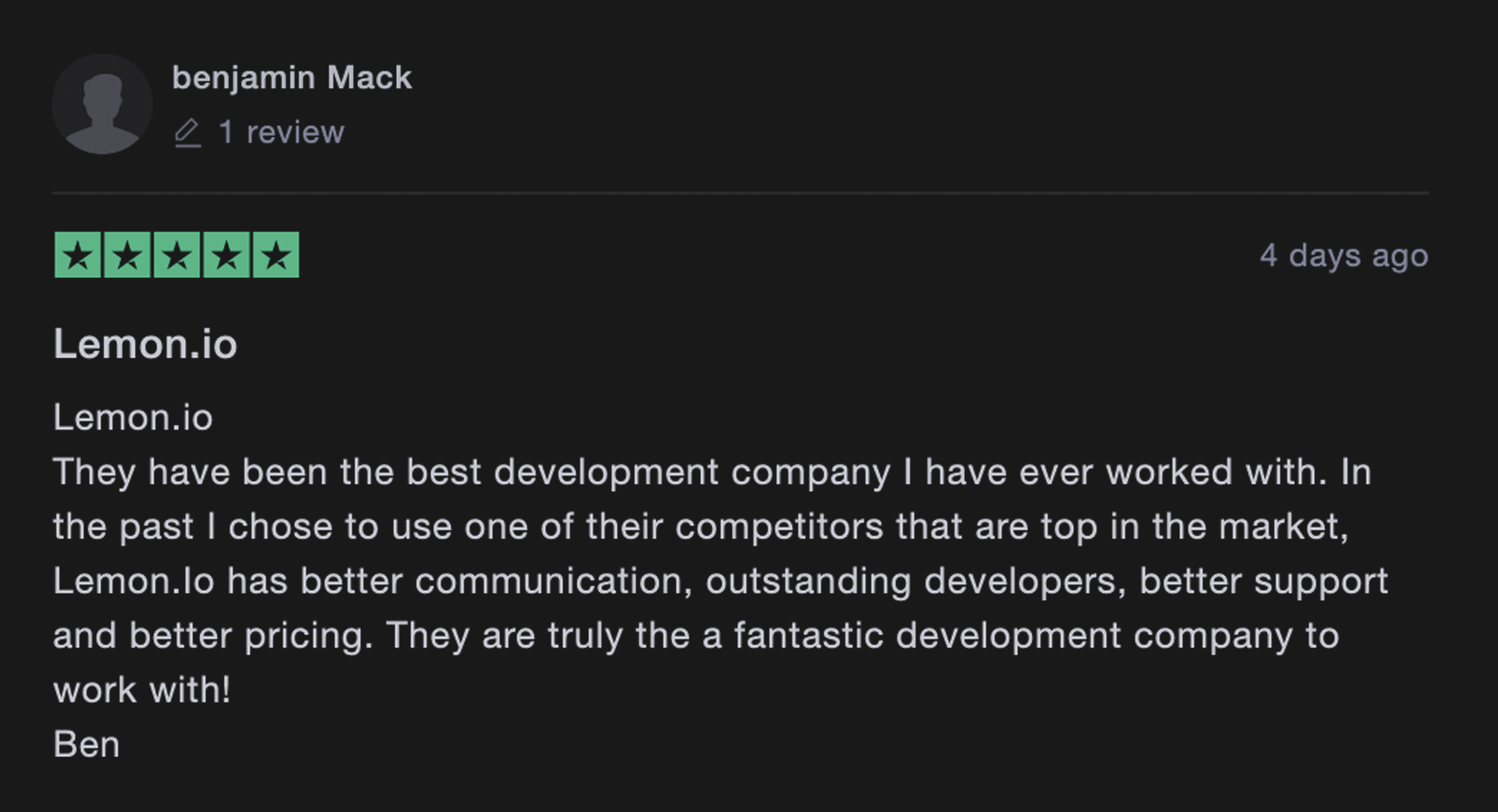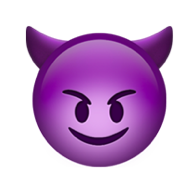 The bad
Yet, to achieve true perfection we will probably have to meditate for 20 years high in the mountains (not now, though, we've got tons of work to do). Two of our customers had poor experience with us – at least, poor enough to leave negative reviews.
For example, this person on ProductHunt thought we were a scam because we failed to get back to them.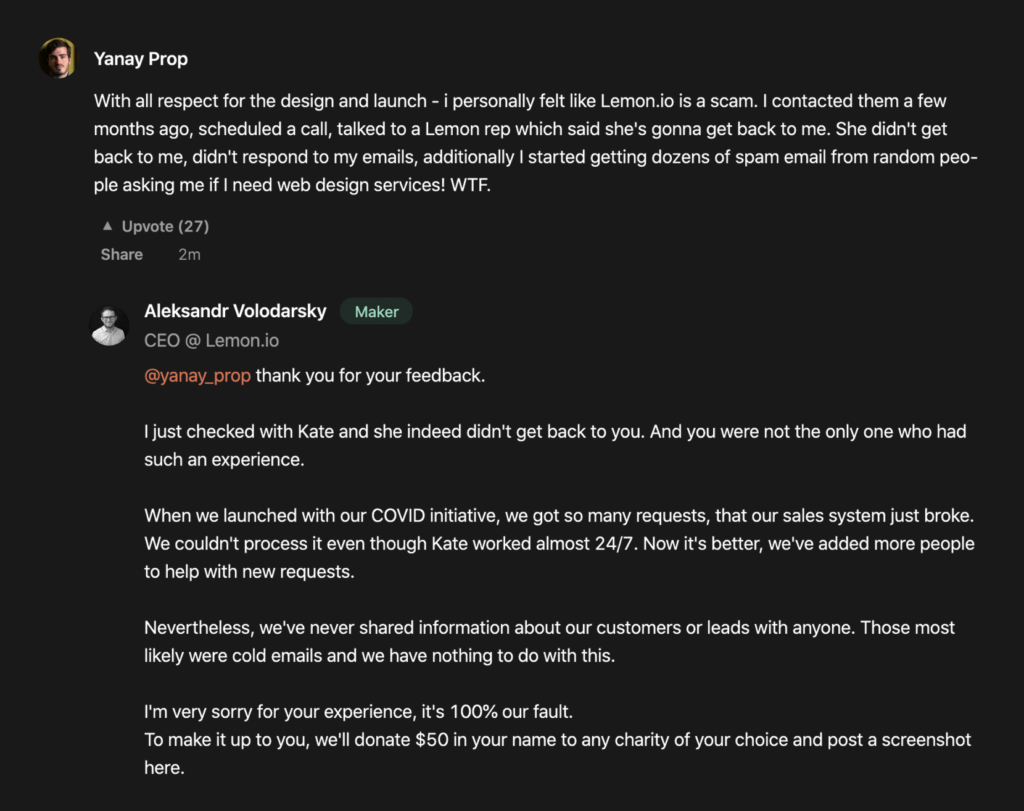 We really messed up there, but only because we had too many clients at that moment. We are a small team, and our sales system could not handle the unexpected flood of orders we got. Since we launched the Lemon.io company, we've been experiencing rapid and constant growth, which sometimes highlights our weak spots. We've learned from our mistakes and restructured the whole sales process.
Another person complained about the quality of our services:
We believe the problem occurred because of miscommunication and worked hard to avoid it in the future.
These two were the only negative reviews we could find regarding Lemon.io/Coding Ninjas. If you find more, please let us know.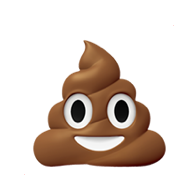 The ugly
Honestly, we couldn't find any. To make up for this, here's our content writer's cat.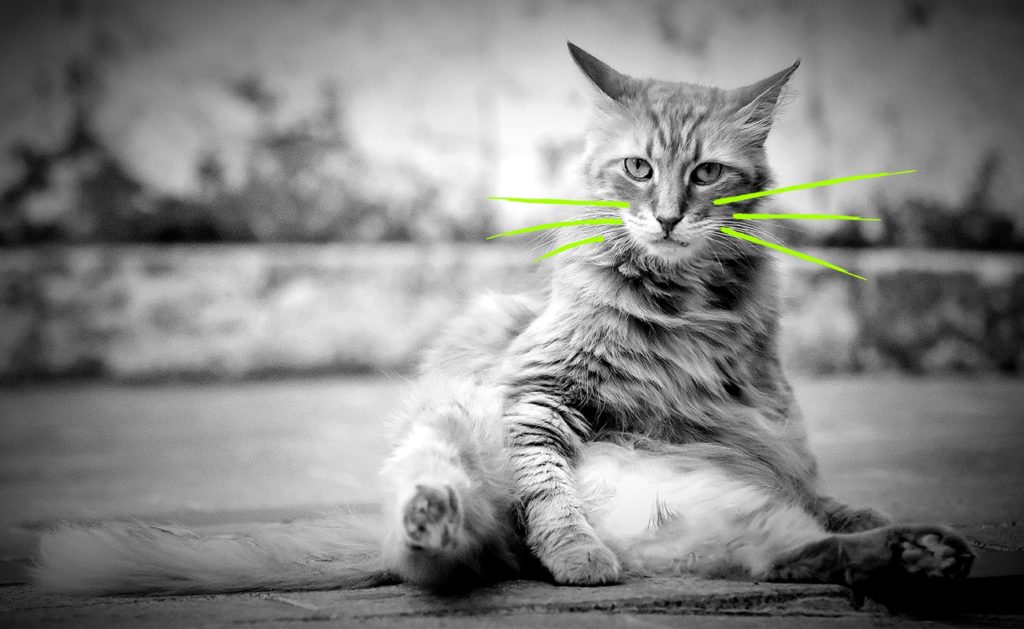 How safe is it to use Lemon.io?
Of course, now you can ask yourselves, is Lemon.io legit with such low prices. Worry not. We are 100 % legit (see the reviews above).
Most of us live in Ukraine, but we are an American corporation registered as a Delaware C Corp under the name Coding Ninjas (the way we called ourselves before the rebranding). We own the Lemon.io company trademark and the lemon.io website.
We work under the terms of use which fully comply with the existing laws of the United States. Developers who register on our platform agree to work according to these terms. They regulate how our developers work with clients and how they charge them. They also state that all the intellectual property belongs to the client as soon as they pay for the job. Engineers have no right to disclose any information related to the client's project – even if they've just looked through the order details and chose not to work on it.
We do our best to provide you with the best possible customer experience. Here are the four major ways in which we do it:
thorough vetting of developers
quick and precise matching
responsive customer support
free replacement guarantee (if you do not like working with a developer we provided, or if they cannot continue to work on your project, we will provide you with a free substitute).
How come Lemon.io is so affordable?
The main ace up our sleeve is that we are located in Ukraine. Living here is 40% lower than in the US or Canada.
Salaries comprise about 90–95% of our maintenance costs. We also save quite a lot of money by bootstrapping marketing costs and expensive operations.
And we don't need an office (who does, anyway?)
And, Lemon.io fees are way lower than our competitors' (check Turing.com, 99Designs, PeoplePerHour, or other Lemon.io alternatives!).
As of August 2020, our overhead expenses equal $60,000. This is super-low compared to our competitors, which is why we can afford to offer you such low rates.
Slavic names look unpronounceable
That's because we call each other by moose roars and owl hoots.
Lemon.io alternatives
Of course, we have them. Who doesn't? Read on, make your choice. (Remember, we've told you it is a no-filter selfie?)
Gigster vs. Lemon.io
Gigster is a vetting marketplace for freelance developers from Silicon Valley — so the hiring businesses can be sure that their future employees have previously worked with top tech companies.
Pros
Gigster is invite-only, so everyone who comes for devs will choose from the pool of smart and experienced tech specialists.
Each customer works with a project manager who supervises the progress and files prompt reports.
Gigster provides employers with multiple reports and metrics, including team happiness and progress tracking.
Cons
Most freelancers here work part-time, so even the brightest ones won't take on any long-term projects and can't be fully available for your needs.
As if that's not enough pain in the world, project managers who should allegedly help you with freelancers are freelancers themselves! What if they both start ignoring you?
The service fee on Gigster is a tad higher contrasted with other freelance marketplaces.
PeoplePerHour vs. Lemon.io
PeoplePerHour is the "longest-running freelance website in the UK" (est. 2007), where you can quickly obtain available local talent for your projects.
Pros
Throughout its existence, PPH arranged an extensive contact database suitable for even the pickiest clients.
All employers should deposit into the escrow account. Hence, it is safer to use PeoplePerHour than other similar platforms without deposits.
PPH mobile app makes all the transactions swifter and easier.
Offshore developers can post their jobs here free of charge.
Cons
Since it's a bidding marketplace, the quality of work level isn't guaranteed: you pick devs at your own risk.
The platform is quite costly, with rates ranging from 5 to 50 USD per hour.
The customer support could have done a better job.
Codeable vs. Lemon.io
Codeable is a freelance marketplace platform where you can choose vetted coders for your projects (most WordPress-centered).
Pros
Codeable staff will calculate the estimated expenses for your project free of charge.
You can post as many projects as you like: nobody will check how many of them are really active.
After the vetting, only seasoned experts with proven track records remain (they don't reveal how they vet them, though).
Cons
After the estimate, you can learn that the dev prices don't fit into the planned budget.
The Codeable clients can rate their devs without any explanations, so you'll never know who is to blame for that one star — the unsatisfactory quality or the employers' blues.
When the projects go awry, you'll probably face significant delays, although customer service gives its word to always be on the client's side.
Lemon.io review TL;DR
Lemon.io is a talent platform for vetted developers, mostly recruiting its talents in Eastern Europe. Geographical location and well-organized remote work allow the company to set reasonable prices.
Lemon.io consists of 71 people who work to match its 1000+ remote developers with customers. A huge part of the platform's work is vetting – verifying engineers' skills to cull the weak and weed out scammers. Only 4 out of 100 developers get into our talent pool.
The company operates under terms of use that comply with US laws.
A service does not have to be originally American to be good. Give Lemon.io a go, and you will see how fast and safe hiring remote developers can be.
Lemon.io FAQ — for those whose questions are still left unanswered
Can your offshore developers choose the projects they will work on?
Aye, naturally. We respect everyone's freedom of choice.

How many developers are there now on Lemon.io?
Before rebranding, in the CodingNinjas times, we used to have 100 offshore devs. Now their number is fastly approaching 1000 — and counting.

Do you check the code of your devs?
We only hire senior-level (and rarely strong mid-level) devs. No juniors, no spaghetti code. Only those having years of experience with clean track records.

Who is responsible for your technical screening?
Our inside team of specialists does that for you. Besides, sometimes we outsource it to external contractors for their unbiased feedback.

How do you settle situations with unsatisfied clients?
If someone isn't 100% satisfied with the quality of services provided, Lemon.io pauses their subscription and tries to resolve all the issues with minimal losses for everyone.