HIRE REACTJS DEVELOPERS FOR YOUR FUTURE
Our clients
SEEK THE LIGHT OF LEMON.IO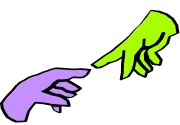 Dev replacement guarantee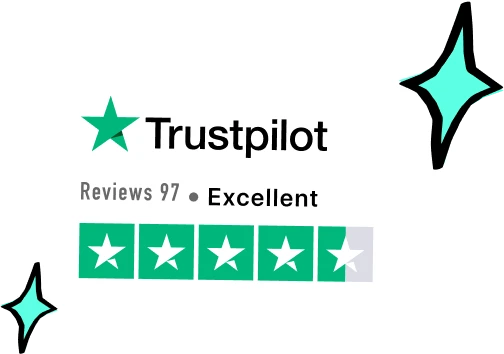 DEVS WHO GOT THEIR WINGS AT
LEMON.IO DEVS TO LEAD YOU TO PLG PARADISE
When you visit a website with various interactive elements whose positions or looks change without pressing F5, it's probably written in JavaScript. Just visit Facebook, Netflix, or Airbnb to see JavaScript in action.
Looks good, right?
Of course, manually writing all the code for such pages would be daunting and time-consuming. That's why a JS library is used specifically for building website interactive elements.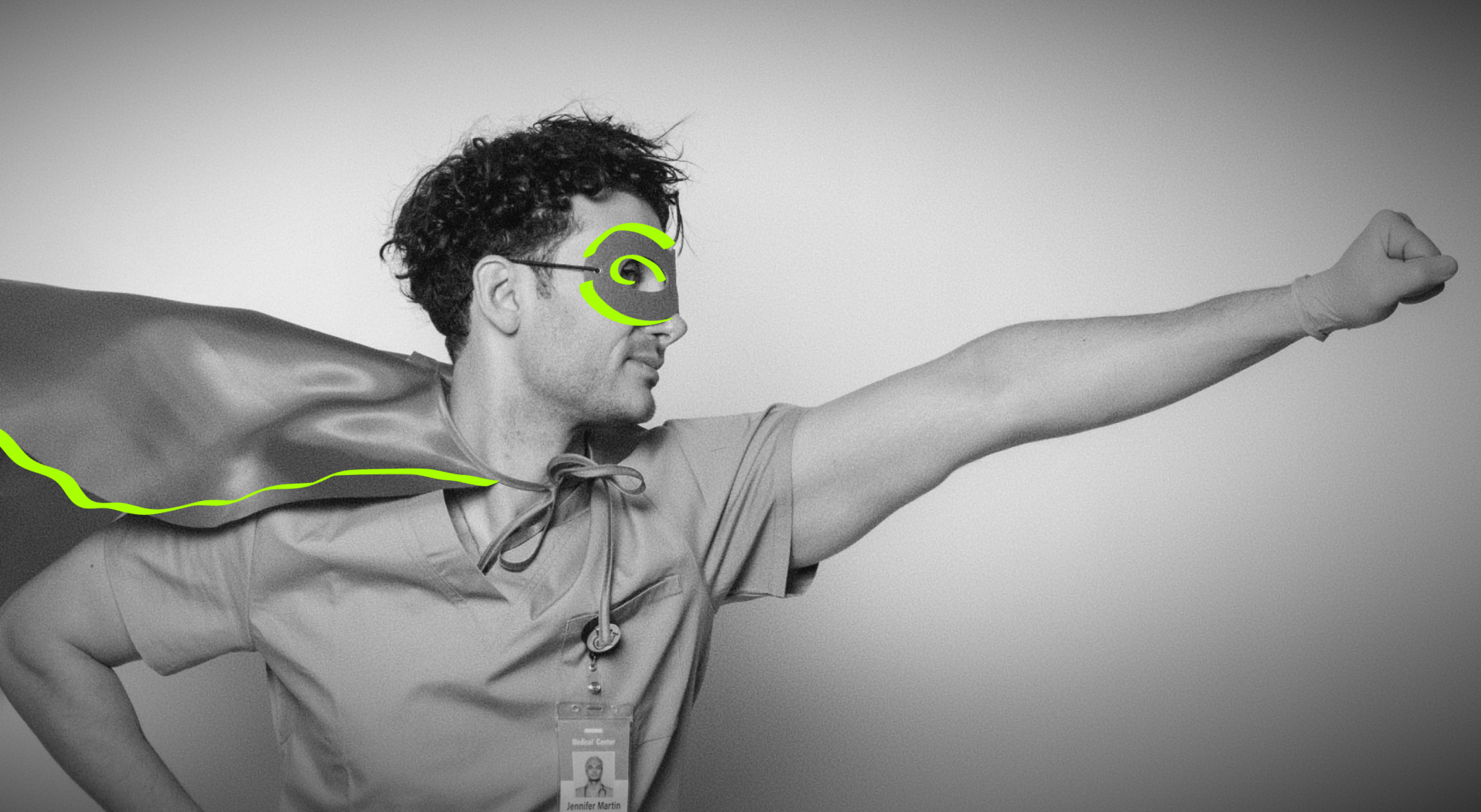 This JavaScript library is called React (or React.js). It's a fast and simple open-source library. A skilled React developer can quickly create a good-looking user interface or a single-page web application. If this developer also knows how to work with React Native framework, they can also write mobile applications for you.
With this in mind, it's no surprise it can be difficult to recruit the right specialist. "Should I hire a React developer? Or should I hire a React Native developer?" Get ready to puzzle over these questions too.
Besides, these developers are in high demand, and to find one, people often bounce around all kinds of online marketplaces or job boards. It can be effective but requires time and effort and often brings dangers that may not be obvious.
Why use React JS development services for your next project?
React JS is a popular library with boundless flexibility and superb features. Here are just some of React JS benefits:
It supports cross-platform development
It is open-source
React JS code is reusable
React JS apps have very good performance.
Skills to look for when you hire top ReactJS engineers?
What useful skills should you seek when hiring top ReactJS developers or engineers? We've made a list for your convenience.
Extra proficiency with ES6 and JS
Expert usage of JSX
Redux and Hooks employment
Knowledge of project management methodologies
Code cleanness.
Which developers are better to hire: in-house or remote?
Now, Mary has a list of candidates to choose from. Some live in her town, and others are based in other states. She must decide which kind of developers is better — in-house or remote. To do this, she prepares two lists of advantages for both categories.
Remote developers
Mary thinks it's good to work with remote developers. In her case, hiring in-house developers can be expensive. With remote devs, she won't have to:
Rent an office. Her town is small, but rent is costly anyways
Buy equipment for her employees to work on.
Hire staff not related to web development (office manager, janitors, etc.)

In-house developers
On the other hand, remote React developers can be difficult to manage, and in-house specialists have their own advantages. What are they?
The results of in-house devs are easier to control
You can always be sure they're working and not playing hooky
The working process is mostly well-regulated.
Discouraged, Mary starts googling and typing, "React developer salary."
Now she is shocked. Can hiring react developer be this expensive?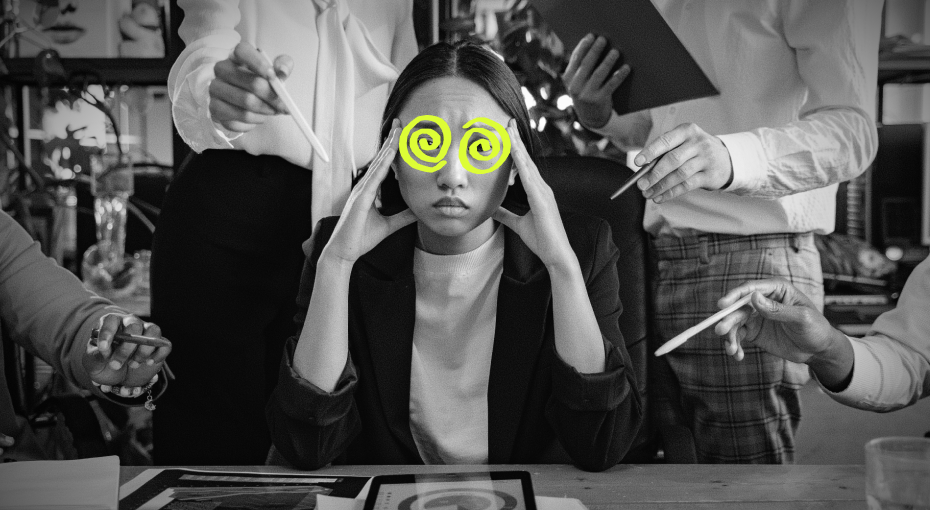 REACT DEVELOPER SALARY
Salary overview
The first result Mary sees is an overview of the average hourly rates of React developers' salaries worldwide. We pulled data from Lemon.io's pool of React developers and used credible sources like Salary Expert and Glassdoor to create this overview. Its goal is to help you establish a reference point as you search for remote talent to join your team.
In our overview, the range of the salaries is quite extensive, as salaries vary based on location, seniority level, and other technologies in the portfolio of your React developer. However, even a basic overview helps you establish the baseline before we dive into a more detailed analysis of senior React developer salaries based on their location.
Entry level
Working understanding of HTML, CSS, Typescript, or Javascript, familiarity with React or React Native – $20K-80K
Mid-career level
In-depth understanding of the basics, as well as advanced styling and design principles, familiarity with Redux, and understanding of the principles behind testing frameworks – $48K-92K
Senior level
In-depth understanding of points above + JSX, ES6, DOM Manipulation, Array methods, advanced UI/UX, and scalability principles understanding – $50K-118K
Lead engineer
Experience with all the points mentioned above + team management, creating and executing the development strategy, ability to design and architect apps, as well as review and organize documentation – $62-144K
React developer salary by location
It turns out that Mary would have to pay a fortune annually to hire a React developer in the United States. It seems like there is definitely a high demand for react developers.
The average React engineer's salary grows the closer you search to the Silicon Valley area. In New York, you can hire a React engineer for ~$64K. But in San Francisco, salaries jump up to ~$129K per year!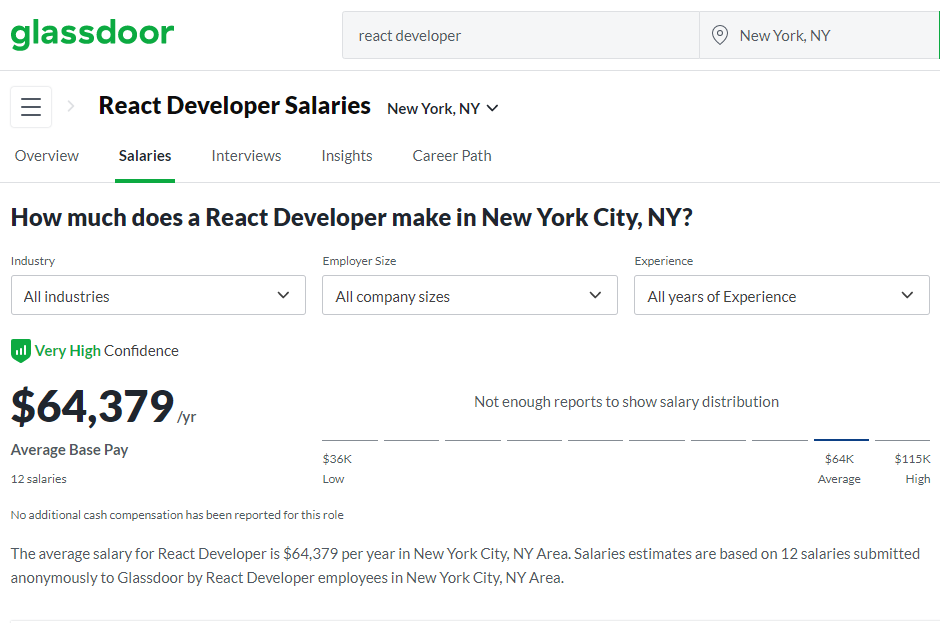 Source: glassdoor.com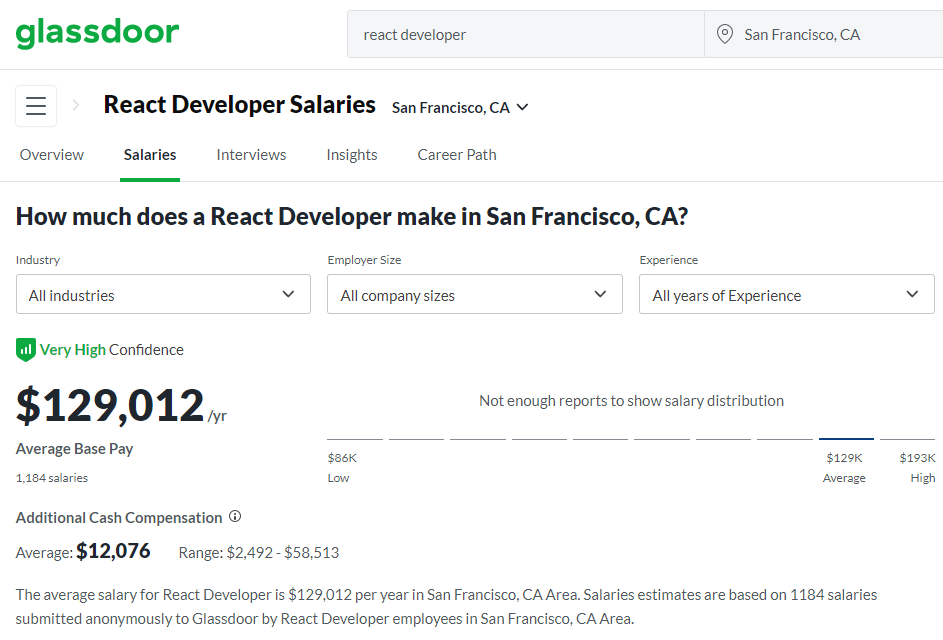 Source: glassdoor.com
In the English-speaking part of Europe, costs to hire a React software development ace are disappointing, too.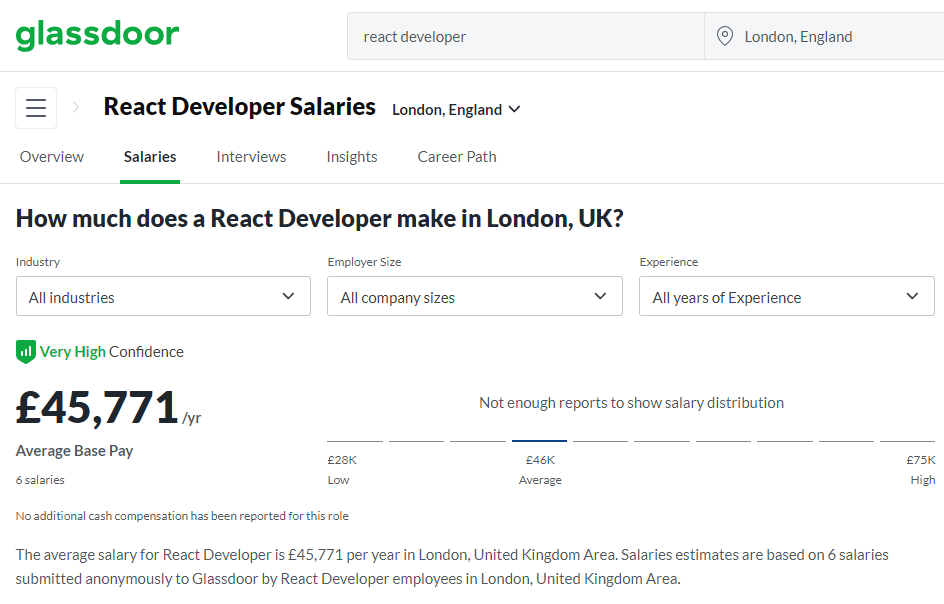 Source: glassdoor.com
And, if Mary wanted to develop a mobile application with a React component, she would have to pay even more. The average React Native developer's salary (React Native is the framework used to build mobile apps) is even higher.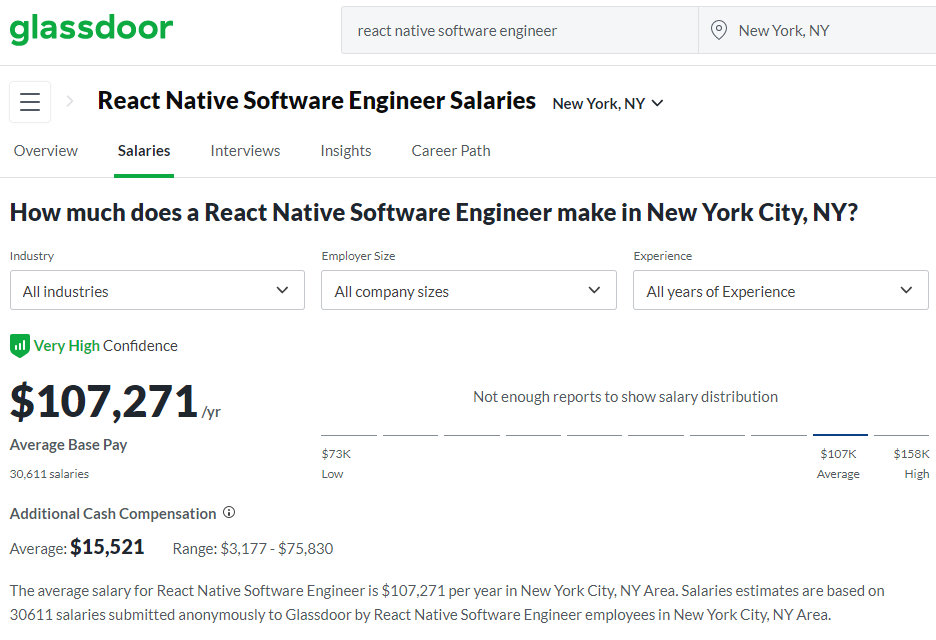 Source: glassdoor.com
Source: glassdoor.com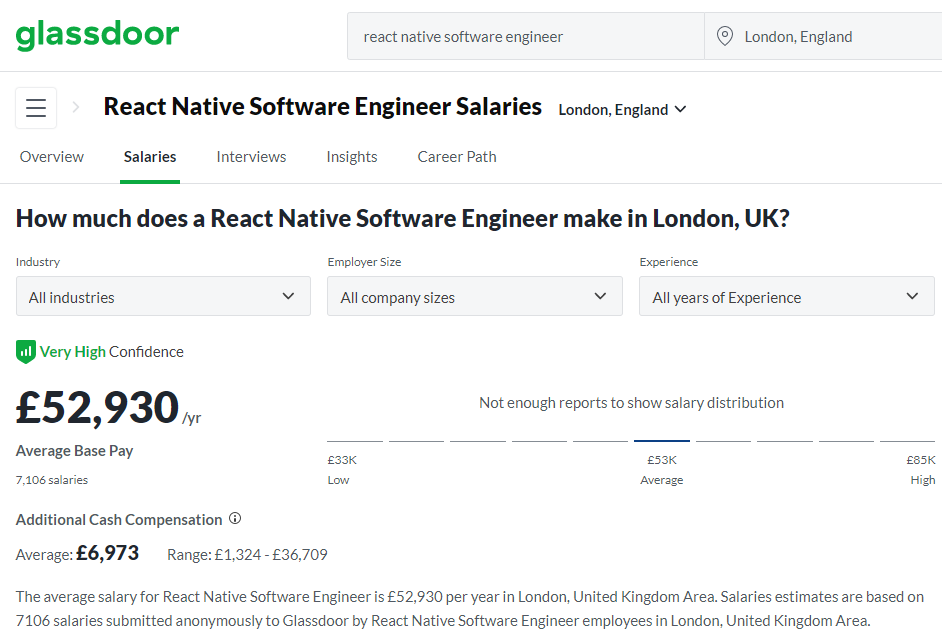 Source: glassdoor.com
For a business just starting out, paying this much for React development can be difficult.
What should Mary do? It turns out to be not an easy task to hire a React programmer.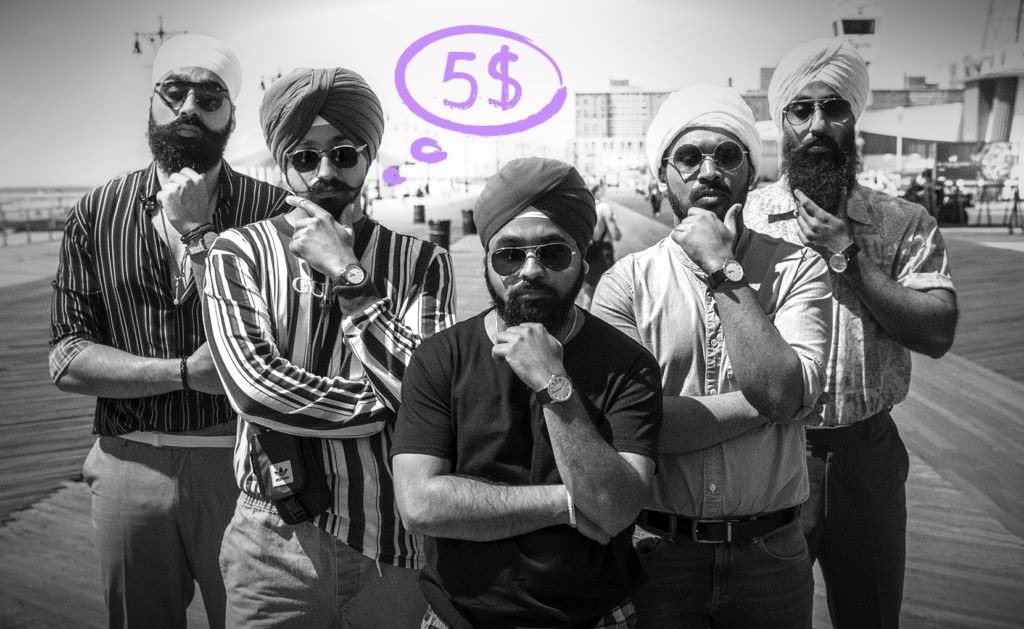 WHAT IS THE BEST WAY TO HIRE REACT REMOTE DEVELOPERS?
It looks like neither in-house nor remote developers make a good solution for a new company. If you are like Mary and just started your business, the problems described above could also be your problems. And, if you fail to find React developers for hire in time, your project might suffer.
So, what should you do?
The only reasonable option here is to hire remote React developers.
WHY REMOTE?
React remote developers are cost-effective. You don't have to pay for anything but the project cost you agreed upon
Remote React developers charge less for their services
With in-house developers, you have a limited range of skills. Unusual tasks and new challenges will require different skill sets. You must train your in-house devs (costly) or hire new ones with appropriate skills. Hiring remote devs with the required skill sets for the project duration is easier and cheaper. You hire a dedicated Reactjs front-end developer who works with you only as long as you need him to.
To manage your developer(s), just write them a message.
Remote React developers are easy to find.
Misconceptions about hiring remote devs
People often look for independent contractors on websites like Upwork, Fiverr, or Freelancer. Based on their bad experiences with these services or on scary stories from the internet, this is what customers usually think about hiring React js developers:
"If I hire a remote developer online, they will take the prepayment and disappear."
"I will run into a scammer who will hack my computer and steal my project data."
"Remote devs work reluctantly, and I must micromanage everything."
"The quality of work of the remote devs who use React is very poor."
"It's a waste of time and money; finding a decent developer is a guessing game."
These preconceptions are true only if you are looking to hire at online crowdsourcing marketplaces. They are large, global, and overpeopled services. Naturally, these platforms cannot afford to check each React dev's professional skills and reliability. That is why working with remote react developers through them is risky.
The only safe way to hire remote React developers
The dangers of recruiting developers online can be easily negated if you know where to search for them. Imagine a place where you could hire react js developer and be sure that the job would be done and with the highest quality.
We are talking about talent platforms for vetted developers. You can safely hire a skilled developer who will never disappoint you and do the job on time. Hire the best React coder!
How is this possible?
Every vetting platform has a talent pool from which it assigns developers to customers' projects. When a customer posts an order, the platform selects a developer whose skills and experience perfectly match the project requirements.
Not just any developer makes it to the talent pool. First, they must successfully pass numerous tests and proficiency checks. Each platform has its own methods of ensuring the competencies of the developers it employs.
Once a developer is assigned to a project, the platform monitors its performance and provides customers support and assistance.
The platform guarantees the security of your project-related data and the quality of the final product
Talent platforms for vetted developers are better than generic crowdsourcing marketplaces because they take responsibility for the final product's quality.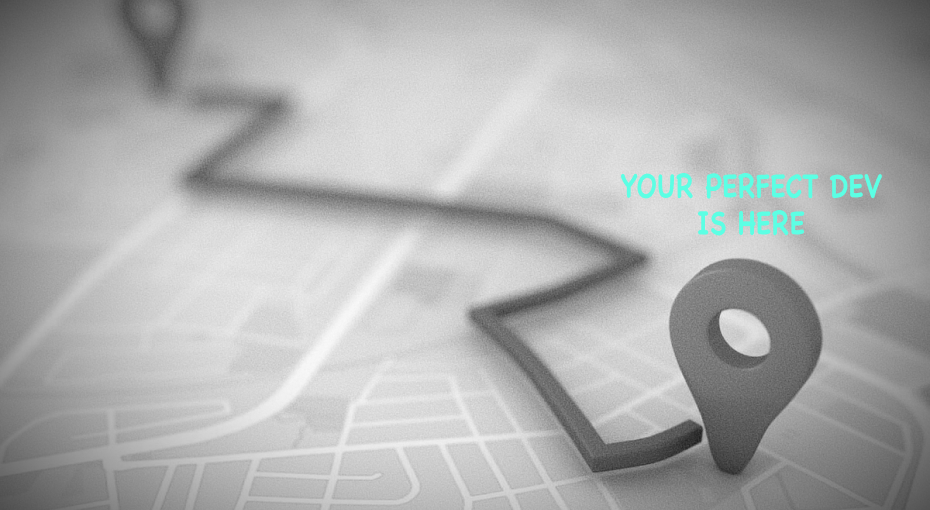 WHY HIRE REACT DEVELOPERS AT LEMON.IO?
If there is a perfect hiring solution for startups and companies gaining momentum, Lemon.io is close to it.
Lemon.io can find an expert developer suitable for your needs within 48 hours. That's good news when your project is time-sensitive.
Specializing in software and web development, Lemon.io knows what you need. 98% of the platform's customers stick to the first dedicated candidate Lemon.io offers them.
And these are not just "any" devs. To ensure that your project is in good hands, Lemon.io uses a 4-stage vetting procedure.
What is the process of hiring React developers from Lemon.io?
How do we differ from competitors? Our Matching and Recruiting teams work hard to separate the wheat from the chaff among strong Middles and Seniors of the IT world. How do we check the most talented ones?
Background checks. Platform recruiters look through the candidate's profiles on GitHub and Stack Overflow (it's like LinkedIn for developers) and on social media. Platform recruiters look through the candidate's profiles on GitHub, Stack Overflow (like LinkedIn for developers), and social media.
Proficiency assessment. Lemon.io recruiters delegate the candidate practical test tasks and evaluate the developers' performance. Time taken, solutions used, and overall quality are the parameters Lemon.io managers evaluate.
Code review. If our clients want to perform a code review during the job interview, we won't mind.
Live interview. Sometimes, good pros are difficult to work with. Interviews help Lemon.io managers understand how comfortable customers will work with the developers registered in the Lemon database.
Only when the candidate passes all stages of the vetting procedure does Lemon.io add them to its talent pool and assign them to customer orders.
Lemon.io helps you with everything related to working with its devs. Customer support is fast and responsive.
Sign an NDA agreement with the developer Lemon.io assigned to your order for additional security. This way, you will protect yourself and your project.
Lemon.io developers are more than affordable. Here is a brief list of hourly rates:
Javascript – $55-$85
Python – $50-$90
Ruby on Rails – $50-$85
Golang – $55-$90
PHP – $45-$80
.Net – $45-$80
Mobile Development – $50-$85
Blockchain – $55-$85
AI – $55-$85
Data Science – $55-$95
As you can see, Lemon.io provides the best price-quality balance among other platforms on the list. No bustle, no sky-high prices – just safe and affordable web development.
Hire your React or React Native developer now!
GOT MORE QUESTIONS? READ OUR BRIEF FAQ!
How much does it cost to hire a React developer?

At Lemon.io, every contractor offers their own price depending on their proficiency level, additional skills, and general tech profile. Generally, React js developer's rate at Lemon.io is $42-44 per hour, and they bill their clients hourly. Of course, there can be cheaper or more pricey options, but the average numbers look like that.

Are ReactJS developers in demand?

Information we collected from Statista demonstrates that React js is the most popular and demanded web development network in 2022. There is nothing to be surprised about: more than 40% of web engineers claim to use it to implement and improve their web apps. Small wonder: during the last couple of years, the demand for React js developers has grown exponentially. It is fast, it is scalable, and it's SEO-friendly. What's not to like? Even such industry titans as Facebook and Uber use its benefits.

How to hire ReactJS Developers

When it comes to hiring a ReactJS professional, we understand the importance of finding the right fit for your project. At lemon.io, we make the process hassle-free. Fill in our form with your project requirements, and within 48 hours or less, we will provide you with a selection of exceptional ReactJS engineers.

To put it super simply — no doubt it is! Web analytics claim Reacr js to change the rules of the game in the nearest years. Java-proficient engineers will use the React js advantages to construct innovative and revolutionary products in their industries. Corporations will go on hiring JS specialists, but React js pundits will certainly have all the possible benefits of their extended stack. Learn React js, and it will surely pay off.

The main reason making React js difficult for beginners is its modular nature. The majority of React components are intertwined with each other and require exploiting other software components to build complicated apps. In addition, for building full-fledged apps on React js, one will need to know functional programming and be familiar with the concepts of curried, immutable, and higher-order functions.

What are not-so-reliable ways to hire a React developer?

Meet Mary. She has just started her small business. Her idea is to connect elderly people living in her neighborhood with local volunteers. The volunteers will provide care and company to those who cannot search for it outside. To realize her idea, Mary wants to develop an easy-to-use matching web app compatible with all devices. She's heard a thing or two about React app development, and now she wants to hire a React Native developer. What options does she have?
The first thing that comes to mind is to hire ReactJS Developers among friends. Perhaps, some of them know skilled devs. And, by the way, wasn't her former classmate, Jerry, a developer himself?
Mary asks around. Some of her friends know web developers but are already employed. Or they are mainly backend developers. Or they don't work with React.js. Or, their rates are too high for Mary, whose budget is pretty modest.
In a week, Mary calls Jerry. "If you want to hire React Native developer, I'm currently looking for a job," he tells her on the phone. Bingo! Enthusiastic, they meet up to discuss the details of their collaboration. Mary quickly notices that Jerry is more into reminiscing about their college days rather than elaborating on his skills. And when he does, he seems to mistake React.js for React Native. Besides, he's already acting unprofessional – even though Mary could be his future boss.
When Mary returns home, she thinks that friendship and business don't mix.
Job boards
On the next day, Mary starts browsing job boards. She discovers React Job Board, GitHub Jobs and other similar resources and spends several days browsing. Not exactly sure about the skills and competencies ReactJS developers should have, she still selects several candidates who look promising. Now she will have to interview those developers who code react to see if they are any good.
Social networks
Of course, LinkedIn! How could she forget? Good, even more candidates to interview. Finding a developer who specializes in react programming is turning out to be way more time-consuming than Mary thought.
Development companies
Upon careful consideration, Mary decides not to use their services.

How to hire a good ReactJS Developers

Our team at lemon.io takes pride in handpicking top-tier ReactJS professionals who have demonstrated their expertise through past projects. By leveraging our extensive network, we ensure you have access to a pool of highly skilled and qualified candidates.