Hire Front-End Developers, No Sweat
Trying to make your app look awesome, being practical and efficient at the same time? We bet you need a team of top front-end developers — and we know where to find them. Hit the button!
You've just made the first click. By the end of this page, we'll show you how easy it can be to find a front-end software developer.
Yevhen A.
// middle front end web developer
Yevhen is an experienced middle front-end developer. He's proficient in React, knows JavaScript fundamentals quite well, and writes clean good-looking code.
javascript
react
typescript
Viktor Y.
// senior software engineer
Meet a senior dev with 6 years of experience. He's an expert at JavaScript with superior HTML and CSS skills, bridging the gap between design and development.
Taras K.
// tech lead / senior front-end web developer
Taras is a tech lead with a proper understanding of his role of a dev practitioner. He is an expert in agile methodologies and all the required engineering procedures.
Liviu Z.
//senior front-end web developer
Liviu is a passionate developer with over 10 years of industry experience, tech-leading experience, and a solid understanding of numerous business domains.
Bogdan С.
// senior lead front end web developer
Bogdan is a senior front-end dev with 7 years of overall experience. He loves Vue and has been using it to develop amazing applications for the last 4 years.
«Sounds too good to be true,» you might say. And we'd ask: «But why?»
Typical pains. Recognize yourself?
Multiple self-help sites for beginner entrepreneurs will try to convince you that «hiring a front-end developer is a piece of cake.»
Don't believe them. People struggling to hire dedicated front-end developers run into all kinds of obstacles.
They hire experts with the wrong skills and expertise. «How could I have known? She had the word «developer» in her CV. I thought it was what we needed.» This is not dissimilar to the «you-are-a-programmer-fix-my-tv» awareness level your older relatives might have.
They hire a back-end coder, although they should hire an expert front-end developer and vice versa.
They don't hire devs at all. Instead, they end up hiring web designers. Because «hey, they draw websites too, don't they?»
They have little familiarity with the market, so they can't form the budget properly
and fall for many other typical traps. Just like in «Monopoly,» when you land on the wrong square and lose a turn.
Like the famous board game, you lose time hiring front-end developers without clearly knowing what you're doing. You risk:
Losing money or greatly exceeding the initial budget, which can cause other expenses to pile up
Receiving a half-baked, raw, rare, slack-baked, underdone product that will require more resources to fix and polish than its actual development
Hiring an incompetent developer
Hire an incompetent but «top-rated» freelancer on a widely promoted online marketplace such as Freelancer or Fiverr.
This list could go on and on, but why scare yourself by reading about the horrors of poor recruiting decisions if you can skip all this mess and hire front-end programmers easily?
Fast. Safe. No sweat.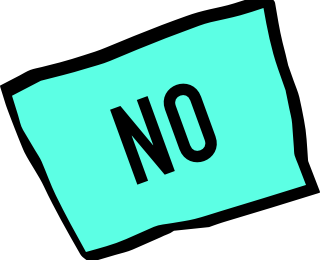 Just read on. We'll get to it. But first, let's make sure you do need a front-end developer. Lemon would not want you to make the wrong decisions.
When a front-end developer is all you need
So, you think you need a front-end developer. Legendary. But do you have this need?
To answer this question, let us first clarify what front-end development is. Front-end devs make site layouts created by a web designer interactive. Often referred to as client-side programming (don't worry, it doesn't mean you will have to code), the front end is often focused on UI/UX and users' interaction with the website.
Based on this, we'll list some typical tasks front-end programmers work on.
Reanimating website layouts and wireframes created by web designers
Cooperating with web designers on UI/UX, fixing user interface bugs, and enhancing interaction between the user and the platform
Optimizing websites and applications for mobile platforms
Inserting, editing, and removing all kinds of buttons, drop-down menus, forms, chat windows, interactive image galleries, and so on
Testing all this for proper functioning
Troubleshooting and maintenance
Many tasks related to setting up, adjusting, and maintaining WordPress are considered front-end (check out our guide on hiring WordPress developers, by the way)
Compare your project tasks with this list. If you can find matches and similarities – yep, you truly do need a front-end dev.
Before we forget, many people wonder, «Front-end vs. back-end developer: What's the difference?»
Back-end development (or server-side development) establishes communication between your browser and the website's databases.
A typical example is your login and password. You input them into a neatly designed field (hi, front-end devs!) and press Enter. Your browser sends a request to the website's database to check whether a user with such credentials is registered. If yes, you are granted access.
If not… well, you know how it goes. Just keep trying different combinations of username and password until the site gives up and lets you in.
This simple interaction – as well as other, much more complicated interactions – results from the back-end developers' work.
Front-end developer salary: how much for professionalism?
Well, it depends on the career qualification and the volume of duties of a developer you're hiring. Here are some average figures on how much front-end developers earn.
Lead front-end developer salary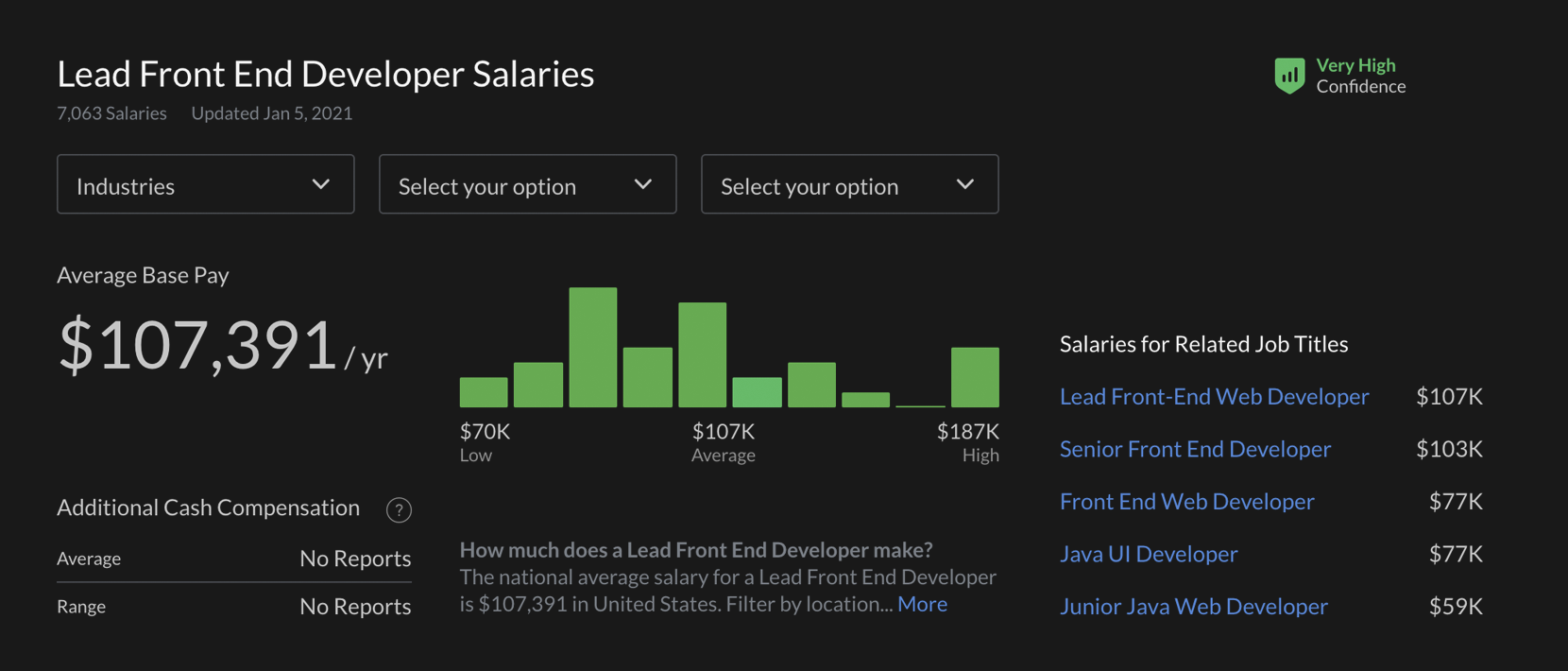 Quite expensive, as you can see.
Fortunately, there are alternatives. Front-end developer salaries also depend on the country you hire in. If you wish to save some money but still hire a qualified professional, we'd recommend you pay attention to Eastern Europe – Ukraine, in particular. See for yourself: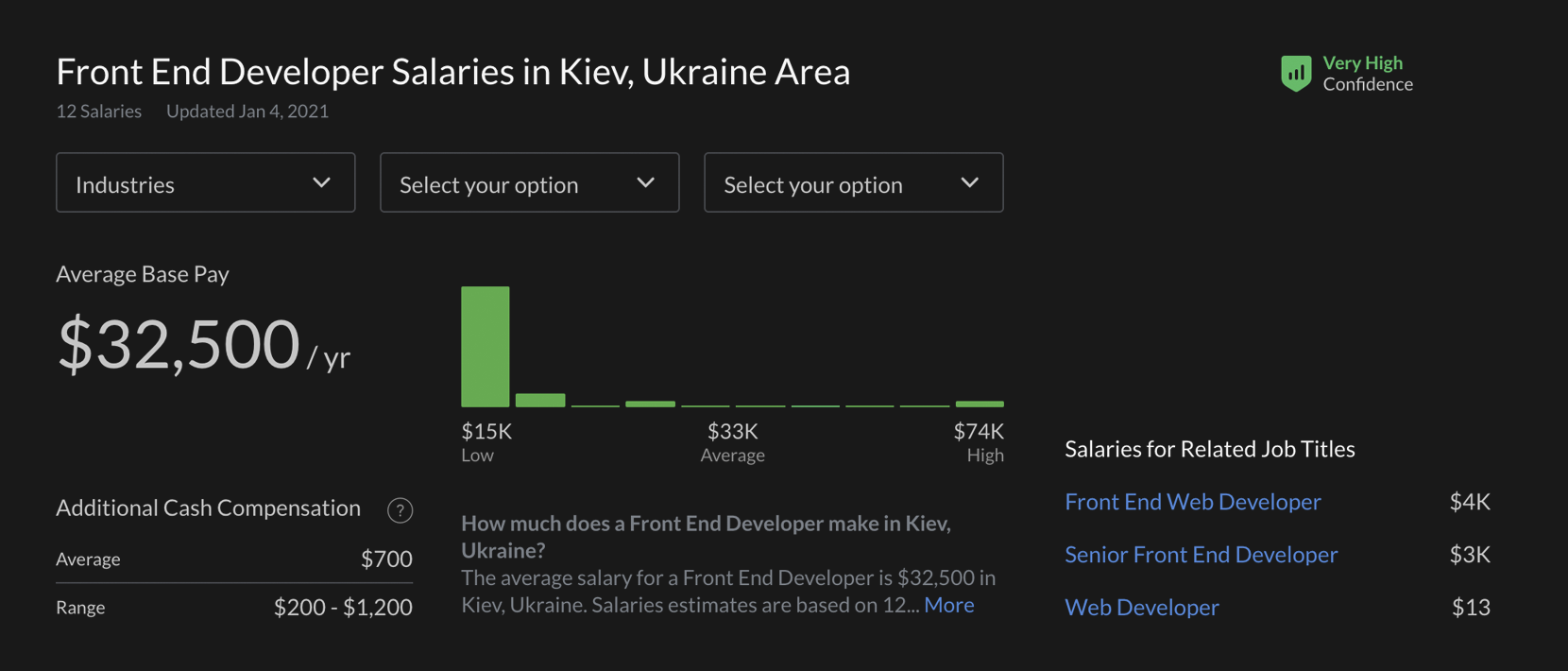 The average monthly salary of a Ukrainian front-end dev is around $900. If you fear you won't get high-quality work for this money, here is an article to change your mind: «Top 7 reasons for you to hire Ukrainian developers.»
How to identify a good front-end developer
Front-end developer skills
Having figured out what a front-end dev shouldn't be like, let's look at what they should know better.
Excellent knowledge of JavaScript and PHP, their libraries, and frameworks (ReactJS, AngularJS, jQuery, Kohana, PHPixie, etc.)
Familiarity with REST and RESTful APIs
Understanding cross-browser compatibility, knowing how to identify and eliminate possible compatibility issues
Knowing how to optimize websites for mobile platforms
Understanding the principles of UI/UX
Working with code versioning tools such as Git, CVS, or Mercurial.
Of course, HTML5, CSS3, and JSON knowledge should come by default. Looks cool, huh?
And what if we told you we know where to find front-end developers like this? With just a little more patience, we're now moving to the most interesting part of the article.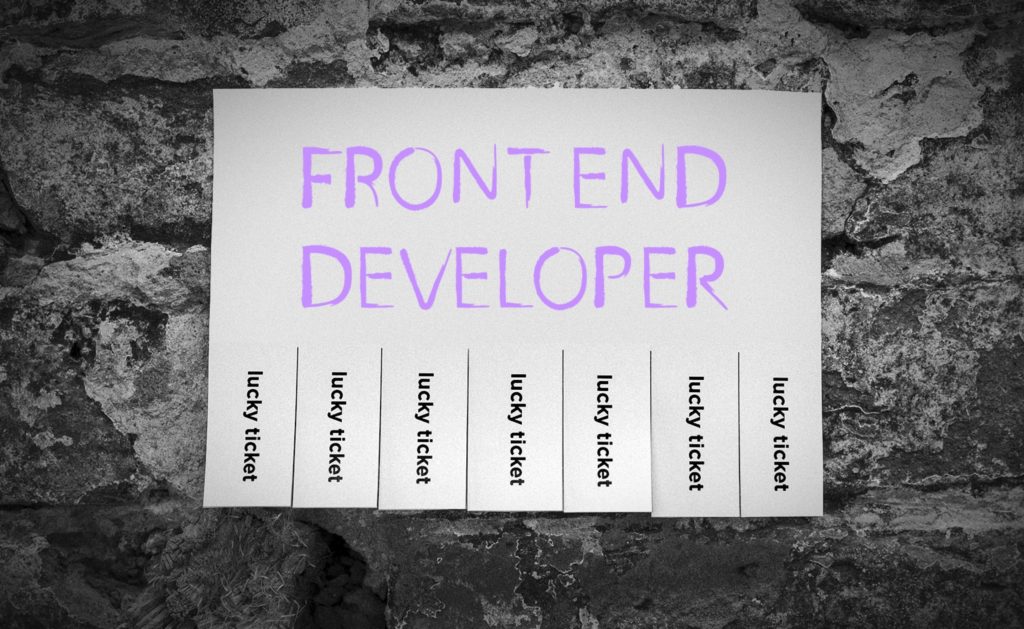 How do you hire a front-end developer?
Here are the three main options you have when it comes to recruiting front-end devs.
In-house devs
(Can be easily found on job boards).

Why you want them
They come to your office, they drink coffee, they get the job done. Plus, they are easy to manage when gathered in one place.

Why you don't want them
In-house workers (not only developers but any employees) are costly. Pay them salaries, insurances, pay taxes, pay for their vacations. Even when they don't have much work to do.
Development companies
(Just google them).

Why you want them
A one-stop-shop that can get you through the whole development cycle, from project idea to the final product.

Why you don't want them
Prices! They can get ridiculously high. Oh, and get prepared for endless adjustments and coordination meetings when it comes to implementing changes mid-project.
Remote developers
(Look at the freelance platforms).

Why you want them
When there is a project at hand, you can quickly find a front-end developer for hire and pay them for the job. Once it's done, you don't have to pay anyone (looking at you, in-house developers!)
Economic gains intensify as you learn that on average, remote front-end developers tend to cost less than in-house workers.
And finally, you can hire a developer of whatever profile you currently need. You won't have to re-train or educate your employees. Just find your perfect match and hire them!

Why you don't want them
All the wonderful benefits above work in just one case: when you know where to find good remote developers.
Upwork and other crowdsourcing marketplaces are too much of a guessing game when hiring. So, what should you do?
Look at the marketplaces for vetted developers.
Top-3 platforms to hire front-end developers

Lemon.io
Lemon.io specializes in web development. The platform can focus exclusively on testing and vetting web developers without dispersing the effort on multiple specialties.
Remember we listed the skills front-end developers should possess? Lemon.io developers have them all (and some more on top of that).
Lemon.io uses a thorough vetting procedure to ensure this when choosing which devs to work with. It includes professional and personal tests, live interviews, test tasks, and several background checks. Nowhere else have developers been scrutinized with such wonderful meticulousness!
(the previous sentence should be pronounced in a voice of a Victorian-era British gentleman)
Lemon.io mostly works with Eastern European and Ukrainian specialists. Why is it good? In brief: it's a nearly perfect price-quality balance!
It takes the platform only 24 hours to find a front-end developer perfectly suitable for your particular order. Join the club of happy Lemon.io clients, 98% of which hired the first candidate they were offered from the platform.
They have a yummy website design. Gun.io
Extremely thorough (even among other vetting platforms) procedures ensure that only the best developers get into the Gun.io talent pool.
You hold the intellectual property rights for all code Gun.io engineers write for you.
Gun.io is a trustworthy platform with some famous customers, such as Tesla or Cisco.
Gun.io provides high-quality service, but the price is respectively high. Expect hourly rates to be somewhere around $150.

Codeable
A platform of narrow specialization: Codeable focuses on vetting and hiring developers who work with WordPress.
Their vetting procedure includes an extra step, which is a 45-day trial period for newly hired developers.
It can be costly, and it's difficult to find a non-WordPress developer here.
Vote for vetting
Don't immediately hire an in-house programmer or a development company when you need a front-end developer. Consider hiring a remote specialist instead. A remote front-end developer can do wonders for your project and cost less.
The only question is, «How do I know the developer I hire will be good?»
A reasonable question, indeed. Upwork, Fiverr, Freelancer, Guru – there are many crowdsourcing platforms on the internet. But, if you read clients' reviews, you may feel doubtful about ever using their services.
So, if you want a skilled front-end dev, you should look to a platform for vetted developers. Such as Lemon.io.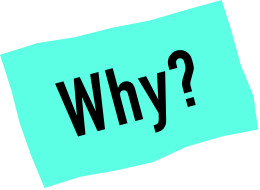 Conclusion
Thorough vetting and numerous tests leave no chance for scammers, newbies, or mediocre developers. Only the best make it to the talent pool.
Matching is super-precise and fast. Describe your project, and get a front-end developer suitable for the job in just 24 hours.
The balance of price and quality is nearly ideal. Ukrainian developers, known for their professionalism and reasonable prices, make up most of the Lemon.io talent pool.
What other reasons do you need? Squeeze the Hire button and take care of your project by a top-tier front-end developer.
Need some more information? Here's a FAQ for you!
What does a front-end developer do?

For all those who've been exploring their chances of employment in the IT branch and wishing to know their chances of success, it is essential to know what a front-end developer does.
To put it briefly, this kind of developer focuses on a website's "face" aspects — as opposed to a back-end engineer who works on behind-the-scenes mechanisms or a full-stack specialist who's responsible on both sides.

Naturally, the workflow can vary for different IT companies or startups, but one can generally expect a front-end developer role to entail some (or all) of the following: 

UX optimization;
Employing HTML, JavaScript, and CSS to enliven project ideas;
Maintaining a convenient user interface;
Designing mobile applications and websites;
Constructing tools for user convenience;
Making software workflow more convenient and efficient;
Implementing SEO best practices;
Revealing bugs and checking usability.

What is front-end development?

The main focus of front-end development lies in user experience. Employing proper coding and designing skills, front-end engineers forge the app elements directly accessed by end-users — rendering the entire interface elegant, easy, fast, and efficient. That's the way to boost user engagement and interaction.

The nascent design and technology front-end trends let us build tremendously sophisticated designs and interaction patterns. Thanks to this, IT startup founders crave more experienced and expert front-end specialists to be on the cutting-edge technologies and progress.

The predominant trend in app development that has been revealing itself for several years already is mobile app development. Everything now needs an application — and every application can't help exist without an efficient front-end layer. The most daunting challenge for front-end aces is delivering quick and convenient products. Otherwise, they will not win the market competition.


Who earns more — a front-end or a back-end developer?

Web developers, i.e., specialists of the IT world who support and build websites and other web applications, collaborate with many other specialists to create exactly what they want — and what their clients order them to construct. Generally speaking, web developers can implement various creative and business-saving ideas brewing in their client's minds, but here's a short list of what they frequently do:
Turn a web design into a website;
Collaborate with clients, designers, and UX testers;
Specialize in front- or back-end development;
Attempt to guarantee seamless user experience.

American front-end developers earn nearly $104,000 per year.

Back-end engineers, tending software in the background of every program, work on the server side and earn 128 000 yearly — if they live in the USA and work full-time onsite.


Is the front-end development easier than the back-end one? 

Even if you know almost nothing about web engineering, you've surely heard (at least through the grapevine) that most web engineers specialize in either the back-end or front-end parts. You also may have heard that there's one more type of developer: a full-stack one.

Frontenders create the functional "front" of the web page. They work with features a visitor sees and contacts with: buttons, forms, chatboxes, drop-down menus, notifications, video players, etc.
A back-end developer, in turn, is burdened with thinking over the "guts" of the web page. Most users don't see details and issues back-end developers work with — we're talking about databases, server connections, and search algorithms. Front-end aces maintain the proper work of everything users interact with, and back-enders take care of the inside world.
Generally, there's a misperception that the front end is easier just because it is more visible and "clear" for common users. That's not true: excelling in either of these two sides of web engineering requires a lot of arduous work and endurance. Fortunately, it's very much worth it in the end.


How do I sell myself as a front-end developer? 

To boost your career and succeed as a developer, you need to sell yourself — the skills and abilities you possess. Naturally, coding is your passion, and you'd rather go there head first forever, but how would anyone know that you're skillful at what you perform (or discover your talents) unless you put yourself on the storefront?

We have ranked these steps according to how useful and important they can be in helping you market yourself and your skills effectively.

Be able to compose your portfolio;
Create your personal brand;
Register on CodersRank to gain visibility;
Cowork with fellow tech aces;
Freshen up your LinkedIn profile.

All these steps will help you broaden your horizons and place your best foot forward for groundbreaking opportunities. While other developers scramble to submit CVs and nail tech interviews, you'll already be far ahead.

Our experience with Lemon was second-to-none.
Our experience with Lemon was second-to-none. We were matched with a great engineer who's incredibly smart, proactive and punctual. We will be using Lemon again for upcoming dev project!!
Oct 22, 2020
Great communication + Sourcing
Lemon was excellent to work with! They are quick to respond and I have always have positive interactions with them. Not to mention the most important part – they sourced us a great iOS engineer who was better than what we were expecting!
Apr 19, 2021
I was looking for a backend rails...
I was looking for a backend rails developer to lead the charge on developing our APIs and platform integrations. We reached out to Lemon.io and they found the perfect engineer in a day. He's been on the project for almost 2 months and has consistently delivered quality work.
Dec 22, 2020