Hire eCommerce
developers for any
task on Lemon.io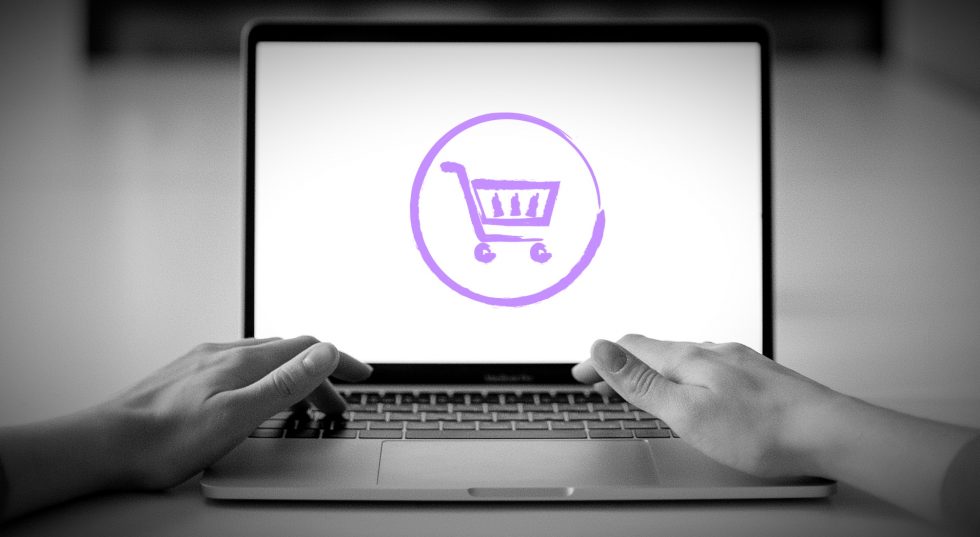 Be it a complex custom eCommerce project or just an e-store, you want to hire eCommerce website developers who can build it from start to finish. Lemon.io has what you need. Click here to hire from us.
Florin M.
// senior mobile developer
Florin is a passionate dev with 9+ years of experience. His solid hard skills are perfectly combined with business-oriented thinking and communication talents.
Samet B.
// strong middle mobile developer
An organized, collaborative, and highly ambitious developer with 5+ years of experience, Samet enjoys the freedom of working remotely — he even founded his own tech company.
Petro V.
// middle-to-senior back-end web developer
Petro started his career developing Ruby and Javascript but then switched to Golang. Primary areas of his interest are high-load and distributed projects.
Victoria B.
// strong middle back-end web developer
A middle back-end developer with Ruby as the primary expertise, Victoria is on her way to mastering Golang. Responsible and team-oriented, she loves challenges.
Liviu Z.
//senior front-end web developer
Liviu is a passionate developer with over 10 years of industry experience, tech-leading experience, and a solid understanding of numerous business domains.
Have your eCommerce platform
launched and running
There is a classic dilemma every customer faces when outsourcing. It goes like this: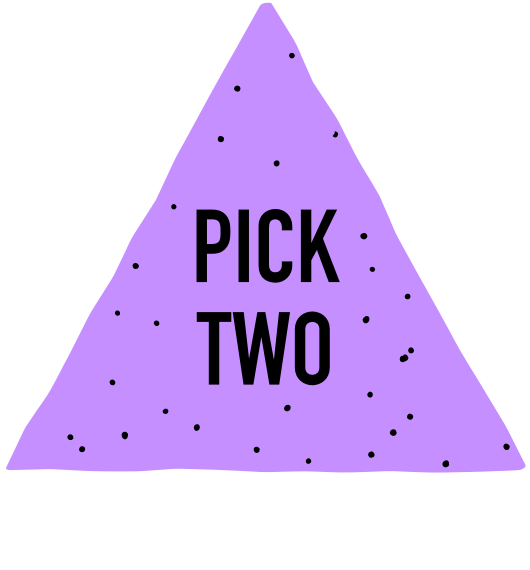 If you are looking to hire an eCommerce developer or a whole eCommerce development company, chances are you're facing
it too. Too bad you can't have everything at once. Or can you?
IF YOU WANT TO:
start selling your awesome product online
launch a full-scale e-store
add secure payment options to your existing eCommerce solution
adjust integrations with your HubSpot, Insightly, Salesforce, Zoho, or whatever other CRM you're using
install and set up an eCommerce plugin for WordPress, Joomla, Wix, etc.
or do anything else related to eCommerce web development
Lemon is your go-to place!
Our eCommerce programmers can do all that and much more.
We don't solve customer dilemmas.
We are the solution.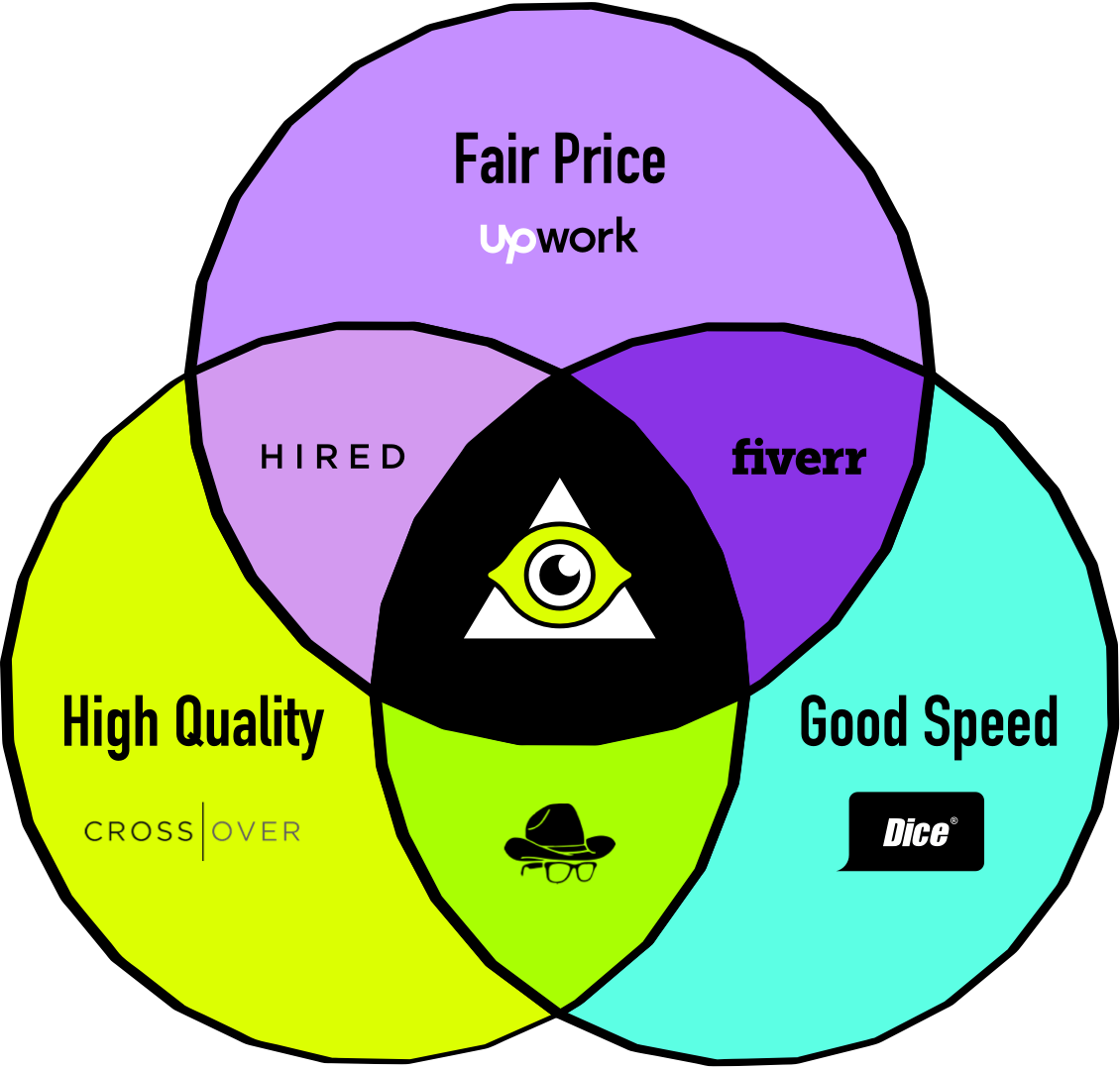 Your eCommerce developer awaits your command! Just click the button below and get straight to the development process:
Benefits of hiring E-commerce developers
Enhanced productivity
Ecommerce developers can design an automated workflow for your company that can boost productivity while using fewer resources. By doing this, you may swiftly introduce new goods or services without wasting time on labor-intensive manual procedures.
Better user experience
A skilled ecommerce developer will have the knowledge required to create a website that gives users a delightful online shopping experience. They know how to increase conversions and customer happiness by making sure the checkout process is simple and secure.
Cost savings
By hiring an e-commerce professionals, all of your web design requirements will be handled by experts who are familiar with the best practices for each platform. This will save you time and money in the long run in comparison to doing it yourself or outsourcing unverified freelancers who might not be familiar with the most recent trends or technologies in web design.
Improved security
By integrating secure payment technologies like PCI-DSS compliant systems or tokenization services, businesses may prevent potential fraudsters from having access to consumer information kept on a site. This can be done with the help of an expert ecommerce developer.
Does it matter where to hire?
There is a classic dilemma every customer faces when outsourcing.
It goes like this:
It does.
As an American startup, you already know how costly it can be to hire an eCommerce web developer to work in-house. Along with salaries (we'll discuss them later), employing in-house devs means additional expenses:
Office rent;
Paid vacations and sick days for your developers;
Insurances;
Equipment purchase and maintenance;
Paying FICA taxes (Social Security + Medicare payments).
To cover these indirect expenses, you will have to factor them in your
product costs.
This is not a problem when you are a bigger company with established clientele.
This IS a problem when you are a startup, and every dollar counts.
And let's not forget how high the salaries of eCommerce developers for hire
in the United States are.
What's the average eCommerce developer salary?
You can expect to hire eCommerce developers for $45K –– $111K per year.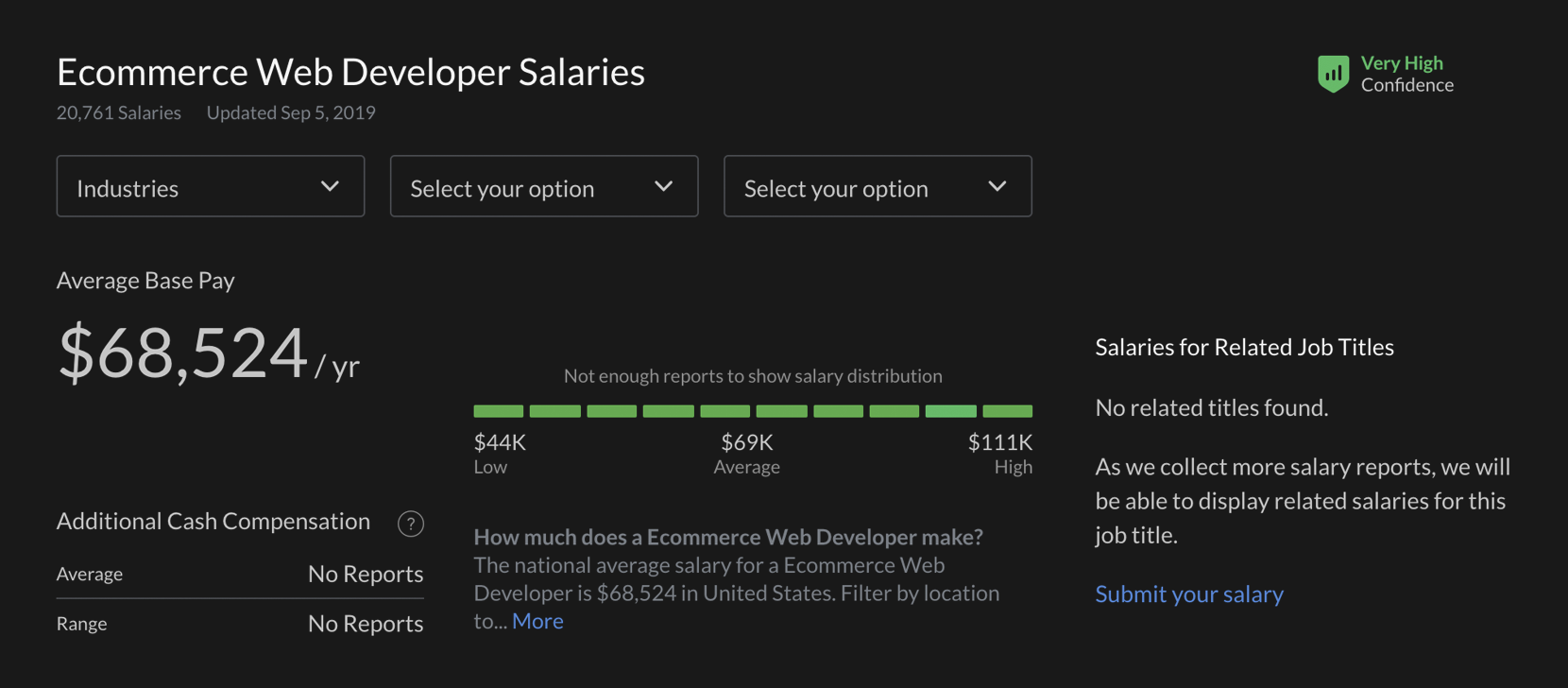 But, take a closer look at how much companies are willing to pay for the services of a competent retail software developer. As you can see, the average cost to hire an eCommerce developer is unlikely to go lower than $68K per year.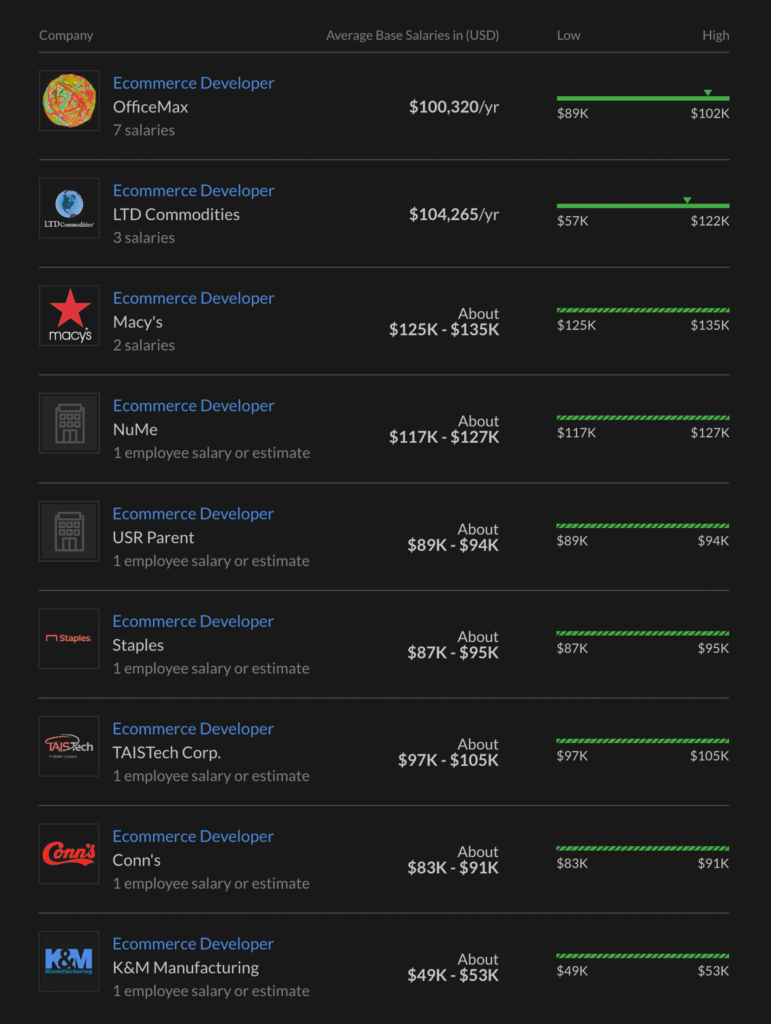 Is it expedient?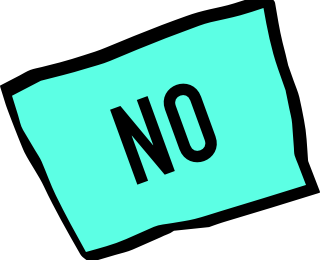 Sometimes, it's the hot season, and everyone is working their asses off. Sometimes, it's a standstill, and everyone is slacking their asses off.
But you must pay your in-house eCommerce web developer regardless of the work amounts they do.
Time to say the F word loud
You don't have to permanently employ expensive staff to build your eCommerce project.
Instead, you can:
Call in great devs and have them work on your project

Pay only per hour and avoid additional costs / expenses

Enjoy direct communication with developers you hired

Make changes and fixes to your project on the fly

Make use skills precisely matching your project needs

Easily send off the devs you don't need any more
Sounds like we're talking about some perfect mercenaries.
No. It's just remote developers. And here is why many of your fellow entrepreneurs prefer to work with them:
Why have you decided to start hiring remote coders?
| | | |
| --- | --- | --- |
| Remote devs are more affordable than in-house ones | | 25% |
| Remote devs offer a bigger variety of available skills | | 20% |
| Remote devs are more flexible | | 25% |
| I've heard positive feedback | | 3% |
| I couldn't find an in-house employee | | 3% |
| Our team is distributed | | 16% |
| No need for a full time developer | | 4% |
| Other | | 3% |
Top 3 reasons to hire remote developers are:
More affordable than in-house developers – 25%
More flexible – 25%
Offer a bigger variety of available skills – 20%
Another popular reason to turn to remote devs is working with an already distributed team.
Working with remote eCommerce platform development specialists can become your best customer experience if you do it right.
What people usually do
Looking for cheap solutions
Since hiring in the United States may be too expensive, many startups automatically turn their eyes to India.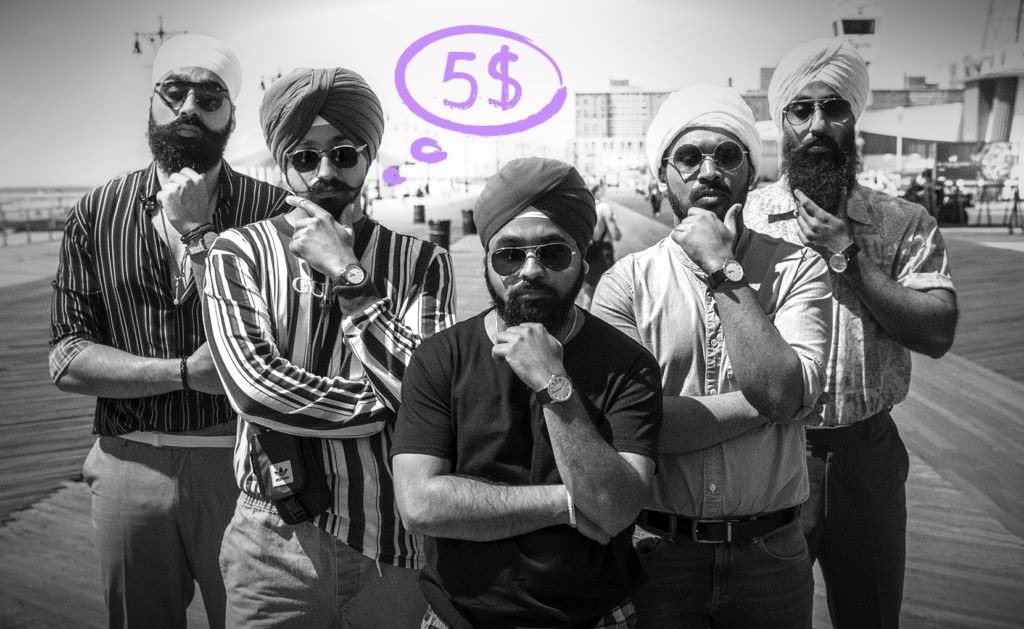 We can understand that. Indian IT industry has been on a rapid rise throughout the recent decade. Finding any developer there is easy, and the rates they'd work for you are more than affordable.
Just look at that: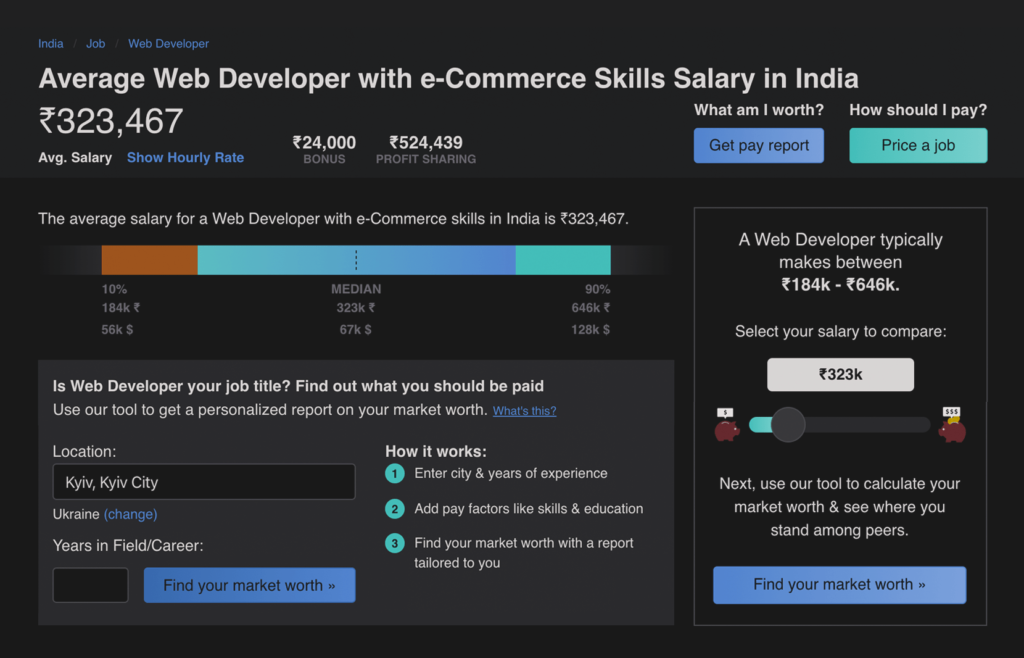 That's around $4K per year.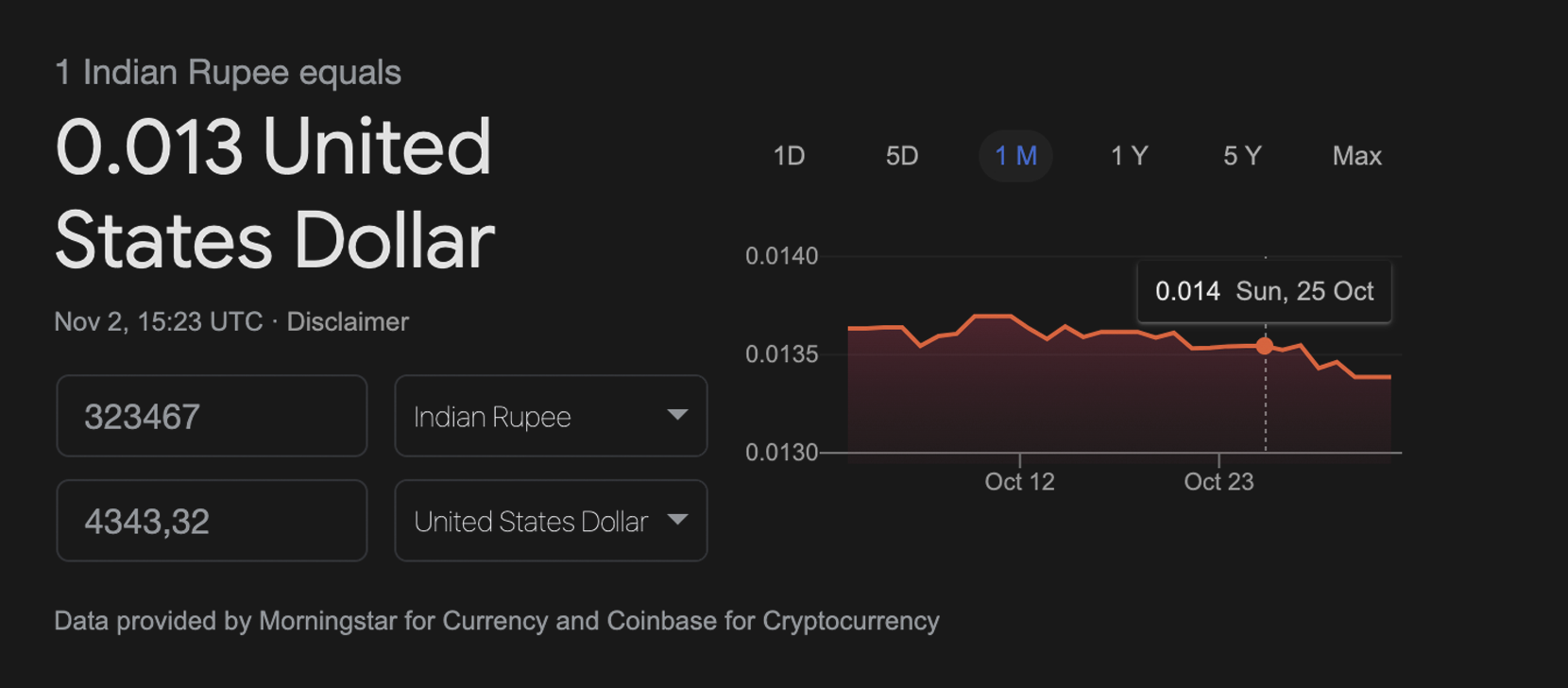 Looks great. But low prices don't come out anywhere. When hiring remote eCommerce devs in India, mind this:
Indian IT industry is attractive to many, and due to the intense competition, the market is filled with developers of all skill levels. You will have to be extra careful if you want to hire an eCommerce developer who is a competent professional.
Constant checks and tests will take a share of your time hiring in India.
Communication problems are almost inevitable because of the significant cultural differences and language barrier.
It's not a mistake to hire eCommerce developer in India or other countries with a more affordable labor force. It's a mistake to expect that skilled professionals from whatever country will agree to work for cheap.
If you are looking for cheap alternatives, prepare to overcome additional difficulties stemming from low prices.
Why to hire best eCommerce developers from Lemon.io?
Lemon.io is a vetting platform working with the best Ukrainian developers.
We made sure that once you discover us, you don't have to look for developers anywhere else.
We have everything you need to develop your eCommerce project.
Extra-class eCommerce devs for any platform
300+ qualified developers in our talent pool mean you always have a wide choice of skill sets, experience levels, and technologies.
Our developers work with Magento, WooCommerce, Drupal Commerce, CodeIgniter, and Shopify.
This is exactly what it takes to hire eCommerce developers on Lemon.io. Just press the button below and our manager will take care of the rest.
A 24-hours lightning. But still, this is how short it takes us to find eCommerce developers specifically for your project.
Do you know what a real bummer is? When you pay a remote dev to do the job, and they deliver you a barely working, glitchy code.
We want you to never experience this.
To keep you safe, this is how we scrutinize developers before deciding to help them find work.
These 4 stages are called vetting, and only 4 out of 100 candidates manage
to pass them all.
As a result, you get to work with some of the best developers out there.
As an American Delaware C-Corp, Lemon's terms and conditions fully comply with the laws of the United States. Remote developers working under our T&C automatically agree to keep any of your project-related or other information secret. Also, intellectual property rights are transferred to you once you pay for the work done.
And if you don't like a developer we assigned to your project, you can always count on a free substitute.
We make eCommerce development easier
Not too easy, but manageable.
At least, you can be sure that:
your project is safe
nothing goes wrong
the work our devs do for you is top notch
you're paying the decent money but don't overcharge
eCommerce development does not have to be a pain in the neck. Just hire some of the best eCommerce specialists, and
E-commerce developer hiring process in Lemon.io
It is very simple!
Once you have applied on our website, our Sales Team will review it and contact you to set up an interview. This usually takes a day or two.
During an interview, a Lemon.io representative will ask questions about your startup/project requirements, needs, and deadlines. The meeting typically lasts 25-45 minutes.
Next, our Matching Team begins their work of finding eCommerce developers that meet your criteria which may take several hours to 2 days before they contact you for another call.
When suitable candidates are found, a second interview is arranged for both sides to meet. An interview lasts 15-60 minutes, and each party can ask questions and decide if collaboration is desired and if they are comfortable working together.
If all goes, the case is passed to the Customer Success team, then prepares smooth onboarding, contract, NDA, etc.
Once the paperwork is signed and followed by payment confirmation, you can begin onboarding your dream eCommerce dev.
And now it's FAQ time! Do you have any additional questions left?
What does an eCommerce developer do?

eCommerce developers make the process of online shopping easy and satisfying. They cater to all the consumers' needs and wishes, construct websites from the ground up, and frequently employ multiple technologies and frameworks.


Which backend is best for eCommerce websites?

According to many industry pundits, the best stack combination for an eCommerce profile is MEAN. If you hear the abbreviation for the first time, don't worry; explanations will follow. MEAN stands for MongoDB, Express.js (a backend framework), Angular (a front-end framework), and Node.js (a cross-platform server with an open source).


Is Python good for eCommerce? 

Thanks to its fastness of information processing, Python is a top choice for developing eCommerce applications and websites with the need to process vast amounts of data. Some Python frameworks (e.g., Django) are extra quick because they compile into bytecode before the program's execution. In addition, they provide a high-level API helping to access databases and web services.


Which technology is the best for eCommerce?

To make a long story short here's a very brief list of languages and frameworks that will come in handy for eCommerce development:
Java
JavaScript
PHP
Python
Ruby
MEAN (see the previous question)
Our experience with Lemon was second-to-none.
Our experience with Lemon was second-to-none. We were matched with a great engineer who's incredibly smart, proactive and punctual. We will be using Lemon again for upcoming dev project!!
Oct 22, 2020
Great communication + Sourcing
Lemon was excellent to work with! They are quick to respond and I have always have positive interactions with them. Not to mention the most important part – they sourced us a great iOS engineer who was better than what we were expecting!
Apr 19, 2021
I was looking for a backend rails...
I was looking for a backend rails developer to lead the charge on developing our APIs and platform integrations. We reached out to Lemon.io and they found the perfect engineer in a day. He's been on the project for almost 2 months and has consistently delivered quality work.
Dec 22, 2020