HIRE AWS DEVELOPERS FOR YOUR FUTURE
Our clients
SEEK THE LIGHT OF LEMON.IO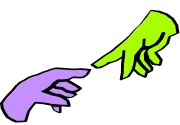 Dev replacement guarantee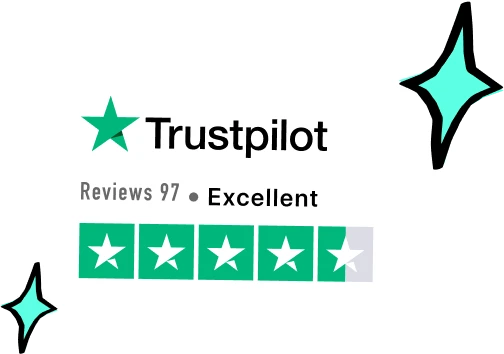 DEVS WHO GOT THEIR WINGS AT
LEMON.IO DEVS TO LEAD YOU TO PLG PARADISE
Today, Amazon has the biggest share of the public cloud market: 39% of businesses rely on AWS. It is more popular than Azure (19%) and Google Cloud (9%).
Being an IaaS platform integrating over 70 other services for cloud computing, data warehousing, etc., AWS is huge.
This is both good and bad news.
Good, because it's a one-stop solution for many of your infrastructure needs and concerns.
Bad, because it's complicated. If you want to move or launch an app on AWS services, you will most likely run into the question:
"Where should I begin?"
Brace yourself. Before you can start building or migrating your project on AWS, you will need to hire an AWS developer fit for the job.
DRAG YOURSELF THROUGH THIS ALONE, OR LET US HELP YOU
Confusion
Source: museumsvictoria.com.au
AWS is full of jargon and terms you have never heard of. Elastic Beanstalk, EC2, VPC, CloudWatch, S3… What's all that?
Also, cluttered UI, complicated subscription plans, and paid customer support can make it difficult for a new customer to figure things out.
Mishiring
Okay, so you want to hire AWS software engineers. But do you REALLY know who you need for your project? Because there are AWS Developer Associates, and then there are AWS Solution Architects.

If you are new to Amazon Web Services, you may end up recruiting the wrong person for the job.

You need to know some core differences before you dare to hire an AWS developer instead of a solution architect or vice versa.
WHAT DO AWS DEVELOPERS DO?
Best AWS developers build and maintain applications that use the AWS environment. To do this, AWS developers must:
Know AWS core services
Know how cloud-native apps work
Be able to use AWS SDK, CLI, and APIs for app development
Use CI/CD pipeline to deploy applications on AWS
Why hire an expert AWS developer?
AWS solution architects build and maintain infrastructure for customers to either move their app/project to AWS cloud services or build a new one. A high-grade solution architect can develop secure, cost-efficient, and high-performing infrastructure.
To be able to do this, AWS developers in 2022 must:
Be able to communicate with clients and figure out which technical solutions would meet their business goals in an efficient and cost-optimal way
Analyze customer requirements and problems, and break them down into solvable tasks for distribution across a team of developers
Design architecture for moving existing apps or projects to the AWS cloud environment
Know how to use AWS-specific services: EC2, Elastic Load Balancers, EFS and EBS, Cloud Watch, VPC, ECS, and so on
Be familiar with AWS CLI and APIs, templates, and management console
Keep on track with the latest AWS products, features, and services
So, what's the problem?
If you aren't tech-savvy and have little idea about AWS developer roles and responsibilities, you probably can't tell how good of an expert your candidate is in either of these areas.
Even if you are, you will still have to do a lot of searching, researching, testing, and interviewing before you finally hire an AWS developer suitable for your project.
So, either you're buying a pig in a poke, or you spend a lot of your time and energy selecting and testing possible candidates.
High costs
«It would be nice to always have an AWS developer at hand,» you probably thought 5 minutes ago, but here we are to break your illusions and hijack your unicorns.

You might want to reconsider if your idea was to hire in-house AWS engineers. On average, an AWS developer's salary in the United States is $91,5K annually. This cost might be unbearable for a newborn startup or a small business.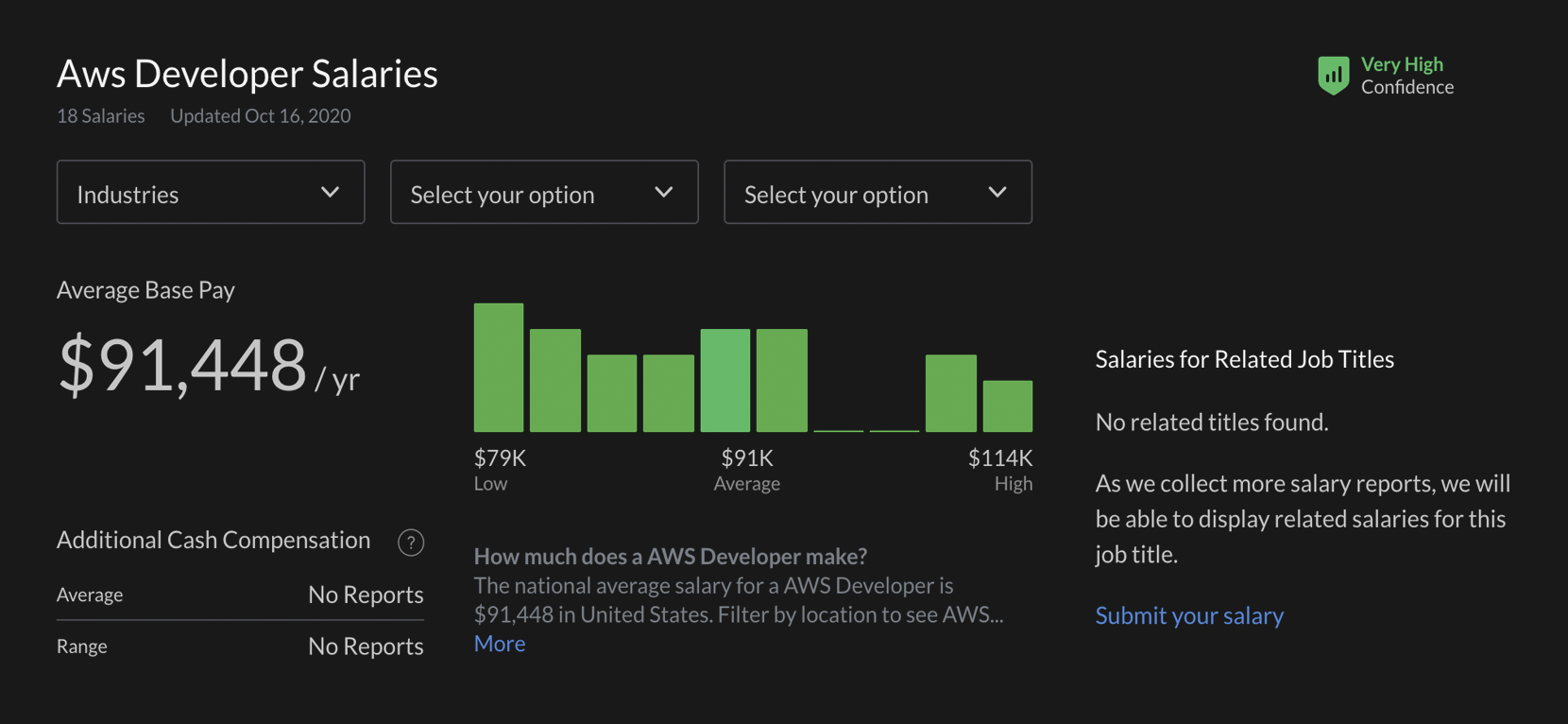 Source: Glassdoor.com
Hidden fists of the market
If you live and hire in the United States –– brace yourself and get ready
to pay:
FICA taxes
Office rent
Equipment
Paid vacations
Paid sick days
And, of course, you must pay your in-house devs regardless of their workloads. They might just have the laziest day in their life – and you're paying for it.
What about AWS developer salaries in India?
Okay, but what if you hire outside the United States?
In search of affordable AWS developers, many startuppers turn their eyes to India. It's a good choice at first glance. India is famous for the rapid development of its software development industry, and the salaries Indian developers work for raise many eyebrows.
Just look at how much (or rather, how little) Indian AWS developers sell their labor.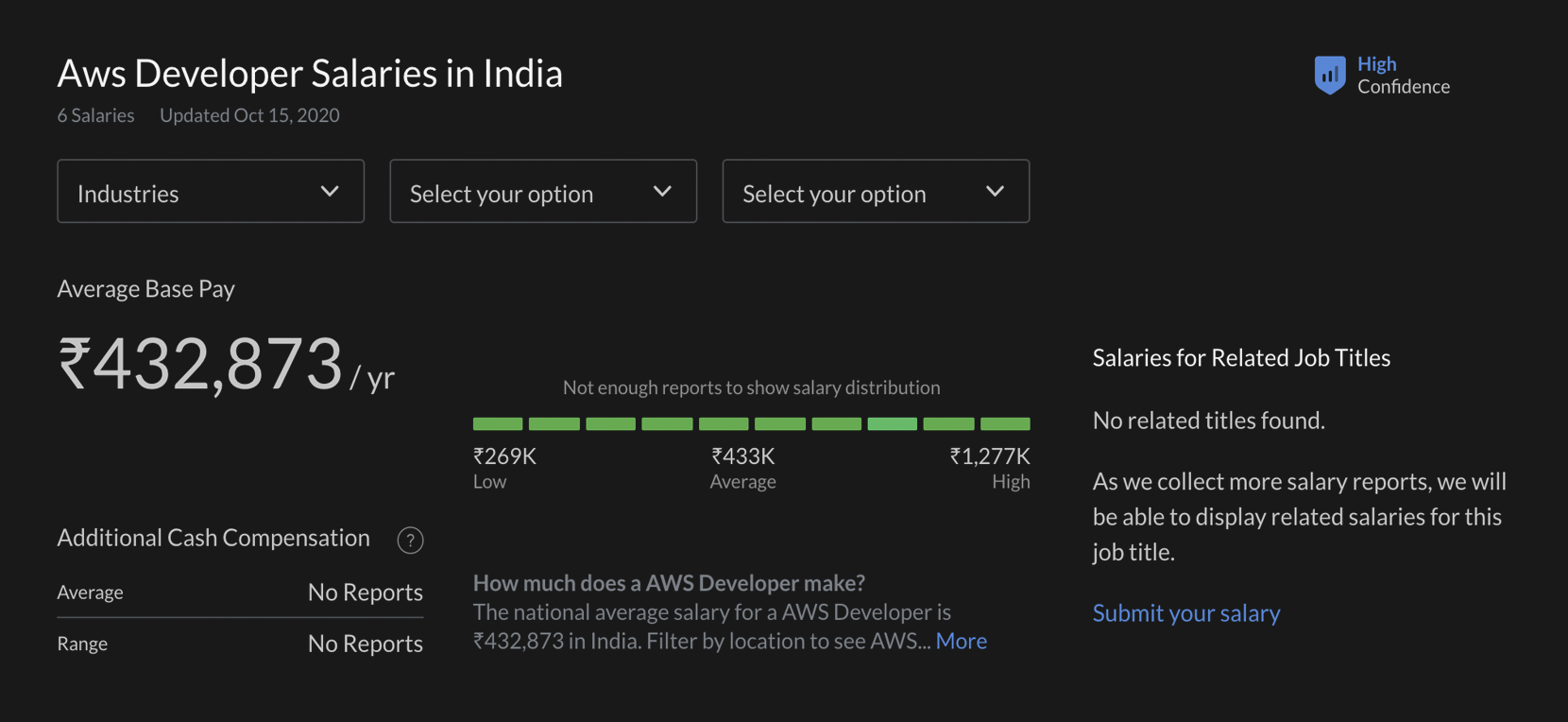 Source: Glassdoor.com
In USD, an AWS developer's salary in India is $5,900 annually.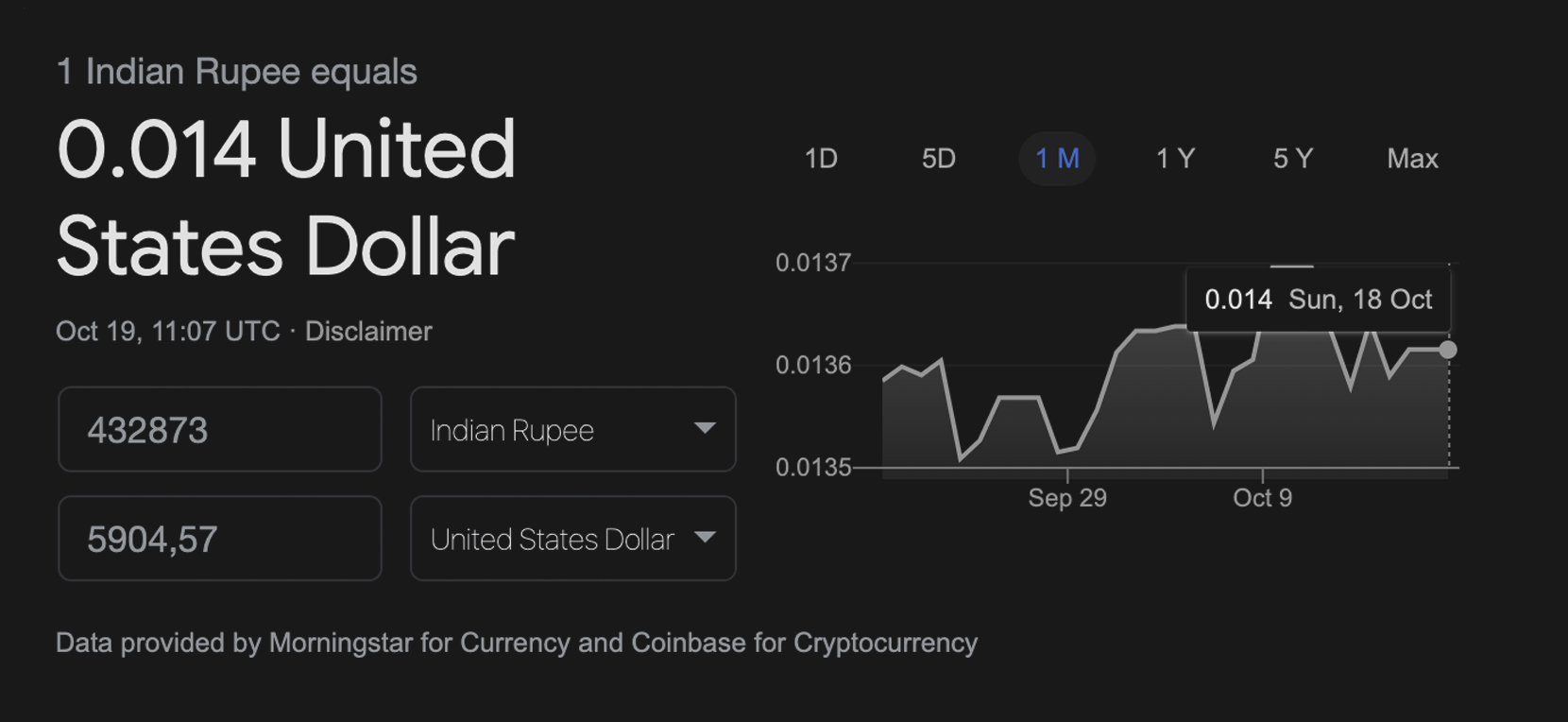 Looks like a reasonable option, yes?
No, because:
Statistically, you will most likely run into unskilled, inexperienced beginners who're not apt in many programming languages –– just because the IT market in India is so large.
Communication problems can effectively obstruct discussions on your project.
Some freelancers working for cheap will do anything to get hired. When you ask them, «Can you move my app to the AWS environment?» they will say «Yes» even if they can't. Watch out.
Intense internal competition forces many Indian developers to keep their rates low. Indian economy is not your problem. But do you want to build your business using the labor of people who have no choice but to work for pennies?
So, there's no affordable alternative to American developers?
There is! Just read on. We'll cover it later.
Or, here's a shortcut for you to jump right there.
YOU DON'T NEED IN-HOUSE AWS DEVELOPERS
How?
Remote developers. At Lemon, we believe them to be God's third most wonderful creation after democracy and America.
Why?
Because with them you can solve your problems easily:
Pay only for the time they spend working on your AWS project.
Pay only the price you and the freelancer agreed upon. No taxes, no insurance payments, no paid vacations or other extra expenses.
Hire a developer with the exact skill set that you need. You don't have to to waste time and money retraining your devs for the new tasks.
Communicate all your project requirements, changes, and suggestions directly to your freelancer. On the fly.
Where?
You have to pick gems out of the dirt on generic marketplaces.
On vetting platforms, every developer is a gem.
Lemon.io is your diadem of gems.
Hire AWS developers on Lemon and see your project liftoff SpaceX Dragon.
WHY CHOOSE LEMON.IO TO HIRE AWS DEVELOPERS?
AWS experts to always match your project needs
We have AWS developers. We have AWS solutions architects. Depending on what you need to do, we will find you an expert with appropriate skills.
You don't have to guess whom to hire anymore.
Matching you with devs real quick
You are a click away from hiring your AWS developer.
Just press the big yellow button below and tell us what you need to do.
We will assign a developer to your project within the next 24 hours.
Price-quality balance close to perfect
We figured that affordable prices + high quality of work = more customers.
We knew we wanted it.
The only question was, «How do we achieve perfect balance?»
Through trial and error, we developed this strategy:
Price
We mostly hire developers in Ukraine. Costs of living here are about 40% lower than in the United States. For you, it means lower prices.
We set lower commissions that our competitors.
Lemon's team is working from several countries. Our maintenance costs are mostly salaries, and our overhead expenses currently don't exceed $60,000. For you, it means that we don't add our expenses to your prices.
With us, you no longer have to google AWS developer salary.
Quality
Developers from Ukraine share Western mentality when it comes to work ethics, responsibility, and quality. For you, it means high performance standards.
We organized a set of meticulous vetting procedures to ensure high quality of our developers' work.
We have an extra fast and highly responsive support team to help you solve whatever issues you may come across when working with our developers.
If you are unsatisfied with a developer assigned to your project, we will provide you with a free substitute.
ADVANTAGE OF HIRING AN AWS DEVELOPER AT LEMON.IO
Lemon is your safe haven: our freelance acquisition team does wonders to weed out unreliable devs.
Here is how we test every developer who wants to collaborate with Lemon.io.
Background and reference check
Online portfolios, GitHub, Stack Overflow, social media profiles –– the internet can tell all sorts of things about a candidate.
So do former employers, by the way. Our first step to check a freelance developer is to gather all the available info about them.
English skills check
Clear communication is crucial for project success. We want our devs to understand your requirements clearly, so we test their proficiency with English language.
Professional skills check
We like to read excited reviews commending high performance of our developers.
know how we got all those reviews? We made sure each of our devs had coding skills that allowed them to solve real development problems, successfully passing all the bottlenecks in the process.
Live interview
Because everyone loves working with nice people. Our devs are so nice that sometimes we wonder why no one is making cat memes about them.
These four stages are what we call vetting.
Only 4 out of 100 candidates pass it successfully.
You could entrust a nuclear football to every developer who survived the procedure, and still sleep tight.
To learn more, check out this Lemon Review.
No such thing as too much security
We are an American Delaware C-Corp based in Ukraine. Our terms and conditions fully comply with the laws of the United States.
Each freelancer applying to work with us agrees to work under these terms and conditions, including two important thesis:
they must keep your project details in secret
when you pay for the finished work, they must transfer intellectual property to you.
Cut the crap
Forget the «No pain, no gain» nonsense.
Leave research, recruiting routine, and trial and error to people who have the luxury of wasting time and money.
Your way is right in front of you.
A single click –– and you hire AWS developers that Amazon itself would want to employ.
ANY QUESTIONS LEFT? HERE'S A FAQ FOR YOU!
How difficult is it to find good AWS experts?

AWS professionals are tremendously popular nowadays — with Amazon's expansion, these specialists also gain popularity. However, AWS certifications aren't global and all-encompassing: one AWS specialist may be proficient in a sphere where another one will be almost a novice (well, that's an exaggeration of sorts, but still). Composing the right job description and profiling a specialist you want to hire will make the hiring process more feasible. Cloud practitioners have some basic AWS commands, associates have been working with AWS for at least a year or two, and Senior AWS programmers have an excellent command of all the AWS nuts and bolts. AWS engineering is one of the branches with the fastest expansion rate, so finding good AWS experts should be manageable (albeit we don't consider it a light walk either). Vetting platforms can definitely make the process easier. For instance, Lemon.io will help you hire AWS developers who were pre-vetted and passed 4-stage testing procedures.

Why should you select AWS technology?

AWS cloud service from Amazon provides a cloud-based adaptable, and scalable infrastructure. How can AWS developers help you boost your business? They will help you with…
– Making AWS migration easier;
– Developing cloud-based software;
– Managing a virtual private cloud for your know-how;
– Securing and optimizing your AWS account;
– Setting up AWS EC2 for the needs of your app.

What technical skills are required for AWS?

Here's a list that can provide you with an answer.
– Java, C#, or Python proficiency. Other languages with an official AWS SDK will also be OK.
– Networking aptness. Do DNS, HTTP, and VPN abbreviations sound familiar to you? Besides, it will be great to use CloudFront, VPC, and Route 53.
– The basics of data storage.
– Security foundations. AWS guidelines are tailored to assure your digital safety.
– Cloud-specific technologies. After your code travels from your hard drive to the virtual cloud, it starts behaving according to another set of rules. However, don't fret: if you hire an AWS pro, they will make everything to ensure the availability, scalability, and safe recovery of your treasured possessions.
– Communication. How can you build an AWS system if you can't explain it to your fellow team members?

Are AWS developers in demand?

The demand for AWS professionals has been on the rise, probably since Amazon has begun gaining traction and enjoying worldwide popularity. Therefore, specialists with cloud expertise will never stay on the bench for too long. AWS is attractive for IT folk finding relaxation and interest in cloud computing, cloud infrastructure, and app development. Since there's no forthcoming shortage of demand, startup owners should probably devote all their energy to the proper AWS specialists' search — either themselves or with the help of talent marketplaces like Lemon.io.

How much does it cost to hire an AWS developer?

The prices differ from region to region and depend on qualifications and extra experience. Generally, you can expect an AWS developer from Eastern Europe cost you $25-45 per hour, whereas a dev from the USA will empty your pockets with a speed of $55-70 per hour.

How to hire AWS developers?

Our team at lemon.io takes pride in handpicking top-tier AWS professionals who have demonstrated their expertise through past projects. By leveraging our extensive network, we ensure you have access to a pool of highly skilled and qualified candidates.