Top 7 reasons for you to hire Ukrainian developers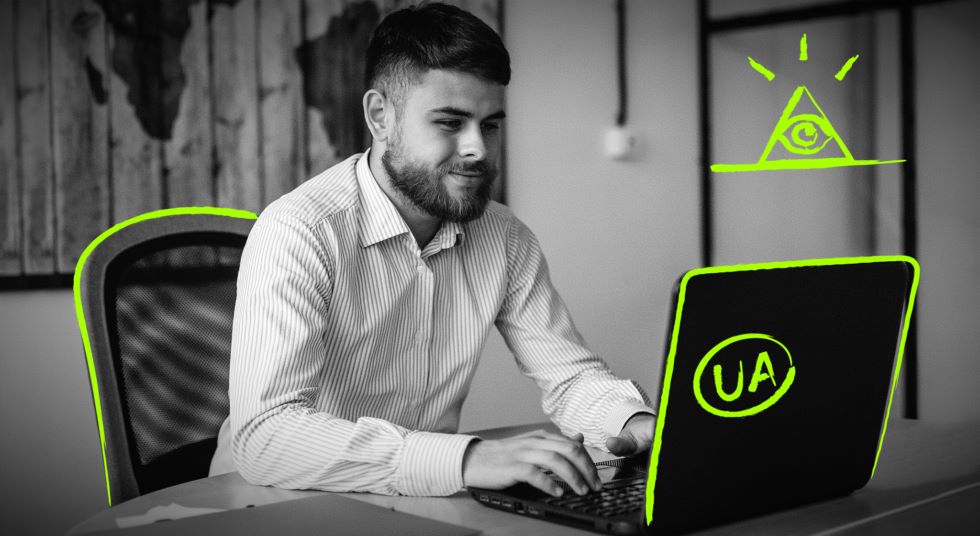 Ukrainian IT industry on the rise
Over recent decades, outsourcing in the IT industry has become extremely popular. There are many reasons American companies prefer to hire freelance web developers or software developers abroad, but one of the most significant is cost efficiency.
High living costs and salaries in the United States make hiring North American devs rather expensive. On the other hand, if you run a big and complex project with increased security requirements, you might hesitate to hire in regions such as India or Indonesia. The costs of living are lower (and, respectively, the freelancers' hourly rates), but finding a qualified expert there can take quite some time.
So, what should you do?
The answer is, "Look somewhere between the East and the West." Namely, in Ukraine. This country's IT industry has been on the rise lately, and the popularity of Ukrainian web and software developers is likely to keep growing. In other words, when it comes to outsourcing software development, Ukraine is a great choice.
Specializing in vetting Eastern European freelancers, the Lemon.io team discovered that in most cases, our clients are extremely satisfied when hiring Ukrainian developers. This, as well as the reasons listed below, influenced our decision to focus on collaborating with developers from Ukraine in roughly 80% of cases.
So, why is Ukraine so good at software development?
High ratings
Ukrainian developers regularly take top places in all kinds of ratings.
For example, HackerRank puts Ukrainian developers in 11th place (out of 50) in its chart of the best developers in the world.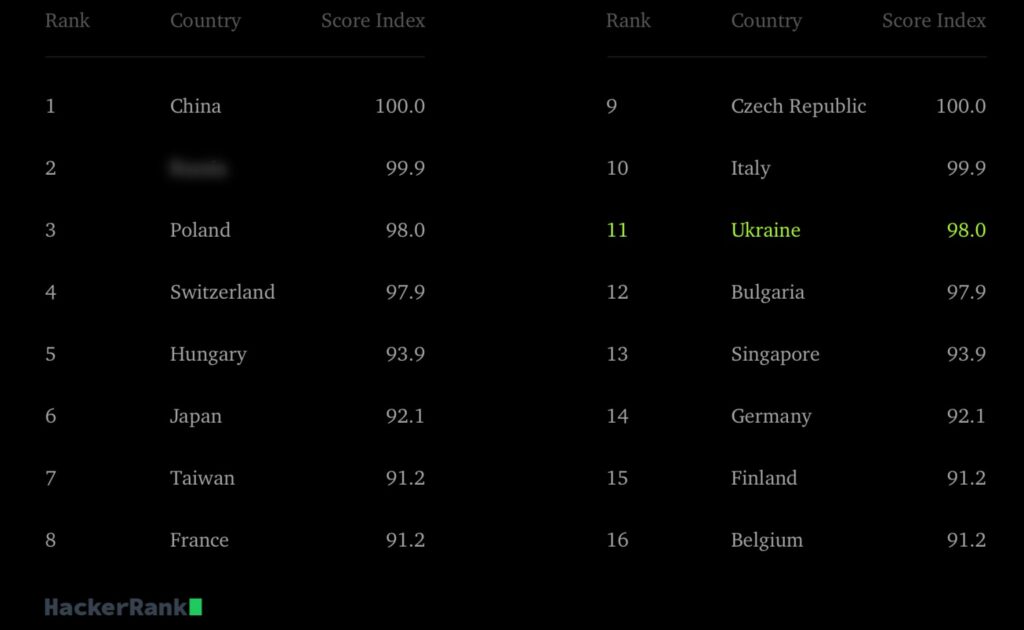 Daxx put Ukraine in 8th place in its list of the Top 10 countries with the best developers.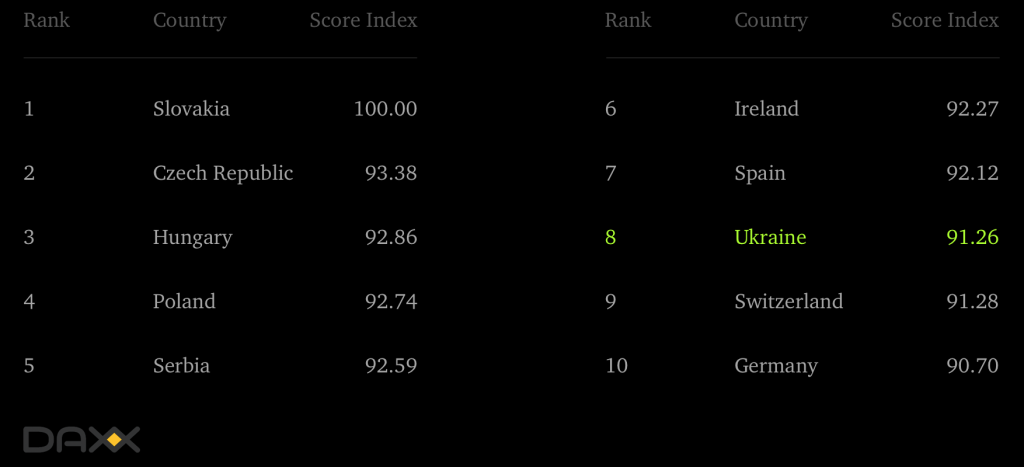 Topcoder published the chart of countries whose software developers have the highest rankings. In it, Ukraine occupies 6th place out of 32. The chart looks credible and is based on some solid math.
According to the UADN report, Ukraine is prized in several outsourcing rankings, as well as in global innovations and leading research firms rankings.
In other words, the intermediate conclusion we can make so far is that Ukrainian developers are worth your trust and money.
Looking for remote senior-level tech talent?
Get access to hundreds of experienced devs today and go from zero to hire within two weeks!
A seething IT center
According to the State of European Tech 2018 report, Ukraine is the home to more than 185,000 qualified IT specialists and is the 4th in the world in the number of tech workers.
The country is known for the immense quantity of all kinds of R&D activities within its borders. And it's not just about the presence of the US companies that hire developers full-time in Ukraine. N-IX claims that there are more than 100 research and development offices of big international businesses. Namely, the list of major companies using Ukrainian programmers includes Boeing, Siemens, Apple, Microsoft, Skype, IBM, Samsung, Huawei, etc., located in Ukraine. This is not to mention over 1000 software development companies (including custom software development companies that can create whatever piece of software you might need), many IT schools, NGOs, and private IT organizations operating in this country.
Among the industry events regularly occurring in Ukraine, one should mention:
Agile Eastern Europe Conference
iForum
DEV_Challenge
PyCon Ukraine
Blockchain Business Forum
Microsoft Blockchain Intensive
and many others.
The ongoing growth of the IT industry
Within just one year, the volume of the exports of Ukrainian IT products and services grew by almost $1 billion. In 2017, the industry generated an impressive $3.6 billion; in 2018 this figure equaled $4.5 billion. Given that this tendency is going on and on, it is safe to assume that in the nearest future, the demand for Ukrainian developers will only go up. To meet it, Ukraine software developers companies grow in number extensively.
Seeing the IT industry as a prospective and profitable, Ukrainians dive into this profession headlong, regardless of age, gender, or other conventionalities. In the case of Ukraine, female software developers earn approximately 10% less than men (specifically, in the game development industry), but given the pace of growth, this gap is likely to close, eventually.
As we can see, software development is something Ukraine is globally prized and famous for. And here's why.
Reasons to hire Ukrainian developers
Time Zone
When planning the project and coordinating your work with freelancers, time zones often bring in additional confusion. Being only 1 hour ahead of most European countries, the Ukrainian working day mostly coincides with the working day in Western and Central Europe. If you live in the United States, Ukrainian +2 GMT is still easy to reckon with. Just keep in mind that American morning is Ukrainian evening.

In other words, the time zone Ukraine is located in allows establishing working hours that are comfortable for both clients and developers.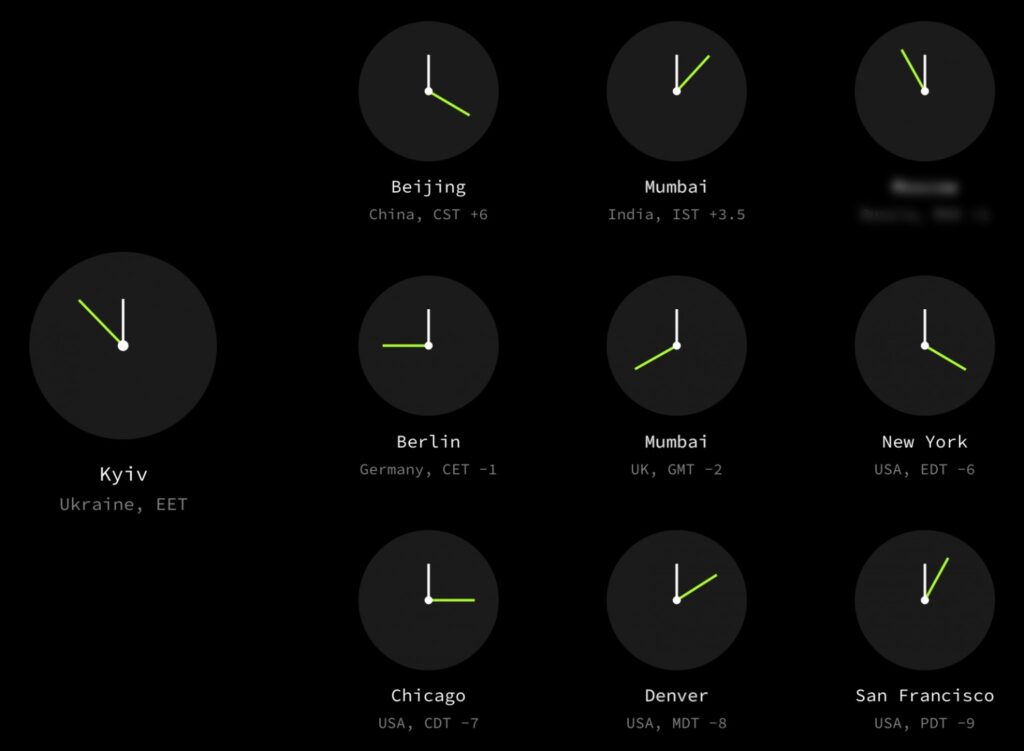 English language
Regular and clear communication is probably one of the most important factors for a project's success. When a developer understands what you want from them, they can do the job quicker and more precisely. When you understand what a developer tells you, you become aware of the possible roadblocks and complications when it is not too late to fix them.
This is why high proficiency in the English language is so important when working with freelance software developers. Unlike many professionals from India or Pakistan, Ukrainian developers mostly speak good English. According to the statistics, about 54% of women and 43% of men in the IT industry in Ukraine speak English an upper-intermediate level or higher. The overall percentage of English-speaking developers is shown in the graph below.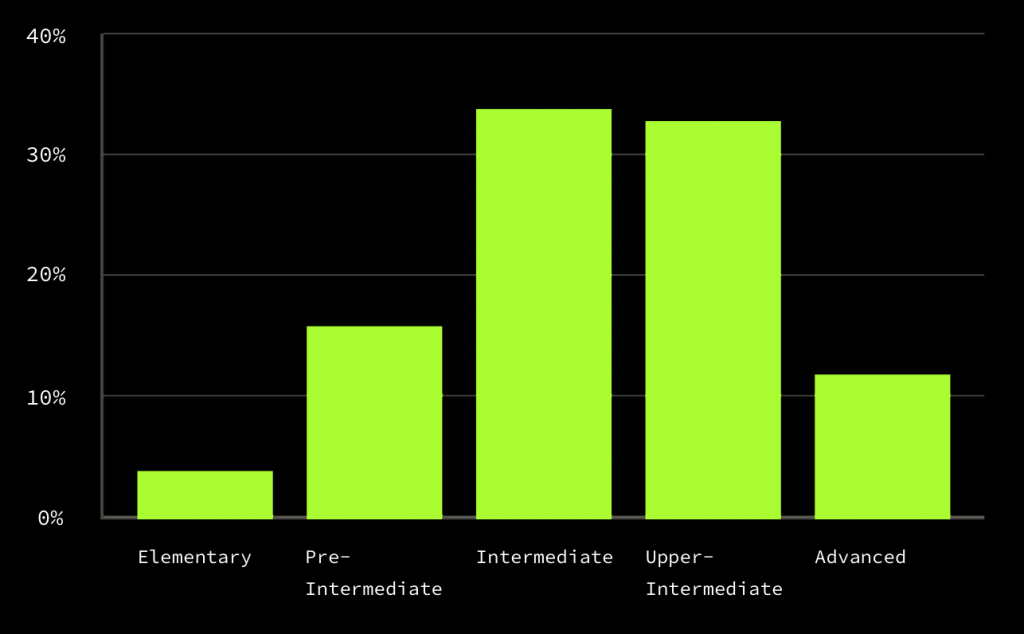 Western mentality and work ethics
You won't face any culture-related complications when working with Ukrainian developers. Religious or public holidays will not obstruct the progress of your project. Employees of some of the best software development companies in Ukraine, as well as freelancers, share Western values such as productivity, work ethics, and personal reputation. They put a lot of effort into creating reliable software and are personally interested in maintaining the high quality of their work.
The Ukrainian government actively supports the IT industry, and the talent pool of competent developers grows exponentially. Due to the innate spirit of enterprise and creativity, Ukrainians are often eager to work for big world-famous companies. IT and software development allows them to participate in global processes and achieve self-realization without leaving their home country.
Diversity of skills
Considering the popularity of the IT-related professions in Ukraine, you are right to expect a wide range of available skill sets on the market. Indeed, Ukrainian developers display proficiency in several disciplines.
Wanna hire front end developer in Ukraine? According to the statistics, 26% of Ukrainian developers work with Java. If you need to hire Ukrainian iOS developers, 15% of them are skilled in C#, and 8% know Python. As you know, these two are among the most popular programming languages for developing iOS apps.
If you want to hire a PHP web developer, Ukraine has around 13% of its devs specializing in this language, as well as in JavaScript.

Other technologies favored by Ukrainian software engineers include Unity 3D, C++, Scala, Magento, Ruby, and Node.js.
According to Daxx, software development in Ukraine is done by pros with the following skills: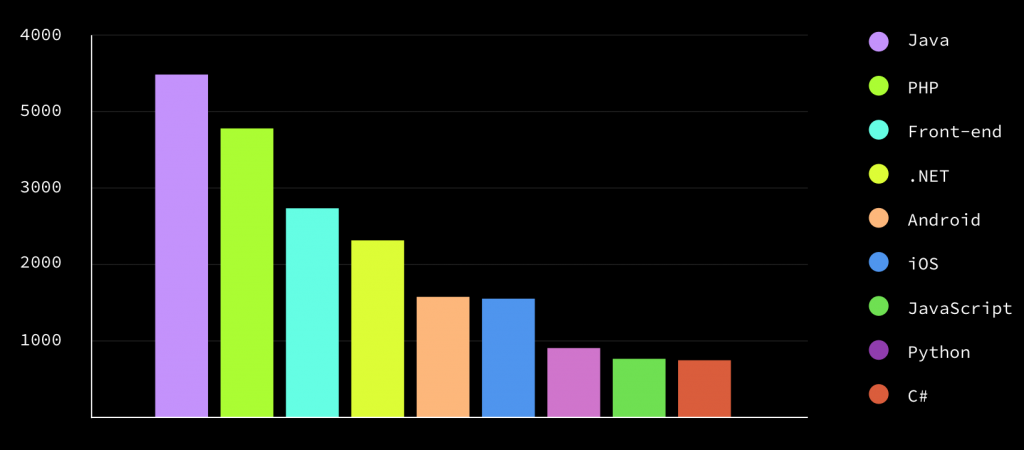 Ukrainian developers are great not only for programming and coding but also for game development. Ukrainian game developers are well known around the world. You must have heard of such franchises as S.T.A.L.K.E.R, Metro, or Cossacks. Apart from being great games, they are united by one common attribute: having been created by Ukrainian development teams. Recently released games developed by Ukrainian video game developers can be easily found on Steam or Epic Games Store and include titles such as Sinking City or Sherlock Holmes: The Devil's Daughters.
Prices
Software developers in Ukraine charge approximately $30-50 per hour. This is an average figure, as actual prices depend on developers' experience, specialization, and the city they are based.

Here are the average hourly rates developers collaborating with Lemon.io work for.

As you can see, software development outsourcing in Ukraine comes at rather affordable rates.
Geographic location
If you prefer to discuss project details with the developers you hired in person, you will be happy to know that Ukraine is just a couple of hours away from Western European countries. For example, a flight from London to Kyiv will only take 3 hours and 25 minutes. Flying from New York to Kyiv will take 10 hours and 40 minutes, which is still faster than if you hired a development team based in Asia. Besides, the time difference sometimes works in unexpectedly beneficial ways. Working day in Ukraine begins earlier, so when an American client wakes up, there is already some finished work waiting for them.
Availability of skilled freelancers
The number of skilled software developers in Ukraine is huge, and the number of those who are currently studying is even greater.
If you are reading this, you're probably wondering how to hire Ukrainian software developers. Easy! Lemon.io works to provide you with the services of seasoned professionals. We developed a special multi-stage vetting procedure to select the best of the best ones.
The vetting process is a sequence of tests and checks each of the freelance developers applying to work with us must undergo. Our freelance acquisition managers usually guide each candidate through the following checks:
Overall check (reviewing the candidate's portfolios, testimonials, social media accounts, contacting their previous employers, and so on)
Proficiency tests (code quality, programming language knowledge, etc.)
English language test
Live interview
After the candidate successfully passes all the steps, we add them to our talent pool and assign them to customer projects.
If you ever googled something like "best web development agency in Ukraine" or "hire full-stack developers in Ukraine," contact Lemon.io. We'll show you how simple outsourcing for dedicated devs can be.
Still having some questions? Read our FAQ!
Why Ukraine is good at programming?

Ukraine is good at programming for several reasons. First and foremost, Ukraine has inherited a not-so-bad post-Soviet math and cybernetics science school. The first dictionary of cybernetics in the USSR was also written in Ukraine and by a Ukrainian. Furthermore, Ukrainian technical universities are reasonably good even by the world's criteria — and they give education to hundreds of future IT specialists yearly. The third reason is that Ukrainian programmers have purely European work standards and quality levels — however, they can often be less pricey than their Western counterparts. 


How many developers are there in Ukraine?

According to the numbers provided by StackOverflow, there are over 165 000 web developers in Ukraine. It's the second largest number of developers per country after Poland in Central and Eastern Europe. 


Is Clean My Mac Ukrainian? 

Yes, it's a product made by a Ukrainian company called MacPaw! Its main task is to develop popular software for iOS and macOS. Along with Clean My Mac, MacPaw has been developing top-notch brands like Setapp or Gemini Photos. The headquarters of MacPaw is in Kyiv, Ukraine — but it also has two more external offices in San Francisco and Cork. 


Why does Ukraine have so many software engineers? 

There are several reasons for such a situation. In Europe, Ukraine is one of the top IT countries (along with Poland). Ukrainian programmers are reliable, they have an extended experience in remote work, they are responsible, and they know what a perfect work ethic looks like. All in all, it's a stellar place for talent outsourcing.


Is Ukraine good for software engineering?

Without a doubt, Ukraine is a top choice of the country when it comes to software engineering, IT talent outsourcing, and finding perfect cadres for your technical project. Ukrainian programmers possess outstanding skills of time management and demonstrate the Western quality of work.