Tired of slow in-house teams?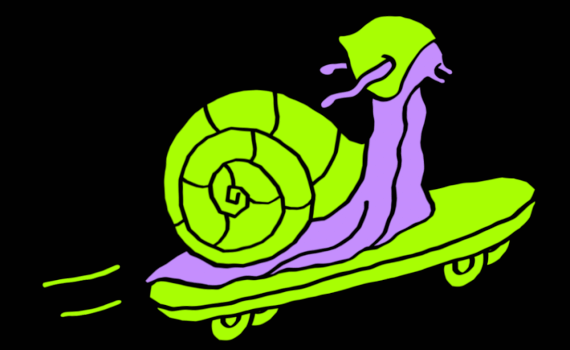 Hire the best remote devs
// our impeccable vetting, matching & recruiting leave no chance to faults
Why hire our developers?
Lemon.io offers vetted developers only
You'll get the first candidates in 1-2 days
No sweat: we'll give you a hand
What are the pillars of
our temple?
Limber and precise matching
Extra fast hiring
Micromanagement-free approach
Omnipotent support
No payment complications
Our vetting sieve leaves
only the top masters
Professional networks check (LinkedIn, GitHub, forums)
English proficiency test (oral/written communication)
Soft skills test (communication, time management, empathy)
Coding proficiency test (live coding & code analysis)
that's it. you are ready to hire your first engineer
Lemon.io is the marketplace
for perfect matches
// We check both sides of the process — so that everyone got the desired result!
Tired of babysitting your developers?
No time for constant control?
With our engineers, your startup will fly at once!
Forget the neverending hunt for the perfect engineers that steals most of the working days for every budding startup. What do you want more — carefully think over your future strategies or tediously scan the Internet for qualified specialists? Plan the profits — we'll take care of the staffing routine. Our procedures are plain and swift. Hit the button to check it out!
Because you ain't a spider…
Every superhero needs a dream team. Certainly, we remember Superman and Spiderman. Yes, Batman too. But in the world of digital startups and web applications, that kind of attitude doesn't work. You can't make the web service from the bottom to the top by yourself. And if we're talking not about some basic MVP but the actual "Rolls-Royces" of the app world, that's doubly so.
Everyone who steps on the lengthy hiring road (lined by checks, balances, trials, and errors) should make this crucial decision: in-house or remote? Hiring in-house can be long and tedious — especially in light of the post-pandemic rise of the remote. No superman has much time on his hands: the market is waiting for the perfect solutions, and each unnecessary pause plays against you. Is there an ideal life-saving decision?
Yes, there is. REMOTE DEVELOPERS.
Boo! It's not a poltergeist,
it's your invisible helper
What is remote development, and how does it help you conquer the world? — Plainly speaking, a remote developer is the opposite of an in-house developer. Whereas the former is hired for a particular time and task span, the latter works for you every day (except weekends).
Contrary to in-house developers (generally recruited for all the available work), you can hire developers for a particular set of assignments they're good at. Just segment your workload into functional fragments and hire several independent contractors — one-two per task. Such a selectiveness surely pays off: if someone lags behind, you can smoothly substitute them without halting the business.
Call your troubleshooting squad & save the efforts!
Finding an excellent in-house developer can be tedious if you work far from global markets. Hiring remote software developers is a real panacea for such conditions.
On the overheated markets, real professionals (even with hilariously busted hourly rates) are snapped up like hotcakes. You snooze – you lose!
Hiring in-house for first projects can be ill-advised if your company is a small but fast-growing startup. Are you 100 % sure you want to cover all the additional expenses?
Companies with irregular workloads should also look for remote teams: if you hire in-house, you pay the fixed sum monthly — the workload notwithstanding.
For midterm projects up to one year, it's wiser to hire remote developers: for full-timers, the integration is longer — if the project ends soon, it doesn't pay off.
Usability is the cornerstone of all open-source e-commerce projects. Hiring remote devs for maintenance and service is convenient: small irregular tasks are their daily bread.
Remote is
a New Black!
Why is remote development so popular and important in the world of skyrocketing startups? — Our age is the remote age: in-house jobs started losing their dominant position on the job market long ago — and the COVID pandemics sped it all up. Nowadays, people even deeper realize they don't need to go to the office, losing from 1 to 3 hours commuting daily to fulfill most of their working tasks. This is especially true for programmers: their working tools are portable, and wireless connection is practically ubiquitous, so why spend your best hours in the office?
some top reasons for the
popularity of the remote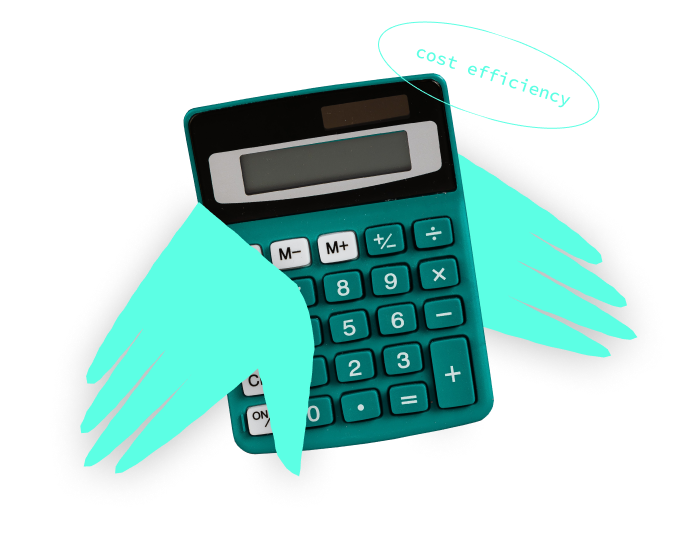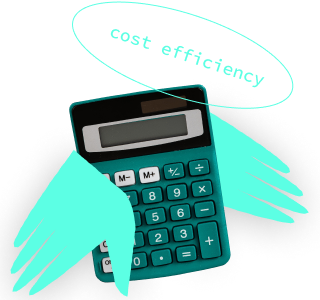 The highest hourly rates for the remote devs are in the US (up to $70) — but it's still cheaper than hiring in-house teams and agencies. In Eastern Europe, prices are much lower for the same skill set, which is $45 on average (more below).
You can find any skills desirable for your project in the remote development market. If these proficiencies are evenly distributed between several people, plan the timing/budget, and hire them all. Say no to incompetence, and staff your startup beneficially.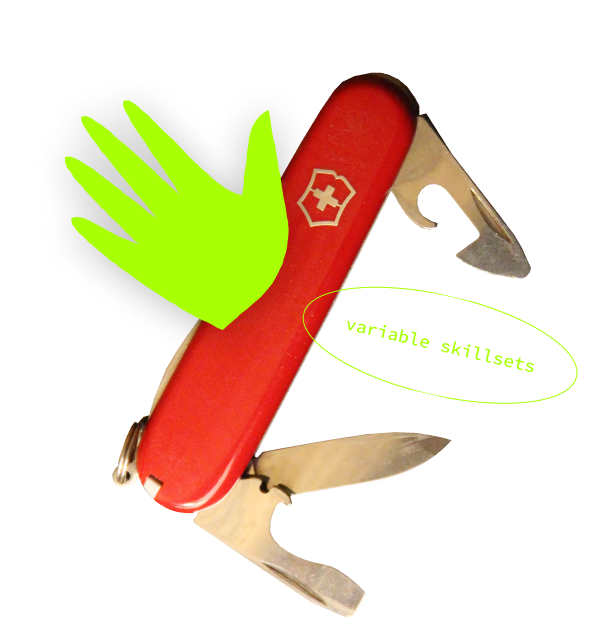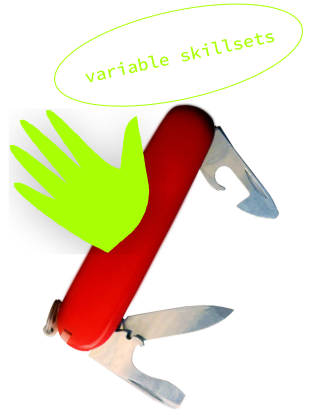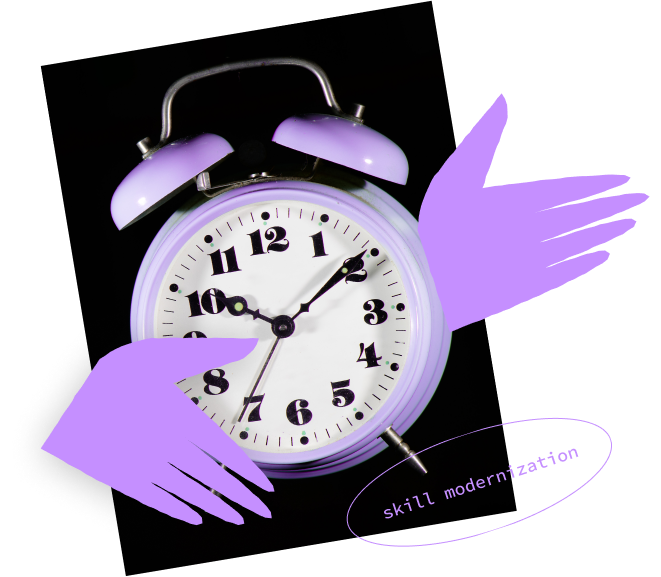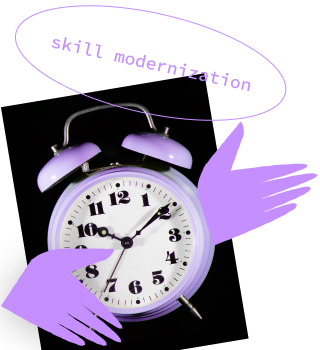 Evolve — or stay poor. That's the jungle law of the remote world. If nobody offers you a monthly salary, you should win the daily bread, standing out from the IT crowd. That's why most remote specialists keep pace with all the modern requirements.
It's generally acknowledged that unhindered straightforward communication is a key to transparency. Without any mediators between you and your hired web developers, every bit of information will be passed on undistorted, and all the processes will speed up tremendously.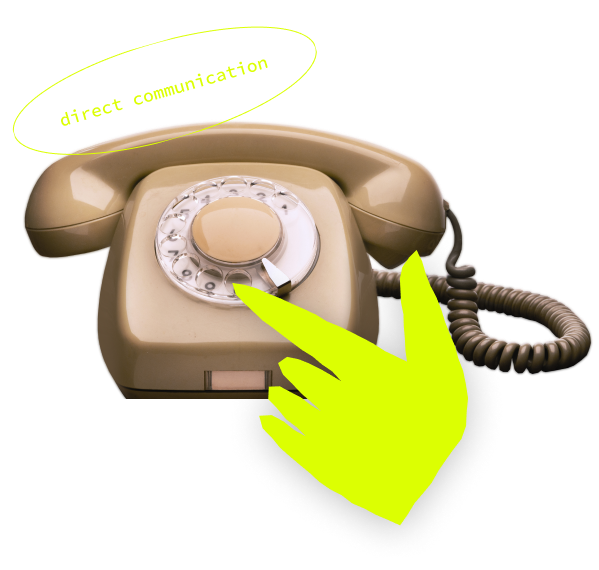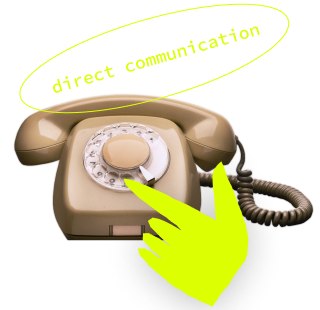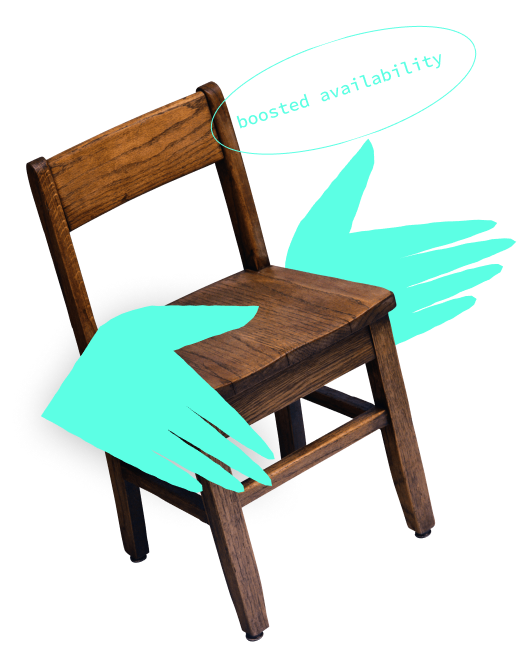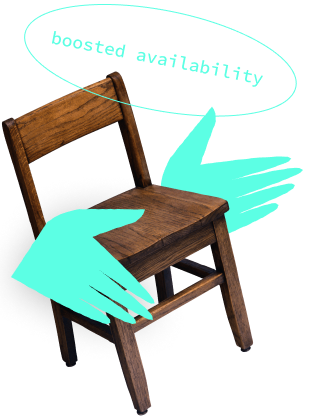 Everyone who worked with in-houses knows they are unavailable after 6 PM. However, most businesses go on developing even after the evening tea, right? Remote devs don't have to sit in your office daily, but they will help you in real need.
Modern online and standalone instruments for relaxing time tracking and task sharing (Trello, Slack, TeamViewer, Jiminny) help you follow the working schedule of all your remote developers. All your projects will be released in time with no profit loss.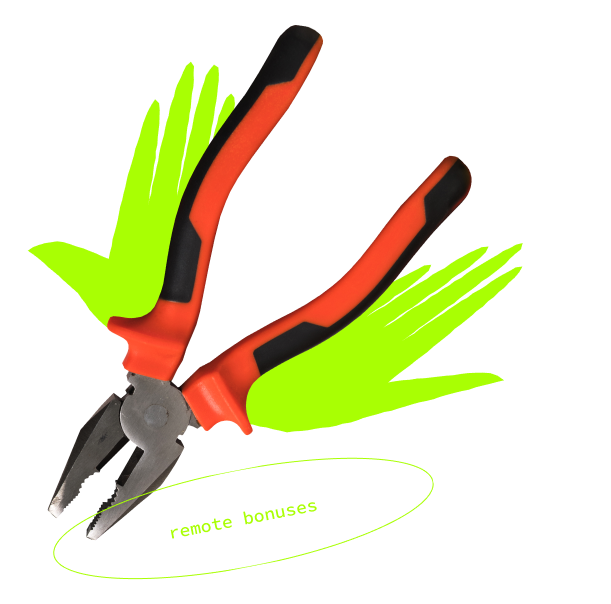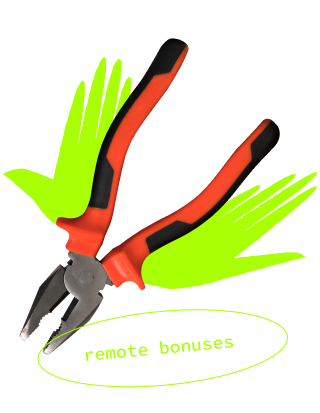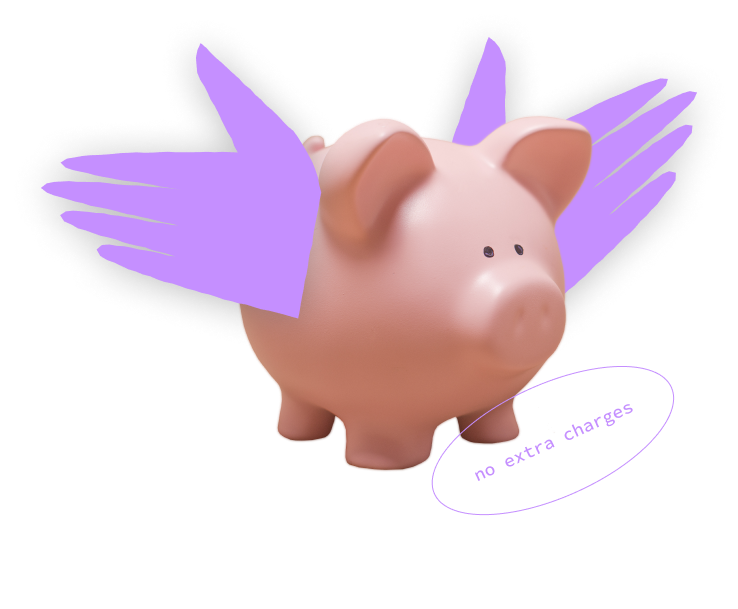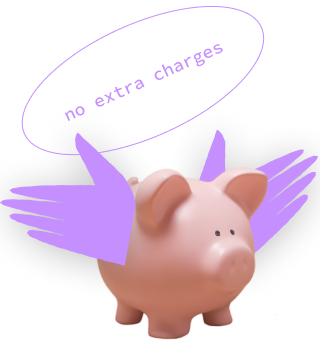 You don't have to think about FICA taxes, insurance, paid vacations, or sick leaves with remote developers. For the remotes, you pay only for the actual working hours. Spend the money for a good cause — or ponder over one more killer feature of your app.
Hello, pony!
Show me your tricks
What skills to look for when hiring a remote developer? — Primarily, all the developers you hire should be able to:
Manage their working schedule to reach the discussed goals;
Be well-versed in the new technologies and implement them where it's suitable;
Discuss possible problems with possibly multinational colleagues on the project;
Possess all the necessary soft skills — time management, empathy, communication, active listening, and the like;
Share the company values and participate in their creation.
Shut up and take my money!
Where should I run?
Meet different options for hiring developers. What to do if you have no wish whatsoever to look for remote developers yourself — but are still desperate to find them for your project?
The answer is simple. Address marketplaces!
// There are two main types of them:
Bidding marketplaces
Bidding marketplaces offer you plenty of candidates — but these aces are not checked (just as their credentials and achievements). Choosing there, you should have a time reserve for all kinds of circumstances. Pros — a bigger pool of options, cons — a cat in the sack is a cat in the bag, and the surprises aren't always pleasant.
Of course, you can fortuitously stumble upon the brilliant devs even on the bidding marketplaces. Moreover, they can be cheaper since they work on themselves and no one will take any commission for their job. However, all the adverse effects of the unfiltered talent pool can bring you unpleasant surprises.
Vetting marketplaces
(Psst! That's what you need!)
If the thought of choosing the suitable dev for your project out of the troubled waters of the bidding marketplaces makes you nervous, then the best option for you is probably vetting marketplaces.
They all test their developers, so those who get the "Available" status are checked and proven eligible. No additional pain in the back.
What about money, honey?
How much would it cost to hire a remote developer? — How can we answer this question most conveniently? Of course, by providing proven price ranges. Then so be it! Let's look at the Upwork prices for the US offshore developers…
Upwork US devs
Too expensive? No money left for fresh ideas? Good, let's see if the European devs are more affordable…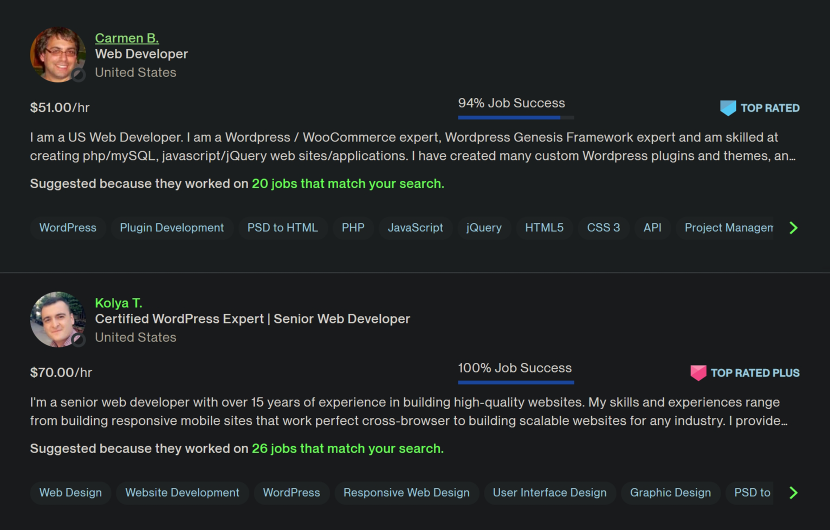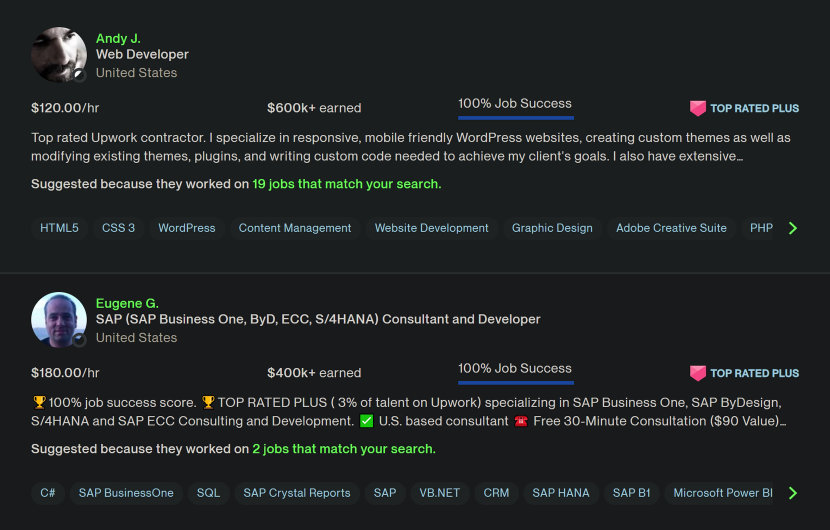 Upwork European devs
Ugh. It looks like "more affordable" here means after hiring these developers, you'll at least have some money to pay for your Internet for the next month.
Remember how we started this article? We're going to look for the dream team, not the slumdog team. High quality can't be cheap. People need to eat, pay their bills, and think of tomorrow with no shiver down the spine, right? The less you pay them, the less motivation they have to aid your star projects. Let's look at the cost of hiring offshore developers per their experience. For your project not to bite the dust, you need Middles at least.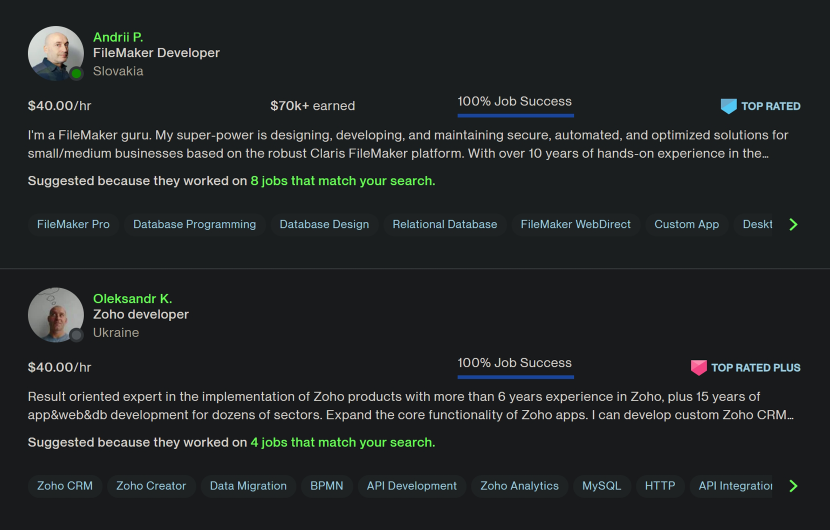 Mid-level developers in North America will cost you $ 61-100 per hour, while seniors will charge even more — up to $ 160.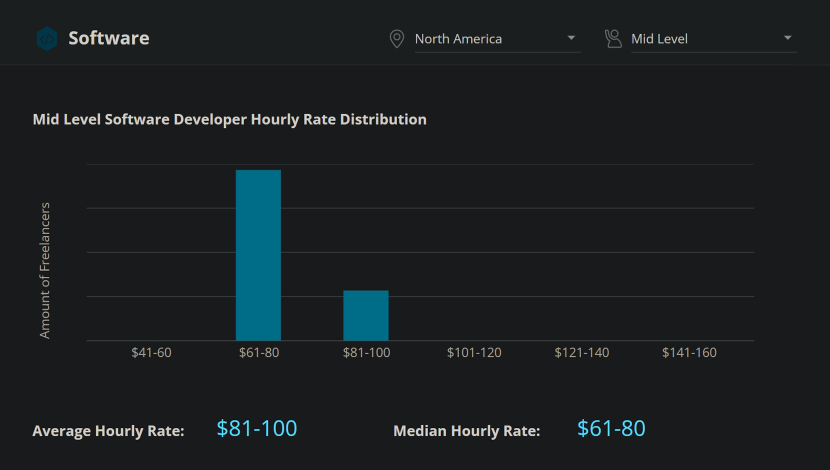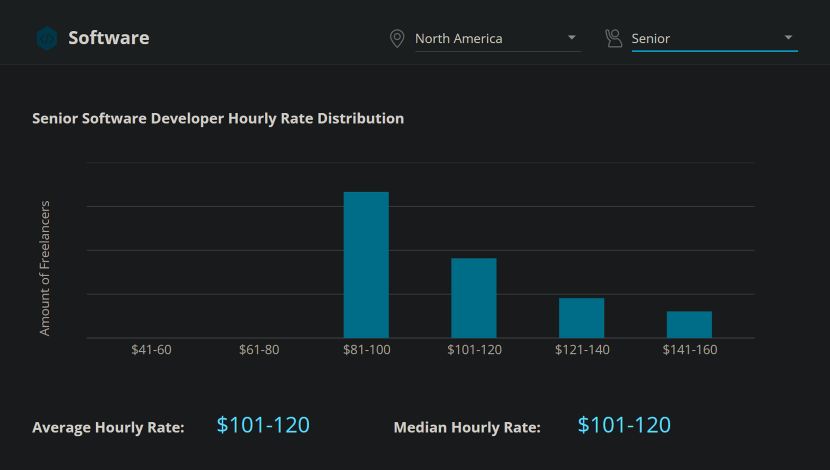 In Western Europe, mid-level developers cost you $ 41-120. A bit less, but remember that you'll hire them not for an hour and even not for a day. The median hourly rate of Western European seniors is $ 101-120. No cheap variants, definitely.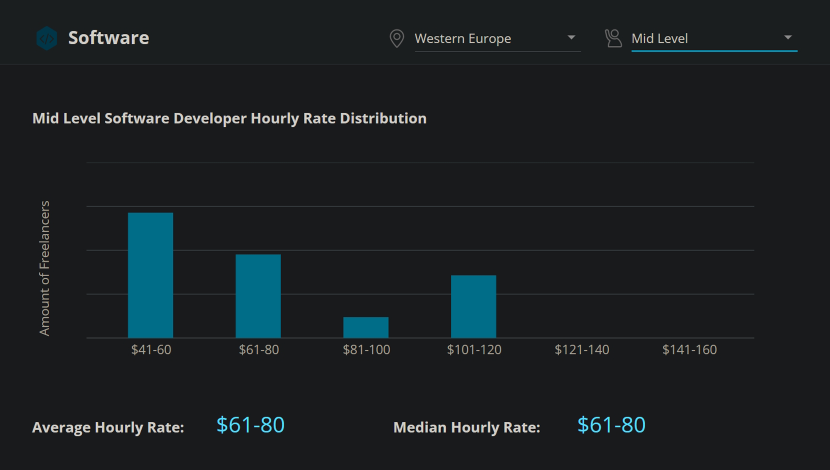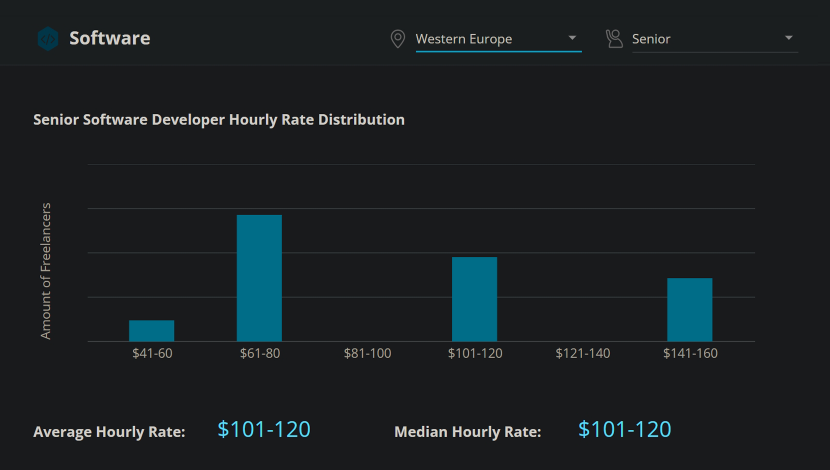 Well, well, well…
Please, don't be down, alright? Keep your pecker up! We do have a slice of advice for you!
If your old offshore developers went sour, try finding fresh ones at Lemon.io!
Here at Lemon.io, we believe the remote devs to be the third best thing in the world after democracy and the Internet — and treat them accordingly. We are the marketplace for vetted remote developers — and we have all kinds of them. No educated guesses and crystal-ball magic — just the severe tests and proven results. Our dream team helps you hire the dream team for your star projects. Fret not.
NEED A SUPERSTAR FOR YOUR STARTUP?
HOLD MY BEER!
Why hire top remote developers through Lemon? — We carefully test all our remote developers. We check the coding, communication, and English skills to ensure only the brightest and the most efficient professionals are considered worthy of our customers.
During the background and reference checks, we gather information from former employers. Keep calm; our current staff employees were sieved through this procedure too.
Our English tests ensure transparent and smooth communication between you and your future squad.
We prefer live interviews. Communication is the key, and perfect communication is the key to excellent projects.
Only 4 out of 100 candidates successfully pass everything we prepare for them. To make the perfect team of 10 colleagues, we screen 250 strangers.
Affordable price + High quality of work = More customers
Our matching and recruiting aces choose the best remote devs from the vast talent pool and manage them with the help of the impeccable Customer Success department. Check out it!
We set lower commissions than all our competitors. Happy customers bring more satisfied customers, whereas high prices bring just a few dull cash cows. That's our leading principle.
our team works from anywhere, ensuring a more extended online presence. Besides, after the pandemics, we left our office in downtown Kyiv and work from home to lower the operation costs.
Our brilliant matching team and extra fast support won't let you leave disappointed. We aim to match you with a mighty dev within two business days and frequently even faster.
our developers bring in the western mentality combined with healthy work culture, can-do attitude, advanced English level, and years of coding experience.
Need something extra? Read our extended FAQ!
What is a remote developer?

A remote developer is a professional coder creating web pages and applications for many different clients and getting money for every project. Since no employer dictates their rate, they choose it themselves — just as they choose clients or projects to work with. 

How to hire a great remote developer?

It's not easy to find freelance coders who will be decent — but the time you spend on it will bring you numerous benefits in the future. Therefore, it's essential to analyze the hiring process and choose the proper steps. 

Step 1. Review their portfolio and work examples
Find as much as possible about the freelancers' contribution to the projects they completed (open source projects aren't under NDA). A developer yourself? Review their code together. Ask them to explain their design, architecture, style, and framework choices to learn more about their decision-making process. 

Step 2. Get acquainted with your candidate in person
Soft skills are just as critical as hard ones, so after analyzing the code, dig deeper and establish personal contact. Mostly, you'll have to conduct behavioral interviews — that is, if you hire yourself. If you delegate the job to non-bidding marketplaces, they'll just offer you some pre-selected candidates. If the intro call is on you, here's the short checklist that can come in handy:
Attest verbal skills;
Ask about outstanding past projects;
Evaluate problem-solving skills by asking questions;
Inquire about personal interests, hobbies, and pet projects.

Step 3. Arrange the in-depth project discussion
Introduce the project, giving a brief description of aims, tools, and strategies. 
Break the project into subsections, clarify the aim of each part and explain how they will compose the wholesome product. 
Describe the provenance of your project and its primary purpose. Is it a part of something bigger or an autonomous tool?
Discuss the tools and techniques needed to complete the project. Check if the dev is familiar with all the necessary frameworks, languages, and libraries. 
How many people will be working on the project? If the dev won't be alone, describe their future company, and mention the communication routine and the degree of independence for each participant.
Give clear milestones and timelines for the project. When will it start? What is the presumed release date?

Step 4. Offer a paid trial period
All the trial periods should be paid, and here's why. You are still unsure if you'll work together — however, if the dev is working just as hard as you are, you both deserve a remuneration, right? Establish the bonds of trust even if your paths will diverge this time. Who knows, maybe you'll meet one another soon.

What is the difference between programmer and developer?

A developer is a software professional who manages the code in computer programs, specializing in a particular language or framework(s). In addition, developers maintain program documentation, computer architecture, user interfaces, and databases.

A programmer is a coding pro. Programmers also test and troubleshoot software applications, making sure they run smoothly. Along with following the specific clients' instructions, they broaden their horizons and think innovatively to garner the highest quality code. 

Specializations
Both developers and programmers have their own narrower specializations within broad professional fields. 
Programmers' specializations:
Application programmers. Application programmers develop software aimed at specific tasks. For instance, an edtech app programmer is entirely focused on education, and the programmer working with online banking can't imagine their days without banking apps.
System programmers. System programmers help maintain system software.
Artificial intelligence (AI) and machine learning engineers. Engineers of that kind are aimed at enhancing the efficiency of AI in completing human tasks. Chatbots, sentiment analyzers, text parsers — that's precisely what AI and ML engineers do.
Game programmers. For them, it's all about games, consoles, modifications, and desktop/smartphone adaptations.
At the same time, developers' careers can have the following types and modes:
Mobile developers. They create programs suitable for mobile phones and tablets and/or adapt applications and programs so that they can smoothly run both on desktops and tablets/mobiles.
Full-stack developers. Full-stack part-time or full-time expert developers understand the peculiarities of user experience (front-end) and code functionality (back-end). So they can improve the latter to enhance the former. 
DevOps engineers. DevOps engineers are aces in software development and IT maintenance coordination. A DevOps engineer helps foster collaboration between software development and operational or maintenance teams.
UI/UX developers. Developers of this kind focus on customers' evaluation of the final product. If something goes awry, they change the software design to make the layout more intuitive and often test software with focus groups to figure out pointwise refinements.

What should I know before hiring a developer?

1. Turn into the best guy on the block
If you want to tie top talents with prominent competitors, activate your collective mind, cooperate with HR and Marketing departments, and consider your clear advantages. Incorporate them into your ad campaign. Queues of applicants prove that you've done everything correctly.

2. Get acquainted with the software development cycle
To find freelance coders who allow you to sleep peacefully, you should understand what they do and how qualified ones differ from those who are overconfident. By the way, clear business expectations and objectives expressed to your promising candidates will make the hiring process smooth and transparent. Knowing what a typical working day for a dedicated software developer looks like, you'll be able to establish fair and realistic deadlines for your applicants (or employees) and access their suitability for the job. The churn metrics are the best proof of your success in this field (they show how many employees don't survive the trial period / how many of them quit during the first year). 

3. Clearly define qualifications
What technical skills are needed to get this job? What kind of experience would be relevant? Are there any specific soft skills that could help the candidate become a true ace? Before addressing job boards, answer these crucial questions for yourself and make a list of essential soft and hard skills to include in your job description. Include any company-specific skills and needs, i.e., employed technologies or time zone to work in (that's weird and extraneous only at first sight).
If you fail to define your needs and requirements properly, you will likely fail to find the right person. You don't need those who are ill-fitted to your corporate culture or those who can't instantly grasp both near- and far-fetched work objectives, do you? 

4. Verify credentials and portfolios
A proper and well-arranged HR department makes this task a piece of cake — but if you're hiring for a newly born startup, that's probably not the case. However, even if you're the sole member of your team (that also happens!), never neglect the verification procedure. Find experienced developers and/or HR specialists and ask for their help! If your social capital allows it, ask friends and acquaintances, monitor social media, and arrange tit-for-tat service exchanges. Candidates may misrepresent themselves, and it's your (or the HR department's) duty to correct their self-presentation.

5. Evaluate tech skills
Employ real-life challenges you/your company encountered and ask candidates to address them. Use realistic scenarios: if the candidate tackles the problem during the job interview, they will be more ready for it in real life. Ask about all the solutions coming to their mind during the interview — so that you can trace their thinking and problem-solving patterns.

Do companies hire remote developers? 

They do — what is more, developers are in great need not only at the so-called "pure IT companies" whose core business is running websites, fixing bugs, or building web services or applications. That's valid about web developers in general, but for remote developers, it's even more so. Nowadays, not a single business can imagine its development without a decent website. People spend significantly more time on the Internet — browsing, selling, buying, or advertising. You lose the fight for clients if you don't have a website or an app. Web developers get more work and become globally wanted. 

Now, on the "remote" part. Of course, you can think that onsite aces are more controllable and productive — but I'd like to remind you about a couple of things. Hiring an onsite web developer, you sign a contract with them, promising to pay for 40 hours a week, no matter how many productive hours this number comprises. Furthermore, for an onsite developer, you should pay insurance, sick leaves, vacations, holidays, and many more unplanned expenditures. Remote professionals will have their own schedules — but they tend to work more often because they want to get more money. Here, you pay them for hours spent developing your app or web — nothing more and nothing less. 

What is the role of the developer? 

Let's rephrase this question. What is the difference between programmer and developer? (I bet you wanted to ask precisely that.) Both professionals share some typical responsibilities and skills, but they have slightly different aims for their work. Whereas a programmer is a coder, i.e., a tech ace whose daily job is program code writing, a developer is more like a project manager with coding skills. So, a web developer has a broader scope of responsibilities than a pure coder (or programmer). In addition to coding tasks, web developers manage web applications' creation, documentation, and management. They can give instructions to programmers and design software.

There are multiple developer specializations. To name just a few, one can meet mobile developers, DevOps developers, UI/UX developers, and front-end/back-end / full-stack developers (depending on what they're in charge of — visual elements and user/computer interaction or the underlying server side).
So if you were looking for a sign from Heaven, here it is!
Pa-baam: the beam of light is striking through the dark clouds. Angels are not just whispering but screaming into both of your ears: that's the right place to find your Superdev! And if your freshly-hired marvelous mind turns into a devil, we'll offer you a replacement in 48 hours or less.
Go ahead, grab the dev that perfectly fits your requirements before your competitors will!
Our experience with Lemon was second-to-none.
Our experience with Lemon was second-to-none. We were matched with a great engineer who's incredibly smart, proactive and punctual. We will be using Lemon again for upcoming dev project!!
Oct 22, 2020
Great communication + Sourcing
Lemon was excellent to work with! They are quick to respond and I have always have positive interactions with them. Not to mention the most important part – they sourced us a great iOS engineer who was better than what we were expecting!
Apr 19, 2021
I was looking for a backend rails...
I was looking for a backend rails developer to lead the charge on developing our APIs and platform integrations. We reached out to Lemon.io and they found the perfect engineer in a day. He's been on the project for almost 2 months and has consistently delivered quality work.
Dec 22, 2020
Explore our stacks and pages: Protobuf, Newman, ACF, React Hook Form, Joomla