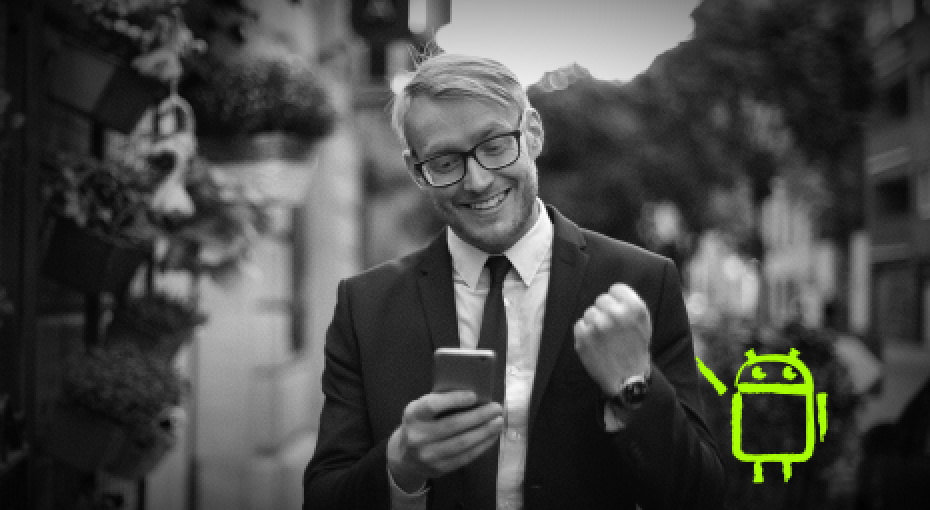 The competent .NET programmer who helps you with anything from the most complex website to simple applications is just a click away. Read on and learn how to hire .NET developers for your projects.
Why choose .NET development services?
According to BuiltWith Trends, most sites that generate $100k to $1m+ use the .NET framework. Among many others, these include GoDaddy, Citrix, GlobeNewswire, and Salesforce's investor relations.
It's a no-brainer that the .NET framework delivers extensive benefits — for instance, vast language support, less configuration time, and FAST applications.
Hiring .NET developers is all cool and dandy until you start the implementation.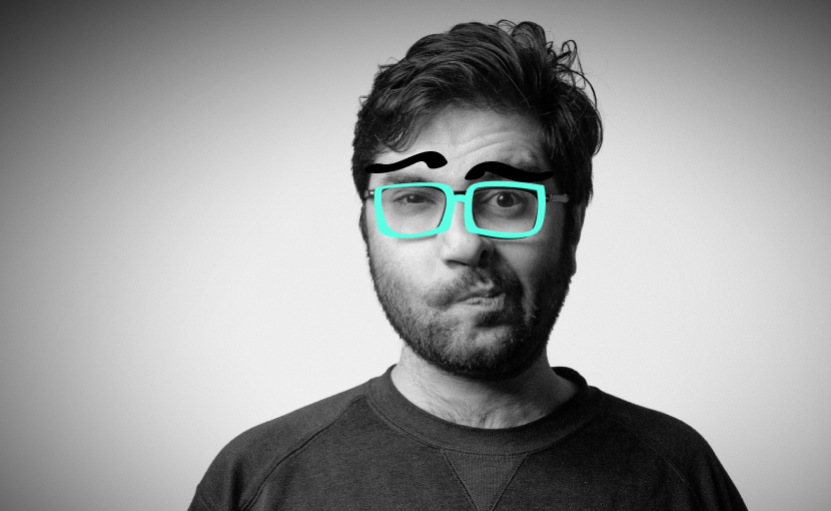 In addition to an extreme talent shortage, finding a highly skilled .NET programmer requires thorough research and due diligence. There are two ways to go about it:
Leave the hiring to the experts
Wing it till you make it (or not).
If you're looking to hire NET developers on your own, brace yourself for:
.NET supports over 60 programming languages, 11 of which were developed by Microsoft. Some of the popular Microsoft languages include Visual Basic.NET, F#, and C#. You would need at least a basic understanding of what they entail before recruiting a .NET programmer. As if that's not enough, there are other technologies like ASP.NET, SQL Server, WinForms, etc., that make up the .NET framework. Do you really have time to figure it all out?
There's a chance that you might run into unskilled applicants on job boards or sites that claim to have the expertise you need. Why? Because most of these sites have no vetting process. The wrong hire could cost you dearly, increase your time-to-market, and become a significant competitive disadvantage.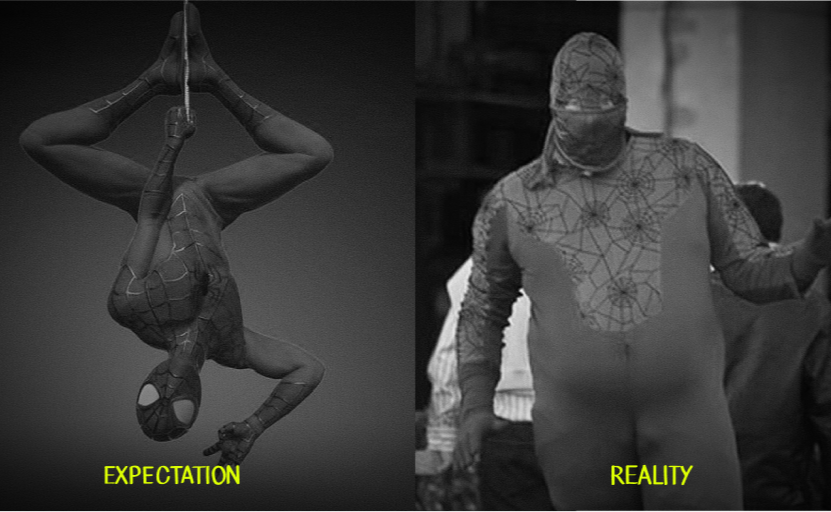 What are the other things you should know before getting a desired coder? Let's start with .NET developer responsibilities.
What is a .NET developer?
.Net developers build and maintain websites, web services, and applications using the .NET framework. Your .NET developer should be familiar with the following:
You must narrow down all the "must-have" and "nice-to-have" .NET developer skills.
Depending on their area of expertise, .NET job roles include C# programmer, ASP.NET MVC developer, Visual Basic NET developer, and other specializations.
Full-stack .NET developer vs. software developer: Is there a difference?
Yes, there is. A full-stack dot NET programmer handles the front-end and back-end development of websites and applications using .NET tech stacks. If you are looking for someone who manages servers, system development, clients, and databases, look no further — hire a dot net developer.
On the other hand, a software development specialist focuses on developing software or native apps. Which one do you need?
How to hire dedicated dot net developers through Lemon.io?
While we give candidates technical tests to verify that they are up to the task, we also ask them non-technical questions. They focus on:
Their remote experience of working in different time zones
How they manage cultural differences (tolerance is a deal-breaker)
Hobbies and books they like to read. Yes, seriously, we ask that.
Technologies they prefer to use + how they study new ones. Who wants a stagnant developer?
Their daily routine. (Important time management insights here.)
Can you afford a US-based .NET developer?
If you're looking for .NET developers for hire for an in-house position in the United States, get ready to pay heavily. Don't take my word for it: look at the numbers.
Senior .NET developer salary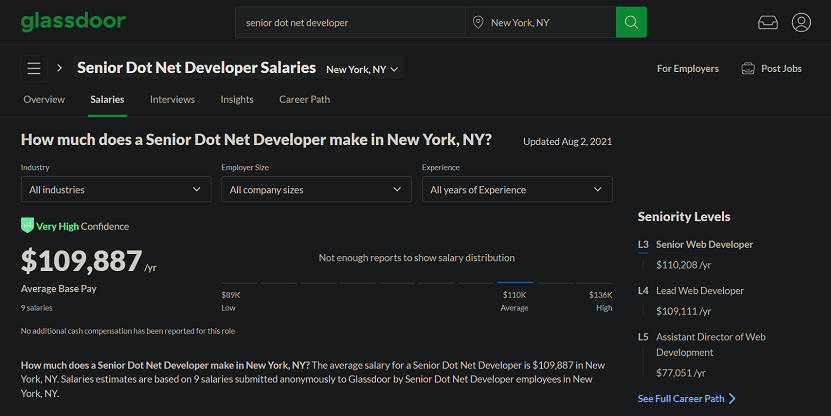 Experienced .NET programmers in the US work for an average annual salary of $102k. In New York, it can go as high as $109k. If your budget cannot go that far, a mid-level master of development services might be the next option.
Mid-level .NET developers, maybe?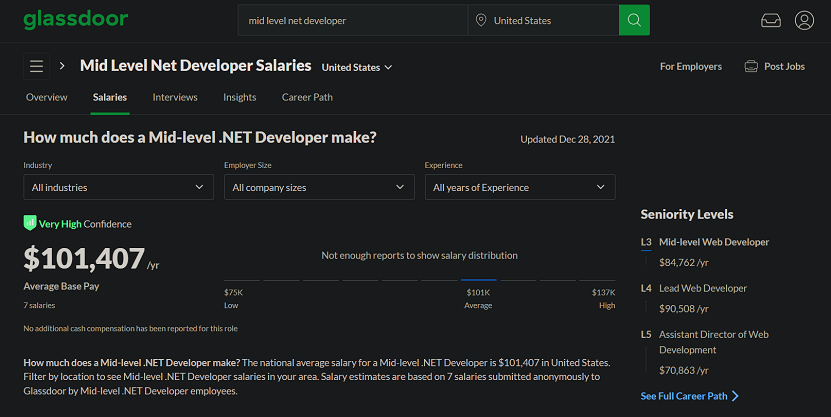 Don't get your hopes up. Mid-level .NET coders don't come cheap, either. Their average pay is $101k/yr. The difference between their salary and senior programmers is not so great — although they can still satisfy your business needs well.
What about the salary of junior .NET developers?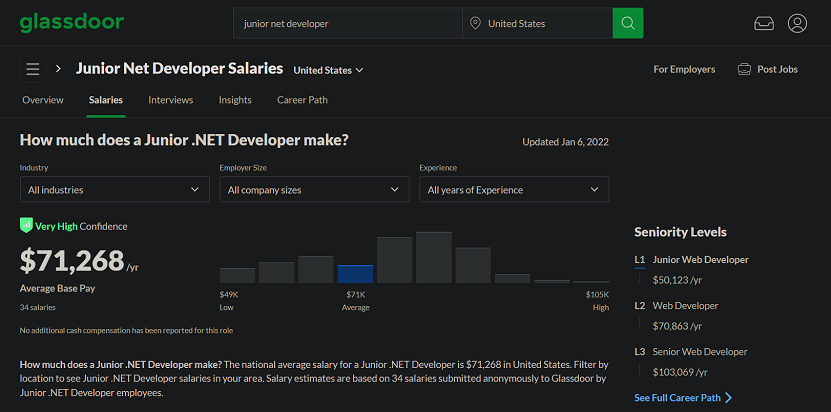 If you're brave enough to try out the skills of entry-level coders in your development process, get ready to pay $71k yearly. However, the real question here is: can they deliver your requirements?
Besides, their salaries across levels are far from the only expenses you'll incur. Even if your in-house developers stared at the wall for weeks, you still have to pay them in full.
You'll also need to pay for:
Vacations and sick days
1.
While there's no set number of vacation days in the US, the average worker is entitled to 10 paid vacation days and six paid holidays.
It includes social security tax (6.2%) and Medicare payments (1.45%). That's 7.5% of earnings!
You'll need to buy and maintain the infrastructure and office equipment your in-house devs use.
Office rent
(for non-remote devs)
4.
In one of the most affordable cities, Atlanta, office space alone costs around $4k per employee yearly. Closer to Silicon Valley, San Francisco yearly rents go as high as $13,032 per employee.
So, is there a better, more affordable option?
Yes, there is! Lemon.io.

At Lemon.io, you can hire vetted, highly skilled senior .NET developers at lower prices.
How is this possible?
Remote specialists. Lemon.io offers vetted net experts from different specializations. An ASP.NET programmer or a VB.NET dev — we will have them covered.
Before you shudder at the thought of hiring remotes…
Here's how an offshore .NET developer might be the best alternative for you:
Lemon.io:
The one-stop-shop for all your .NET developer needs
Lemon.io: The one-stop-shop for all your .NET developer needs
That's not a bluff. Lemon.io solves all your problems in hiring .NET engineers. You tell us what you want — we make it happen faster than a fairy godmother.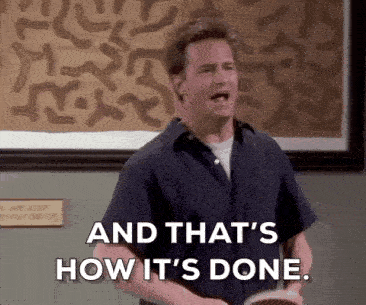 Why hire .NET developers from us?
The best fit .NET developer for your project
In our talent pool, we have dot net programmers with various skill sets. We have the full-stack, C#, VB.NET, ASP.NET, and both .NET web and software developers. If you're looking for NET developers with a particular level of experience, we will help you to find the one. Did I miss anything?
Superfast matching
Within 24 hours of pressing the big yellow button below, we'll match you with an application development master. Yes, we are that good. With specialized roles in the .NET framework, our speed is incredible.
Recruit experienced .NET developer at a lower cost
The price-quality dilemma is real.
Don't low prices mean an inferior quality of work? Not in Lemon.io. We have found a way for you to have the best of both worlds.
We mainly work with developers from Ukraine and Eastern Europe. Just so you know, the cost of living in this region is a mind-blowing 40% lower than in the US. It translates to lower salaries and more savings for your business
But that's not all.
Lemon.io also:
Set less commission than competitors
Have a team that works from several countries. For us, it means less overhead expenses. For you, it means that we don't include these expenses in your fees. A win-win situation.
Rest assured, quality is our main priority. 98% of our clients hired the first developers we offered to them. That's how good our vetting and matching processes are.
If our standards were poor, all these people would have run away straight up and never looked back!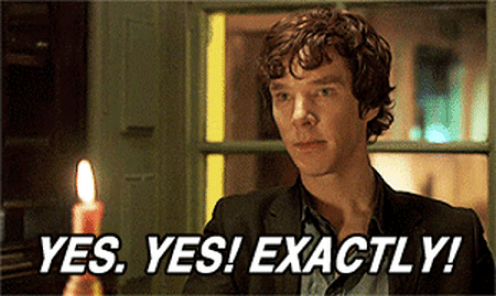 Of course, talk is cheap. It means nothing unless backed with action. So we'll show you how we test every programmer that seeks to join the Lemon.io talent pool.
That said, here's how we maintain the optimal quality of work: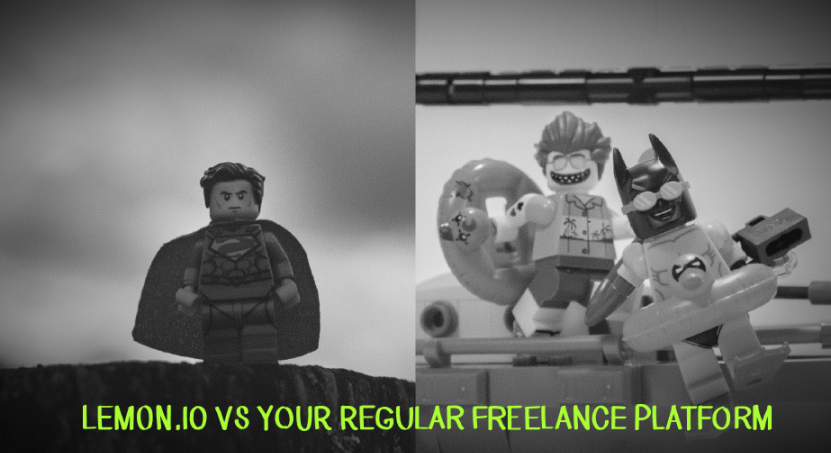 Our superpower: Lemon.io's vetting procedure
We know the risks of hiring remotely. Our 4-stage vetting process negates all these risks. Here's how it goes:
Background check
We review social media, GitHub, Stack Overflow, AngelList profiles, and online portfolios. We track their digital footprints to learn as much as we can. We value the input of previous employers and want to know all the specifics of their collaboration with the programmer.
English proficiency test
We want to ensure that there's no communication barriers between you and our developers. All of them must be able to understand and communicate clearly in English.
Technical skill check
Resumes don't always speak reality. Tests do. We put candidates to extensive coding tests to make sure they can tackle development issues within their expertise.
Live interview
A developer can be highly skilled yet extremely difficult to work with. At this stage, we look at gestures, nuances, responses, and subtle signs that reveal the developer's personality.
The result?
Only 4% of candidates pass our tests!
To put it into context, out of 9000 applicants, we've hired the top 360. Scary stuff, I know.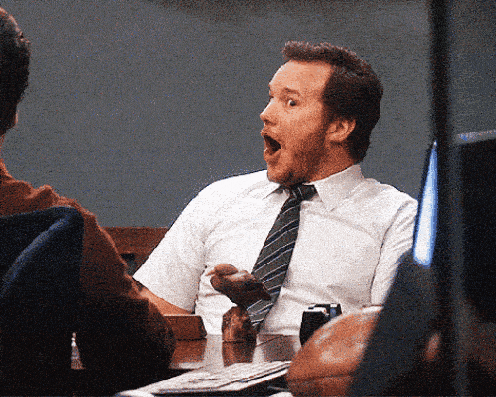 It's not a vendetta — it's a meticulous process that enables us to hire qualified programmers.
Those who fail at any of these four stages are out. Those who pass are ready for any battle (the technical one, of course).
Is there a better feeling than knowing that your project is in reliable, competent hands?
You can go the long, uncertain route of getting a .NET developer who might end up delivering half-baked codes. At best, you'll lose your time, money, and a few clients.
You can go the Lemon.io way which guarantees you higher chances of hiring .NET developers that'll give Microsoft a run for their money.
Which one do you choose?
Not enough information? Here's our FAQ to beef it up!
What does a dot net developer do?

Microsoft introduced the open-source .NET platform in 2002. The initial version was a .NET framework considered a Java alternative. Initially, it was aimed at creating apps for Windows only, but later Microsoft introduced several updated versions (like .NETCore) that were adaptable to Linux and macOS. .Net developer is a technical ace who designs and implements software apps using .NET technologies. .NET platform is compatible with several programming languages, but many dot net developers use C# as their language for building applications most often. 
Modern updated versions of the .NET platform allow dot net developers to construct applications for various platforms like mobile, desktop, web, machine learning, IoT, gaming, etc. — employing C language most frequently.


Are .NET developers in demand? 

Surely, they are. .NET is currently one of the most popular and widely employed frameworks for mobile and web apps aiding businesses in reaching their goals smoothly and quickly. The demand for this technology is tremendous, and every industry sector is eager to employ dot net specialists. Moreover, these aces also help to transform the overall corporate business setup. The open-source approach and wide professional community are the leading pillars of .NET popularity.

What is a .Net framework?

A .NET framework is a professional IT framework for building .NET-based applications and programs with the help of the most popular programming languages like C# and Visual Basic or JavaScript. Until Microsoft made a source code public in 2007, .NET framework didn't enjoy much popularity, but afterward the situation has changed drastically.

Why is .Net most desirable?

Here's a brief list of features and elements making the dot net framework the most desirable among web developers.
1. Independence. .NET isn't connected to the platform type, and dot net apps can be built for iOS, Android, or Windows.
2. Cloud service. It saves a lot of memory and place, allowing data access from any location.
3. Security. Thanks to authorization and code access protection, the NET platform is considered very safe.
4. Easy language support. Currently, the .NET platform supports 44 languages.
5. High performance. The platform is ultimately reliable, quick, and responsive — and users like it.
6. Cost. The IDE of the .NET platform is very cost-efficient.

Can I hire developers of my choice?

Of course. If you don't want to hire them by yourselves (e.g., don't have time, money, or skills to test them, or everything combined), we strongly advise you to use the possibilities and the functionalities of the freelance marketplaces, especially vetting ones. At vetting marketplaces, all the candidates you get offered were previously tested, checked, trimmed, and included in a big database. One of the most prominent marketplaces is Lemon.io — the platform for vetted developers offering its services since 2015. All the clients are invited to the discovery call, where they can freely express their needs and requirements to the Sales department. Subsequently, the Matching specialists will cooperate with the Recruiting team and offer several candidates. If the candidate is OK, the cooperation starts. If a client needs some more options, Lemon.io offers them in no time. Hire .NET developers with Lemon.io, and everything will be smooth and quick.

Do you have certified .NET developers on your team?

Of course. Our Lemon.io team of developers is constantly expanding. We need new free and skillful hands for website development and CRM development, and to make all the web-based processes nice and smooth.

What skills should a .NET developer have?

Since the .NET framework remains hot and is here to stay for the nearest future, it's interesting to point out, what skills should decent and proficient .NET engineers have to get employed in a blink of an eye.
Tech requirements:
1. Efficient C# development experience (in many different startups)
2. Backend and web development experience
3. Web API understanding
4. MVC construction experience
5. .NET core experience.

What about soft skills? Are they essential for a good .NET developer? They naturally are.
1. Excellent communication skills (for efficient collaboration)
2. Time management skills (to keep the deadlines)
3. A passion for learning (to always be on the verge of progress)
4. Knack for analytical thinking (and problem-solving patterns)
5. Superb motivation drive (better from the inside).
Our experience with Lemon was second-to-none.
Our experience with Lemon was second-to-none. We were matched with a great engineer who's incredibly smart, proactive and punctual. We will be using Lemon again for upcoming dev project!!
Oct 22, 2020
Great communication + Sourcing
Lemon was excellent to work with! They are quick to respond and I have always have positive interactions with them. Not to mention the most important part – they sourced us a great iOS engineer who was better than what we were expecting!
Apr 19, 2021
I was looking for a backend rails...
I was looking for a backend rails developer to lead the charge on developing our APIs and platform integrations. We reached out to Lemon.io and they found the perfect engineer in a day. He's been on the project for almost 2 months and has consistently delivered quality work.
Dec 22, 2020