Every product team needs JavaScript developers, yours included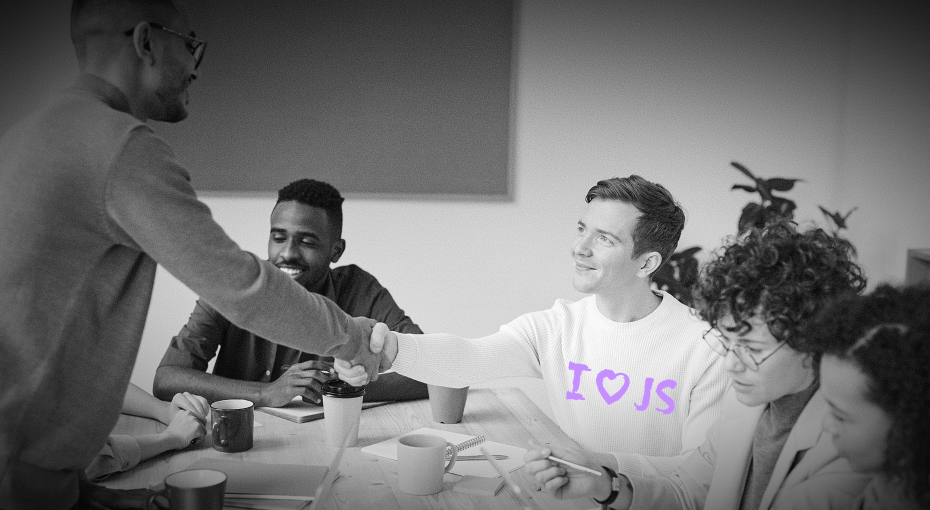 Developers who
«Know some JavaScript»
Are easy to find because JS isn't their main language, but they're familiar with it.
When you hire JavaScript developer like this, they may charge more and underperform because they think you don't know better and you won't recognize the quality of the code.
They have the potential to damage your project by creating scrappy work with security loopholes.
They have the potential
to damage your project
by creating scrappy
work with security
loopholes.
Dedicated, professional
Javascript programmers
Know exactly what they're doing and how to do it well. These devs write clean code for performance and efficiency that's easy to follow and tough to crack.
Make sure you hire JavaScript developers like that whenever possible. Good, quality code is always a better return on investment.
JavaScript devs are often underrated, but they are foundational members of any project. They can jump between frontend, backend, and mobile programming with ease. You desperately need to find JavaScript developer, but you haven't landed on anyone yet. Why?
Because there are devs who just check JavaScript off the list, and then there are the pros. And you want to hire the pros.
Eugene S.
// senior full-stack web developer
A full-stack developer with 14+ years of experience. His core stacks are C#, .NET, and JS. Eugene is also proficient in AWS and has team-leading experience.
Artem P.
// middle full-stack developer
A middle full-stack developer proficient in JavaScript and React. He knows how to find the right approach to any problem. Artem also has got an AWS certificate.
Yevhen A.
// middle front end web developer
Yevhen is an experienced middle front-end developer. He's proficient in React, knows JavaScript fundamentals quite well, and writes clean good-looking code.
javascript
react
typescript
Viktor Y.
// senior software engineer
Meet a senior dev with 6 years of experience. He's an expert at JavaScript with superior HTML and CSS skills, bridging the gap between design and development.
Taras K.
// tech lead senior front end web developer
Taras is a software engineer with more than 10 years in IT and substantial experience with front-end technologies, specializing in single-page applications.
Why do I need JavaScript devs on my team?
Here's what you can do with JavaScript in your project
Create engaging, dynamically-updating content
Control multimedia elements like images and videos
Use lightweight animation to make things really pop
Build stable web servers and server apps
Make cross-platform web and mobile apps
Make games! Yeah, it's totally possible.
The frameworks your JavaScript developers should be familiar with
When you hire JavaScript developer, you want them to be able to dance between frameworks with their legs tied. If JavaScript is a delicious cake flavor, frameworks are the ingredients. They let developers bake websites without having to milk a cow for the milk or thrash wheat for flour – the components are premade, sitting on the counter, ready to go.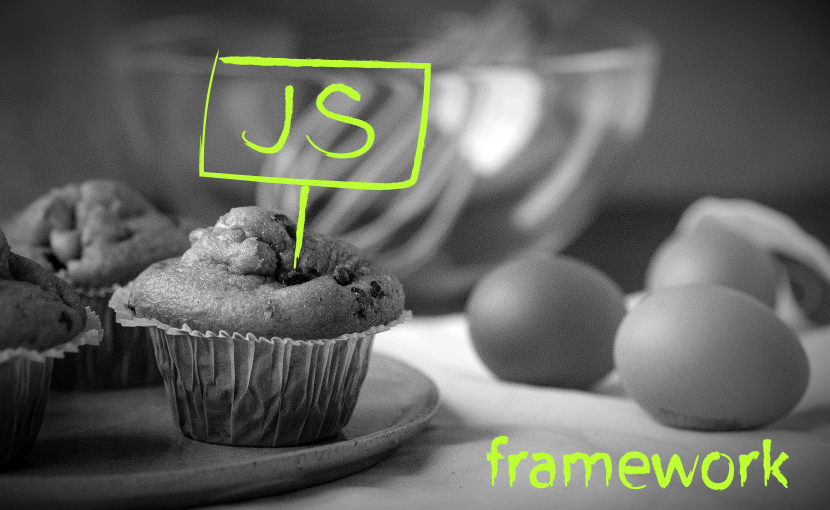 It does not matter if you are planning to hire a junior JavaScript developer or a full stack JavaScript developer who's seen some shit. There are frameworks all of them should know. No matter your project requirements, Lemon devs can implement all of these frameworks into your project to make it truly shine.
JavaScript developer salary: how much do I have to pay?
Since JavaScript developers are so useful, their rates trend high and vary widely across the world. Of course, depending where you hire JavaScript developers, different platforms will skim a premium off the top, adding to the price. It's important to know where to look for rates that are fair for the talent you're hiring.
Note: We won't be talking about entry level JavaScript developer salaries here. It's more about the average JavaScript developer salary you can count on when browsing online resources.
You can hire JavaScript developers from the US on this platform. However, Indeed JavaScript developers come at a premium because of US taxes and the cost of living in major cities. More than $111k will get you someone in-house, but you'll find a lot of hidden costs of maintaining that employee and might get stuck with someone who's not all they promised.
Cost:

$100,000+
Quality:

Standard

Upwork makes it a bit tricky to narrow down filters and find the right person. You end up with a list of people ranging in experience level and price, and there's no guarantee of quality. It's an okay place to find someone for a scrappy idea but maybe not the most consistent option if you want to execute your ideas flawlessly.
Cost:

$10-Infinity
Quality:

Questionable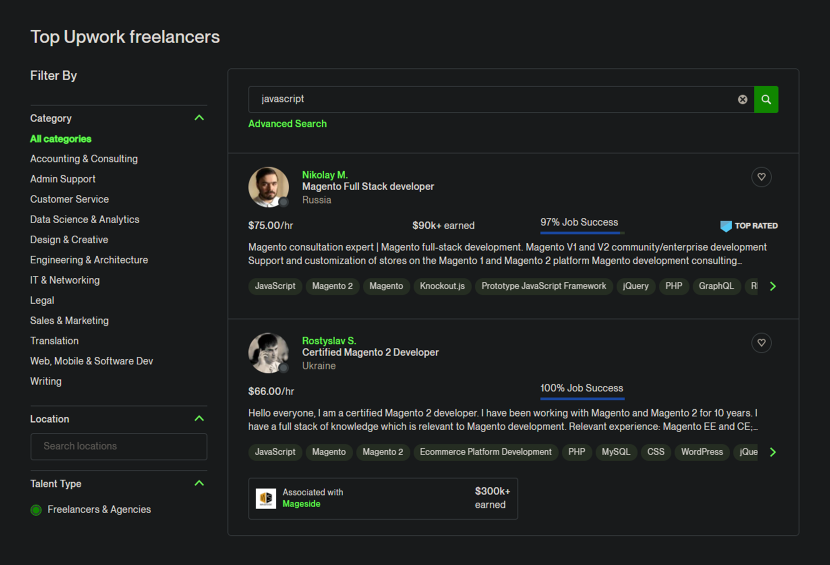 Here's another standard job board with a wealth of stats openly shared by employees at companies across the world. The salary spectrum is intimidating! Especially, when it comes to the full-stack JavaScript developer salary.
Also, most applicants here will fire off tons of applications using one-click apply without really caring about the company.
Cost:

$72,000-145,000
Quality:

Depends on experience

Lemon.io
Hey, that's where you are now! Lemon was built to be the most bespoke of any dev-hunting platform. It actually takes out the need to hunt down the perfect dev altogether — we hand-pick the best devs who have proven themselves time and time again.
Picking Lemon ensures your job won't go sour either. You're backed by a brilliant guarantee:
Should your Lemon developer miss deadlines or fail to meet expectations, we'll match you with a new developer. Without shifting your project schedule or cost.
Cost:

$45-60 per hour
Quality:

Guaranteed
Affordable and high-quality development? How?
With the secret weapon of CTOs worldwide: Lemon.io
Most of our devs live in Eastern Europe – a tech mecca that happens to have a lower cost of living than Silicon Valley and other tech hubs. This means they can live very comfortably at a much lower rate. Savings go right back to your budget.
We ditched the old-school office (and the costs that come with it) for a comfy, work-wherever-you-want lifestyle.
We keep it simple: hire the best people and don't waste money where we don't have to. Lemon is no-frills – we don't upcharge for extras, we provide talent who get down to business and handle all the logistics in between.
Our commissions beat out competitors' by far. We're not greedy, we're just here to help you build something kick-ass.
Are freelancers really better than in-house and agency devs?
The short answer is: Absolutely yes. For many reasons.
JavaScript is so widely used, it would be a waste to pay for someone to sit around the office or pay a ton for an agency specialist who isn't 100% passionate about your specific project.There are plenty of freelancers ready to dedicate themselves to your vision. We surveyed over 300 representatives from world-class tech companies about their use of freelance developers.
Have you ever worked with freelance developers?
The majority, 83% of respondents across more than a dozen industries, has worked with freelancers before.
These folks love working with freelancers because they:
Are way more affordable than in-house or agency devs, without sacrificing quality.
Offer unmatched flexibility because they're not tied down by bureaucracy.
Offer a wider variety of available skills
A big component of working with freelancers is trust. Some CTOs are hesitant to outsource development because of sensitive work with IP and security architecture. Of the tech companies we spoke with in our latest survey, we found that most trust freelancers with a majority of tasks.
What's cool about Lemon is that you own the IP and our freelancers work under the terms prohibiting any disclosure of our customers' info, so your project stays entirely behind closed doors. Also, JavaScript developers can handle all of the tasks above that most tech companies trust them with – it's a win-win relationship!
The science of finding the right JavaScript Developers
It's tough to hire JavaScript developer if you're not entirely familiar with the language because you won't be able to get into the nuance of project needs. Lemon ticks off all the boxes, testing devs so their hard skills are indisputable.
There are some other traits to look out for that can be more generally evaluated when looking for the right dev.
JavaScript dev you dream about
How Lemon.io provides you that
---
JavaScript dev you dream about
You can't risk your project hiring just anyone who claims to be a JS developer. You want to work with nice and decent people, without having to look back over your shoulder.
How Lemon.io provides you that
We run background and identity checks and research our candidates' work history to verify their experience and make sure they can be trusted.
---
JavaScript dev you dream about
Your freelancer should know proper English and be able to keep up with the camaraderie of the team. They shouldn't feel like an outsider, even if they're not in-house. Lemon.io takes care of that.
How Lemon.io provides you that
We evaluate our candidates' level of proficiency with the English language while paying close attention to their manner of communication.
---
JavaScript dev you dream about
A sparkle in the eye and a knack for programming does not make one a good developer. We make sure our freelancers are hardcore professionals who know JavaScript far and wide.
How Lemon.io provides you that
We give our candidates custom coding tests with time constraints, to see what decisions they make and how they can handle problems.
---
JavaScript dev you dream about
Freelancers pulled off generic platforms lack deeper care for your project. Lemon.io employs people who want to help you build something incredible.
How Lemon.io provides you that
We have an in-person interview to get to know our devs on a personal level.
---
This is how our vetting process looks like. Only 4 out of 100 developers manage to pass all of its stages. We add the survivors to our talent pool of awesome JavaScript developers.
When you contact us, we assign one or several of our JS champions to your project. Simple as that.
Did you know?
We have many senior JavaSCript developers in our talent pool, and ALL of them:
Are Eastern European developers with fantastic E
nglish skills.
Share a strong work ethic and are driven to outperform peers.
Follow instructions, but don't wait for them to move on to other tasks.
Consider the importance of the task in the context of the entire project.
Some final considerations
There seem to be a lot of options out there to hire JavaScript developers –that's because there are. It's overwhelming! You could spend days scrolling away at lists of people, checking rates, matching requirements, and skirting around scams. Then, right when you think you've found the right person, they turn out to be a bad egg. Back to square one.
But it doesn't have to be that way!
You know exactly what you need:
Hire JavaScript developer who knows perfectly well their shit
A developer who is competent, on the ball, and communicative
A JS dev who run with your task until something incredible is born
Hire JavaScript developer who knows perfectly well their shit
A developer who is competent, on the ball, and communicative
A JS dev who run with your task until something incredible is born
You don't want to spend any more time searching for someone. We get it. That's why we did all the vetting for you. Lemon matches you with the right developer in 24 hours or less. That's it. Hire JavaScript developer with Lemon and take a load off.
Lemon.io's JavaScript devs
Lemon.io's JavaScript devs
Devs from the rest of the internet
Devs from the rest of the internet
---
Are affordable and highly skilled
Are too expensive or lacking knowledge
---
Have full stack, multi-framework experience
Only good at one thing and mediocre at everything else
---
Pass English proficiency tests
---
Work at their own comfortable rates
Are exploited and earn less
---
Are verified good, friendly people
Loch Ness monsters in disguise
---
Are secured by a nondisclosure agreement
Could make off with your IP