Freelancers vs. Software Development Companies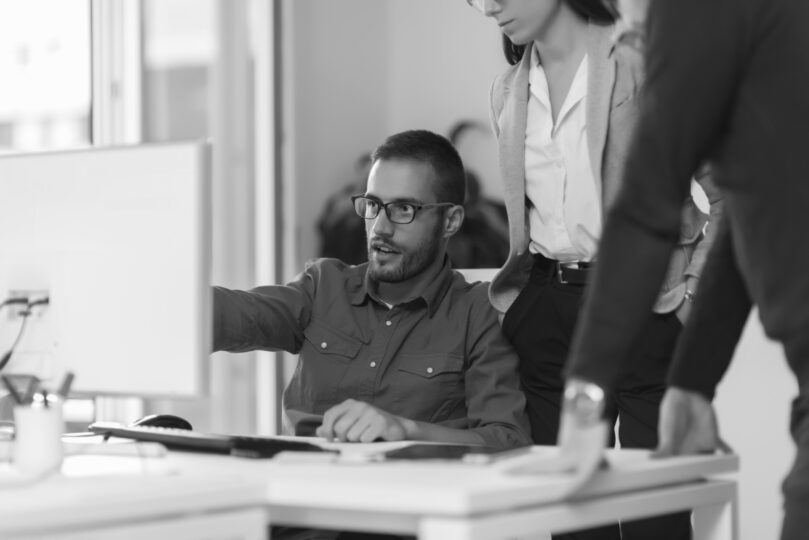 It's a quite frequent problem when you have a business idea, but for its implementation, you need a competent developer. There are so many freelancers and development companies feigning to be those that can carry out your plans. But to whom should you entrust your intentions, a remote freelancer or a software development company?
Okay, you have chosen to save more money and hire a freelancer. But will it be indeed a prudent use of resources in the long run? On the other hand, isn't a software development agency deceiving you by offering the same services at a higher rate?
Let's evaluate all the arguments for and against and decide the dilemma between freelance developers vs software development companies once and for all!
Freelancers vs. software development companies: here's your answer
"Oh, man, who should I hire: independent contractors or in-house teams? Freelance vs app company: which is better?"
If these and other similar questions are swirling in your head, remember this:
There is no single right answer.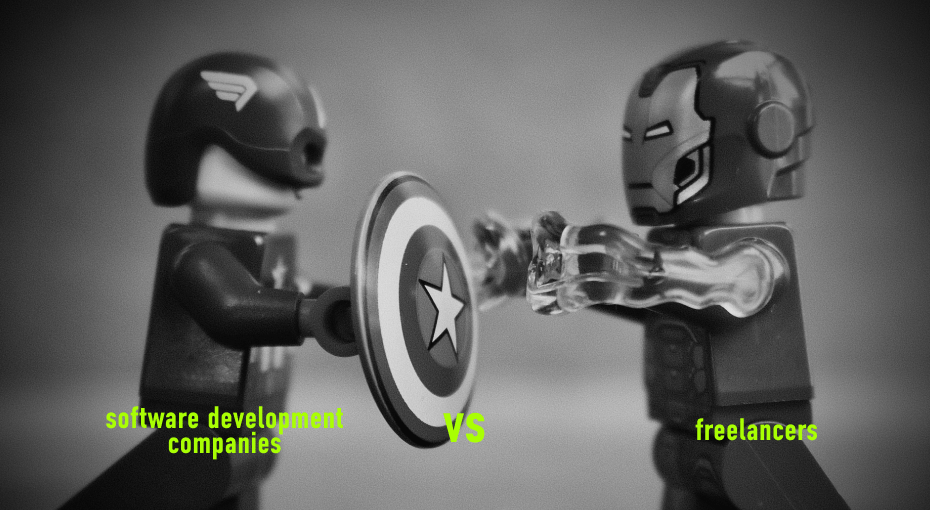 So many variables affect the final choice, such as task complexity, project duration, product-specific and technical matters, and the need for continued maintenance and updating.
This article will show all the pros and cons of development companies vs freelancers. After reading it, you will identify which suits your company best.
Freelance or software development: taking a look at the freelance developer
Freelance developers can work in 3 modes (contract, freelance, full-time,) and perform all the assignments remotely. Most commonly, they are hired for specific projects/tasks and sign a temporary employment contract. There are some risks as freelancers often run several projects simultaneously, and you should remember that.
Advantages of hiring freelancers
Reduced costs

In terms of salary, freelance vs. company isn't even a dilemma: freelancers often request much less money for their services than in-house devs. Besides, since the freelancers aren't officially employed, employers are not obliged to cover their medical insurance, taxes, and work equipment, as well as worry about how they will play with the rest of their colleagues, etc.
A large choice
There are many generic freelancing websites to find a required specialist: Upwork, Freelancer, Guru, or Hubstaff Talent. The only thing you have to do is to find the right candidate, agree on the terms and conditions of the task/project, create the contract and submit the milestone.
If there will be delays in terms, incomprehension, or simply no common ground, you can cancel the employment contract. You can ask for a refund, and if the reasons are weighty (managers can easily check all that in the private chats), then they will approve it.
Experts in a specific area
Freelance developers are often former employees of large corporations. They are highly experienced and have got a solid backgrounds. These folks have great freelancing skills in a specific area to fulfill independent technical assignments.
More flexible
Is there an issue that must be resolved urgently or fix some bugs outside working hours? They are more interested to get the job done ASAP, so they can easily work day and night. Once you work with a qualified contractor on freelance web development companies, start looking like hulking leviathans.
None of the legal confusion
Another advantage that freelance software companies don't have is the absence of legal confusion. Any legislative norms do not bind you except as a temporary working contract. The only thing you are to do is to pay for the job done. That's all, your labor relations are over. And there won't be any fundamental reasons for the contractor to bring the claim or apply to the court.
Disadvantages of hiring freelancers
May disappear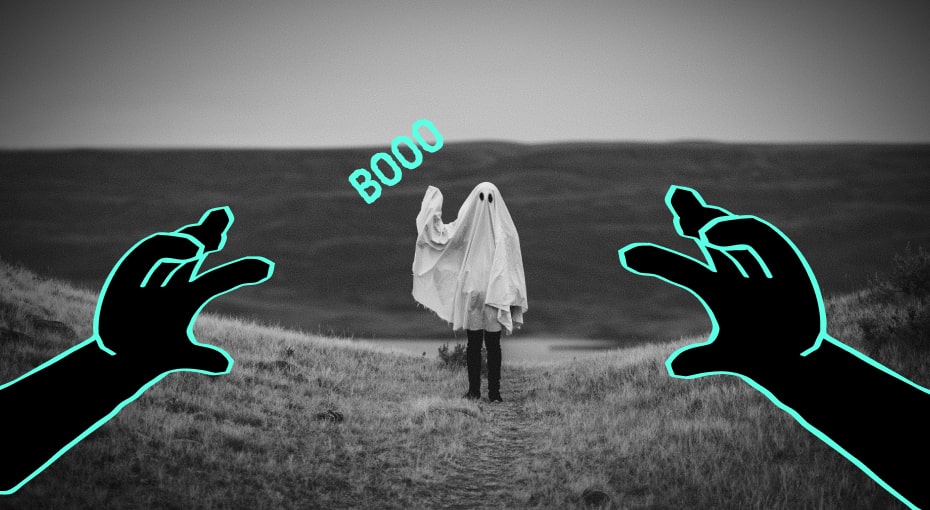 Well, the disappearance is a frustrating thing.
All conditions, terms, and payments have been specified, and the project will be launched.
Then one day, the developer might have gone silent and become a fantom. It might sound like a horror story, but if you work with unreliable freelance platforms or individual contractors that have no real means to guarantee delivery, that's exactly what can happen.
So, keep it in mind and be ready with plan B, just in case. Alternatively, find a couple more candidates in advance as a reserve.
Quality of work
Furthermore, not all hired contractors care about the accomplished work quality. Generic platforms like Upwork or PeoplePerHour don't invest in vetting freelancers listed on their websites. So it's like you bump into someone whose strivings are to earn some quick cash and rapidly pass the project. Reputational risks are not of the utmost importance for such freelancers, as there's always the possibility of creating a new account or working anonymously.
Confidentiality concerns
Unless you sign non-disclosure agreements (NDAs) with freelancers. If privacy concerns you, at Lemon.io, we strongly recommend signing the NDAs before you start working with any new freelancer. Otherwise, be sure: there are certain risks for data leakage. Especially for companies with high conspiracy or classified information.
No Maintenance & Support department
After building a website, mob application, or evolving some tools, the remote developer completes the job and usually does not provide further maintenance. So, if you just hired someone to do the project from scratch and then lose them from your sight, you will have to find other freelancers to occasionally fix the bugs and do the maintenance. And you'll be lucky if the first person you hired did a good job and their code is readable. Otherwise, you end up with awful heritage code no one would be able to maintain and support. Next thing you do then? Start the whole project from scratch and hope it turns out better this time.

Organizational difficulties
Often freelance developers may forget about deadlines, ask for additional working hours, or misunderstand the initial goals. Which will certainly lead to mistakes in building the product. After all, your freelancer is likely to have several clients.
So it's better to stipulate deadlines, not for the last day.
The pros and cons of a development company (vs freelancers)
Hiring the development agencies seems like it will help you clear the schedule and rely on professional assistance. They seem reliable and accountable, like someone ready to comply with work processes and procedures, ensuring security. A successful outsourcing business usually has on board representatives of nearly all professions: the developers of websites/mobile apps, testers, product managers, content makers, designers, analysts, etc.
The operation process is split into small stages (sprints/iterations), along which monitoring, analysis, and required customization are made.
Generally, there are two ways to pay a dev agency: on a "time and material" or "set price" basis. It is also crucial to note that the client transfers the full product's and the source code's rights to the executor.
Advantages of hiring a software development company
Expertise
The development agency has extensive work experience within various sites, ranging from simple visiting card websites and ending with large Internet resources.
Errors made by newcomers or the only person are optimally minimized here. Thanks to team diversity, namely, developers, designers, managers, QAs, etc., they can quickly get into the substance, consult with one another, and find appropriate solutions collectively.
Full package
They offer a whole cycle of services such as consulting, business idea estimating, business analysis, and structuring strategies. That'd be a great plus for startups or self-starting entrepreneurs who have money but don't have the needed knowledge and skills.
Clear deadline
You receive weekly (daily/monthly – depending on the agreed conditions) progress reports.
During the development process, you can monitor the reports, contact the project manager and ask for the necessary refinements.
Caring about their reputation, good software development companies are highly responsive to meet all the agreed deadlines.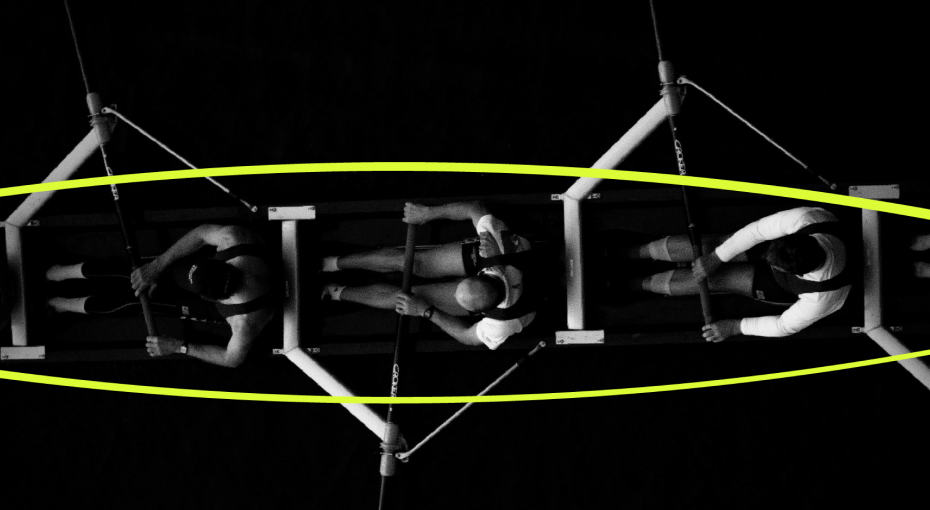 Stability and risks' absence – here's what you obtain by signing an agreement with the software development company. Legislation and open financial records reassure that the work will be definitely done and on time. You also don't have to work out the contract, but only to read/check and sign a prepared contract.
Reputation & customer care
Great outsourcing businesses become great because they do a great job. Everything is simple here: the agencies make a great project/product → they get a lot of positive feedback, and their reputation grows → the number of new customers expands.
A happy customer brings two clients, and the unhappy one steals ten.
Maintenance & support
Qualified companies are focused on building long-term relationships with customers and, of course, upselling more services. Therefore, they are always the first to offer their services for maintaining the created/existing products, fixing bugs, and, if necessary, suggesting any modification of functionality and other refinements.
Disadvantages of hiring a software development company
Higher price
Obviously, the software development team has higher rates than the freelancers you find out there. It makes sense because they make money from the margin they put on their professionals' hourly rates.
Tough legal teams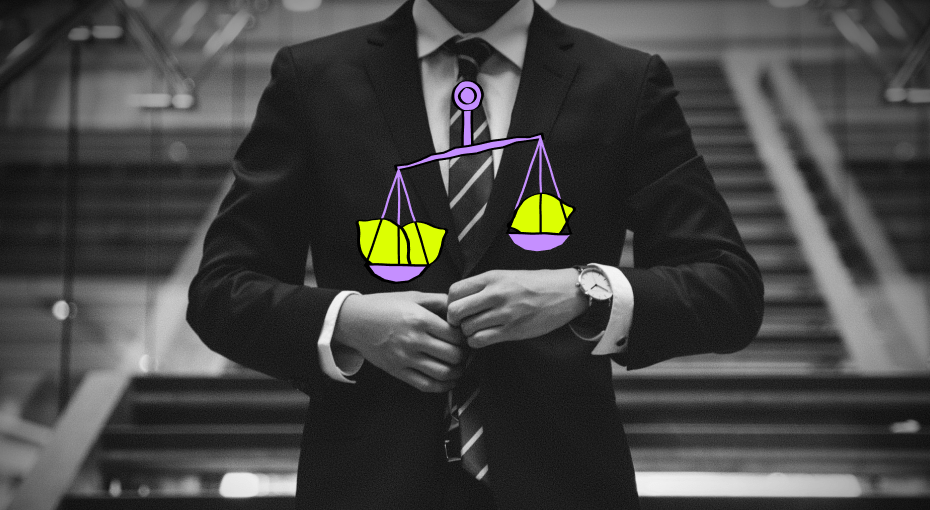 Working with a development outsourcing company can put a lot of restraints on you. First, big businesses have much better legal support and, therefore – more conditions. Chances are, if you're not satisfied with the results they deliver, or, let's say, they fail the deadline, their lawyers turn the case, and you won't be the winner.
Unflexible
Another point is that, as a company, they have corporate rules and policies that may not be convenient for you. For example, if the project they've delivered needs an urgent fix in the middle of the night, you'll be obliged to pay for overtime or the graveyard shift. With a freelancer, you hire anyone who's available right now and pay the usual price.
Poor management kills the benefits
Across all the agencies, the struggle is the same: if the person who serves the task entry points lacks professionalism, the whole project is doomed from the beginning.
The best advice we can give you: before you sign the contract and start working with any dev shop or agency, ensure their account manager is good at their job. The minimum requirements are:
Nice and clear communication;
Transparent workflow;
Decent English;
Quick responses;
If they cannot answer your question, they'll match you up with someone more competent on the topic.
Freelancers vs. agencies: the summary
| | | |
| --- | --- | --- |
| Criteria | Freelancers | Software development team |
| Price | Low rates | High rates |
| Qualification | Expertise in a narrow field | Multi-skilled in different fields |
| Reliability | Can vanish | Won't vanish |
| Task concurrence | Multi-jobbing | Each teammate is responsible for his part of the job |
| Further project performance | No maintenance | Will upsell maintenance |
| Terms | Temporary contract or long-term cooperation | Long-term cooperation |
| Project size | From small to full-time | Perfect for bigger projects |
| Confidentiality | You'll need to sign NDAs if privacy is a concern | NDAs usually included in the contract |
| Timeline | Flexible hours | Time limits or extra payments |
Freelancers vs. development company: whom you should choose
From the very start of this post, we point out that there is no universal response to whether you should cooperate with the freelancer or with a whole development agency.
You can conclude from the represented data that freelance development is cheaper and perfectly fits rapid tasks/small projects, while dev agencies might not be the best choice in such cases. Also, this type of workflow gives you unquestionable freedom to set targets at off-peak times and in the shortest term.
But on the other side, working with independent contractors may become a challenge if you have a scope of work as planned for major projects and don't know how to manage freelancers.
The never-ending battle?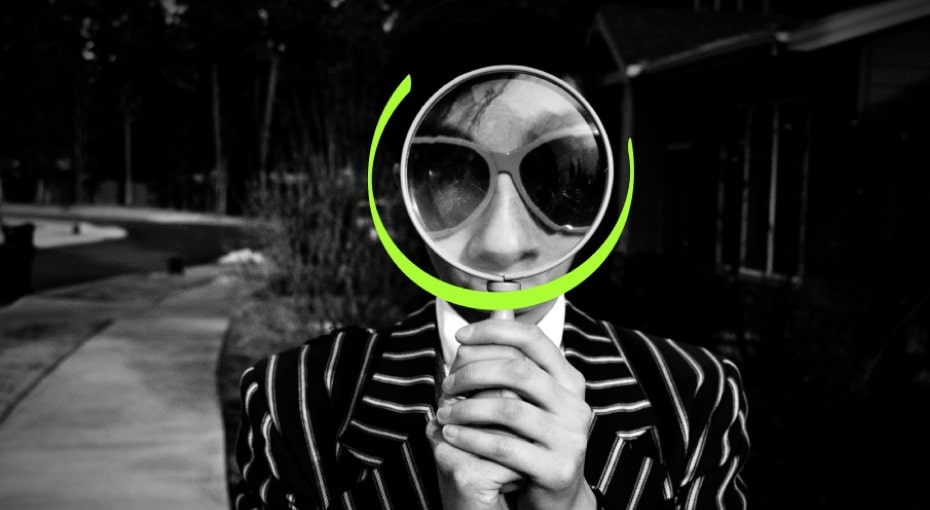 Not really!
Both types of outsourcing your dev tasks we've covered in this article have their ups and downs. Hiring an independent contractor from a vendor that can't guarantee delivery and quality has obvious risks. On the other hand, there is a dilemma, "outsource company vs. freelancers." Suppose you delegate the development to an agency or a big outsourcing company. In that case, you won't have first-hand experience and direct communication with the developers, some things can get lost in translation, you will depend on your manager's professionalism, and you can forget about the flexibility you get with freelancers.
Sounds annoyingly complicated, doesn't it?
Contact us! At Lemon.io, we combine all the benefits of working with freelancers and having a vendor who can ensure your task is completed on time and according to your initial request,
We're going to end the "freelancers versus development company" debates for good.
Thirsty for more? Here's our FAQ!
Is it cheaper to hire freelancers?

Hiring a freelancer can be a cost-effective option for certain tasks or projects, as freelancers generally charge lower rates than full-time employees. However, it is important to carefully consider the specific needs of your project and whether a freelancer is the best fit. In some cases, the cost of hiring a full-time employee may be more cost-effective in the long run, especially if the employee will be working on a long-term project or multiple projects over time.


Why choose a freelancer over an agency?

There are several reasons why a company might choose to hire a freelancer over an agency for a project:
Cost: Freelancers generally charge lower rates than agencies, making them a cost-effective option for certain projects.
Specialized skills: Freelancers often have specialized skills or expertise in a particular area, which can be useful if a company is looking for a specific type of expertise.
Flexibility: Freelancers are generally more flexible than agencies and can often adjust their schedules or workload to meet the project's needs.
Personalized attention: Working with a freelancer can provide a more personalized approach, as the freelancer typically works on the project individually rather than as part of a larger team.
Control: Hiring a freelancer allows a company to have more control over the project and the decision-making process.

Why do companies prefer freelancers?

There are several reasons why companies may prefer to hire freelancers for certain tasks or projects:
Cost: Freelancers generally charge lower rates than full-time employees, making them a cost-effective option for certain projects or tasks.
Specialized skills: Freelancers often have specialized skills or expertise in a particular area, which can be useful if a company is looking for a specific type of expertise.
Flexibility: Freelancers are generally more flexible than full-time employees and can often adjust their schedules or workload to meet the project's needs.
Short-term needs: If a company has a short-term need for a specific skill or expertise, hiring a freelancer may be a more practical solution than hiring a full-time employee.
Control: Hiring a freelancer gives a company more control over the project and the decision-making process.
Overall, companies may prefer to hire freelancers for these reasons. It is important for companies to consider their needs carefully and to choose the option that is the best fit for their specific project.


Is it better to be a freelancer or an agency?

Whether it is better to be a freelancer or an agency will depend on the individual's goals, skills, and circumstances. Here are a few things to consider when deciding whether to be a freelancer or an agency:
Experience and skills: If you have a specific set of skills or expertise that you can offer to clients, you may find success as a freelancer. On the other hand, if you have experience managing teams or projects and are interested in building a business, starting an agency might be a good fit.
Time and resources: Being a freelancer can offer more flexibility and control over your schedule, but it also requires more self-motivation and discipline. On the other hand, running an agency requires more time and resources to manage the business, but it can also offer more stability and potentially higher earnings.
Personal preference: Consider your personal goals and preferences when deciding whether to be a freelancer or an agency. Do you enjoy working independently or as part of a team? Do you prefer a more flexible schedule or a more structured work environment?