Why you want to Hire Ruby on Rails developers on Lemon
Ruby on Rails website development is currently a thing. A readable open-source language (Ruby) combined with a framework to enhance developers' work (Rails) make a powerful tool. When you hire Ruby on Rails developer, you pay for web and application development that is:
Regardless of whether you want Ruby on Rails application development, website creation, or something else, we'd suggest you hire Ruby developers on Lemon.
Why?
You when hiring elsewhere
Everyone's occupied
Ruby on Rails web development is a thing. This is why it can be difficult to hire Ruby on Rails developer in Europe or the United States. Many of them are already contracting, because markets are overheated.
In-house RoR devs ravage your budget
What is the average Ruby developer salary? The real question you should ask yourself is, "What Ruby on Rails developer salary can I afford paying?" Check out the numbers:
Get ready to pay over $120K per year if you want to hire Ruby on Rails developer from the United States.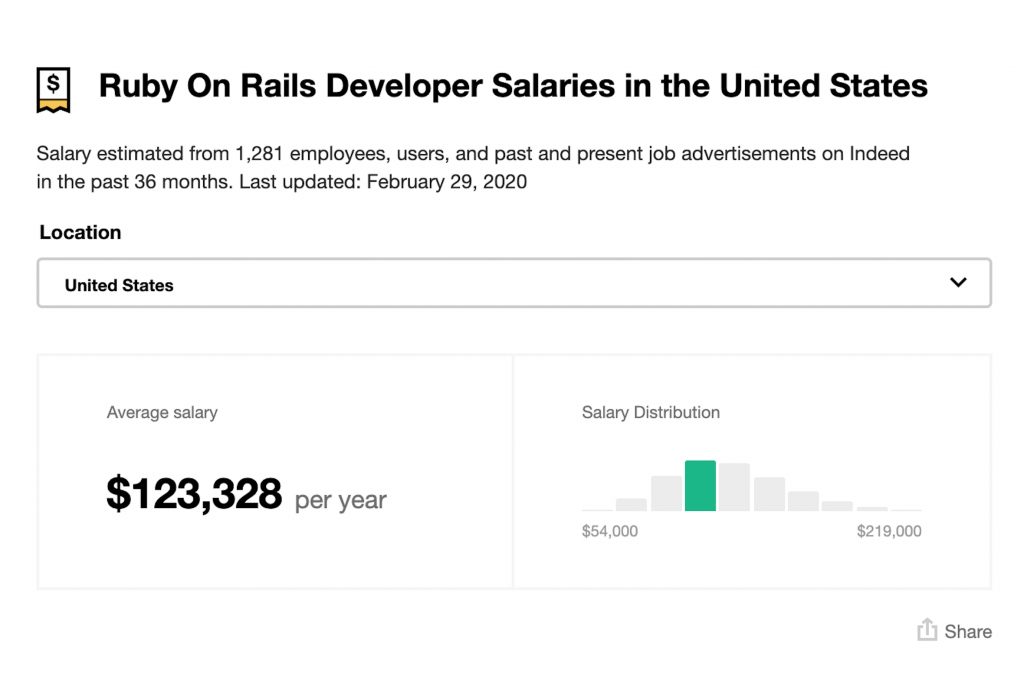 For the alternatives, you can look at the United Kingdom. There, you can hire native English-speaking programmers for about $70K per year: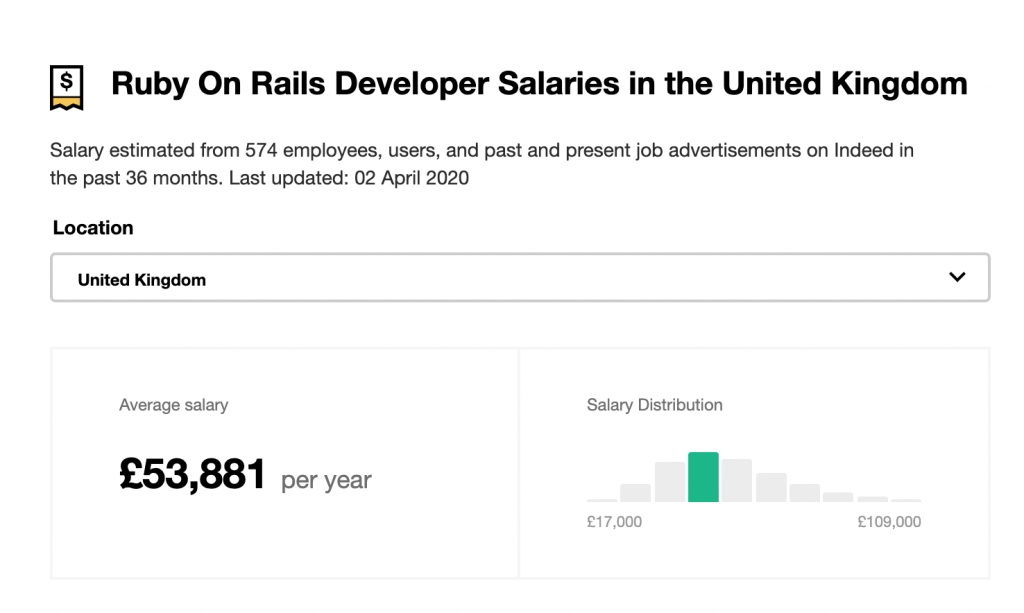 To us, it still looks crazy expensive, though.
Hidden expenses
In-house and remote Ruby developers are reliable and all. But did you consider the additional costs?
Pay FICA taxes (aka Social Security and Medicare taxes)
Pay for your employees' vacations, days-off, sick days, etc.
Pay for the equipment your in-house devs will be working on
Pay office rent. Annually, an average office will cost you up to $15K per employee in New York and $13K in San Francisco. In Atlanta, the annual office rent is $4K per employee.

Even if all your employees work remotely and you don't need an office, other additional costs can still take a huge bite out of your budget.
So, Ruby developer salary is not the only thing you should worry about.
No juniors
Ruby on Rails is a difficult language with a steep learning curve, which is why experienced devs study it more often than newbies. They won't do junior's work for junior Ruby on Rails developer salary for you. If you were planning to hire a Ruby jun for routine tasks, forget it.
They are picky
Many Ruby on Rails developers have little to no time for interviews, test assignments, etc. Your offer must be really worth their time (as they see it).
Cheap alternatives are not an option
Now, you could think that Ruby on Rails development in India or South Asia would be cheaper. But consider this:
1. High-class pros don't work for bread crumbs, regardless of the country. A skilled Indian in-house developer will cost you as much as an American or European one.
2. Low prices often mean poor quality of work. Again, regardless of the country you hire in.

If you hire Ruby on Rails developer from India for like $10 per hour, you will probably receive an unreadable, malfunctioning code. You will have to spend additional money to train the dev, monitor their performance, and will probably end up replacing them.

"Affordable" does not mean "cheap."
Development companies can kill your startup
So, in-house and remote RoR developers are expensive, and hiring them is difficult.
If you think that hiring a Ruby on Rails development company is a better solution, think again. This is what happens when you pay a company for Ruby on Rails development services:
It will budget salaries and staff maintenance costs into the price. You don't have in-house developers – but they do. Their devs like to be paid on time. Also, they like clean offices, coffee breaks with cookies, and corporate parties. Who's paying for all this? You are.
You cannot control the development process directly. You are a client, not an employer. Development companies like to keep their dev routines "under the hood," because this way no one can tell them how to do their job.
You lose direct contact with the dev team. There will be one entry point in your communication with the company: their project manager.
The company will probably charge you for every project iteration or revision. This is normal practice because companies care about their employees getting paid for extra work. Does that make you feel better about paying for everything?
Development companies are great for mature businesses. When you are starting up, you want more affordable solutions.
It's time to hire freelance Ruby on Rails developers
Freelancers are more efficient than in-house devs
You pay them only when there is work to do. No work – no expenses
No additional costs: you pay the agreed price only
Freelance Ruby on Rails developer takes no sick days, no vacations, no days off
They can implement changes to the project on the fly
You discuss project details directly with the contractor
You can check with the freelancer anytime
You can solve reliability concerns easily
When other startup owners hire freelance Ruby on Rails developers, they worry about things:
Safety, or "How do I avoid scammers and hackers?"
Quality, or "How do I find a skilled and reliable freelance developer?"
Here is what we suggest you can do:
Minimize the risks
In brief, to keep your project safe, you want to:

Inquire a freelancer's former employers about their experiences
Never agree to 100% prepayment requests
Not put too much trust into freelancers whose hourly rates are suspiciously low
Create milestone payments
Communicate and pay only via the freelance platform
Use licensed and updated antimalware
Keep personal and sensitive business information secret
Communicate with the freelancer using video calls.
Read more about protecting yourself from scammers in our article, "Freelancer Scam: How to Sport Freelance Scams."

Avoiding cheaters is 50% of the trouble. You also need to know how to distinguish good devs from the bad ones. Check out this guide on hiring freelance developers properly to learn how to find, select, and interview devs.
Completely negate all the disadvantages of working with freelancers
Hire at Lemon.io
The one-stop-shop to hire Ruby on Rails devs
Lemon.io is a platform for vetted web developers. We test freelance developers' coding, communication, and personal skills. After multiple checks, we hire the best ones to assign them to your projects, based on your requirements.
We do the hiring routine for you and do it well.
Lemon.io accommodates developers of many specialties, Ruby on Rails included. Think of us as a hub connecting you to tested devs on demand.
AND
Lemon is perfectly suited for startups, their budgets, and specific needs.
Pick from 350+ software and web engineers
We house hundreds of back-end, front-end, and full-stack developers. Among them, there always will be an available Ruby on Rails developer for you.
Freelancers who never fail you
Lemon has a 4-stage vetting procedure to ensure that. We never hire candidates who fail at any stage.
General check. We make a candidate undergo ESL tests, review their portfolios and stacks
Skill check. We test the candidate's coding skills and their ability to solve problems that emerge during development
Reputation check. We contact the candidate's previous employers and ask them about their experience with the freelancer
Live check. We personally interview the candidate, because some things you can notice only when talking to a person directly.
We replace developers free of charge
If our freelance Ruby on Rails developer does not meet your demands, or cannot continue working on your project, we will replace them free of charge.
All you need to do is to describe your concern or problem with the dev to us. We will find you a perfectly suitable substitute in no time. With this feature, your project is always safe.
Save thousands of dollars
Rates up to $65 tops. This is at least 20-40% less than average hourly rates in North America, according to Codementor. See for yourself:
This is how we keep our prices affordable
We work with Eastern European freelance developers. Costs of living in Eastern Europe are about 40% lower than in the United States, hence the rates. On the other hand, the work ethic and professional mentality are the same.
Find your perfect match within hours
We will find a perfectly suiting freelance Ruby on Rails developer for your project in 24 hours or less
You can trust our experience. 98% of our customers agree to work with the first match we offer and are satisfied with the results
More satisfying than matching on Tinder
TL;DR
Our prices are 40 to 50% lower than some of our bigger competitors have. 
Our prices are 40% lower than average hourly rates in the US
Super fast and precise matching within 24 hours or less
Startup savior guarantee: freelancer replacement + $100 bonus if you choose to not work with us
Highly skilled freelance developers who are always available.
Match me with my RoR developer.