Hire Android App Developers for Your Project in 2022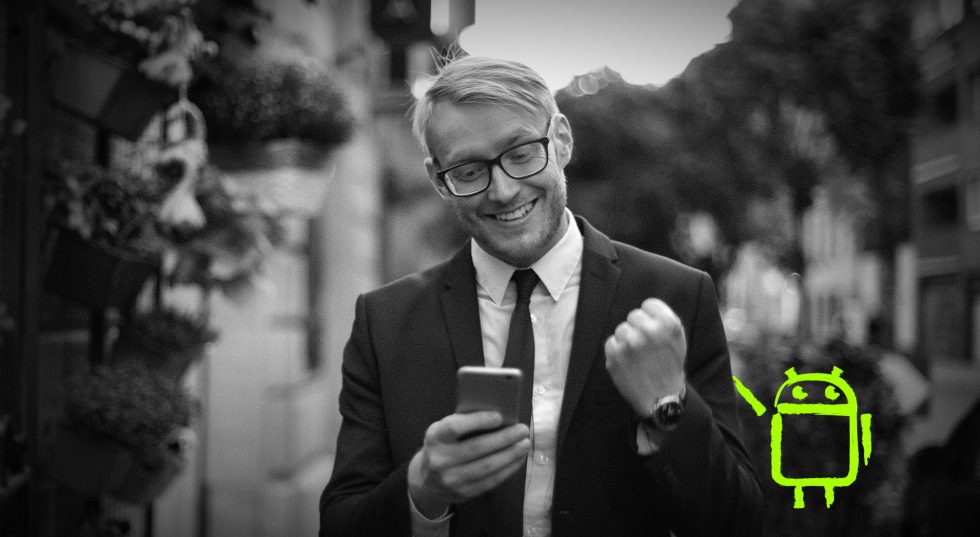 We know where to hire Android developers who will help you keep app development costs in check. Android app development services have never been more affordable. Hire now!
Igor G.
// senior mobile developer
Igor has been an experienced Android developer in the industry since 2008. He would be valuable to your project as a developer or a team/tech lead.
Huseyin B.
// strong middle mobile developer
Huseyin is a mobile developer who knows everything of his job. He's been coding for 7 years, and his primary expertise is Android. Open to new challenges.
Florin M.
// senior mobile developer
Florin is a passionate dev with 9+ years of experience. His solid hard skills are perfectly combined with business-oriented thinking and communication talents.
Vasyl B.
// senior sofware engineer
Vasyl has 15 years of experience, 10 of which he'd given to iOS & Android. Mobile development is his biggest passion. He's ready for any mobile project that boosts his experience.
Is it possible to find Android developers who won't devastate your budget?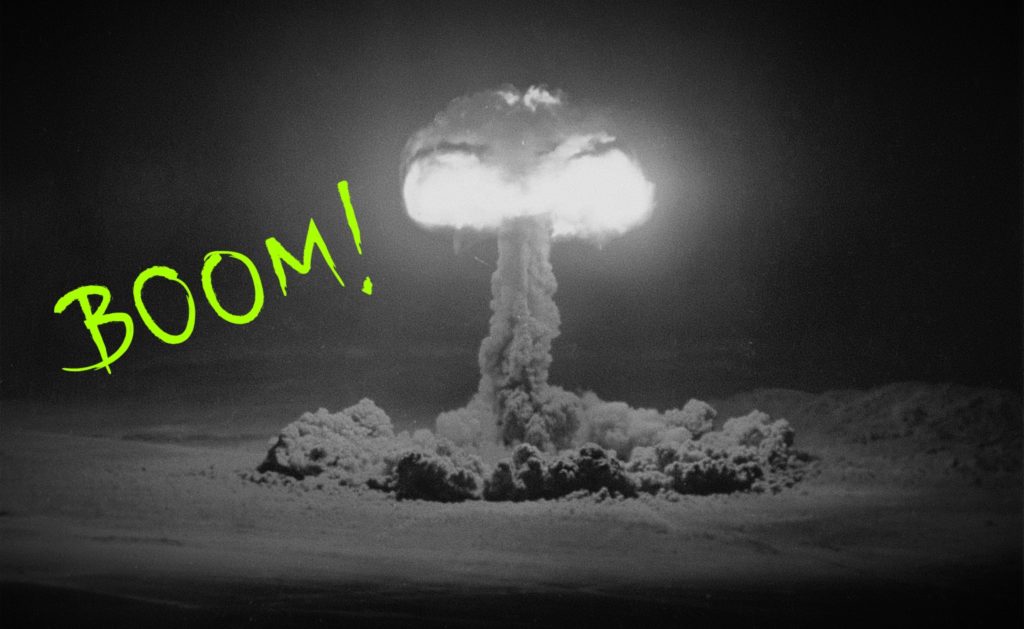 An average person spends around 3 hours 40 minutes on their phone every day. Applications take the lion's share of this time: users spend only 20 minutes outside apps. This means that you do want an app if you are to engage new customers and retain the old ones.
The only three questions you need to answer first are:
How much does Android app development cost?
Where to find Android programmers with decent experience and can-do attitude?
How to hire Android app developers who know their stuff?
For answers, just read on.
Android app development costs a lot
You don't have to be Donald Trump to afford Android app development, but it would help. For a startup, the price of an Android application even without additional costs can be overwhelming:
Online app cost calculators can show prices up to $500K.
The more features an app has, the higher the price is. An app's type, design, databases used, number of integrations, and other factors contribute to the final cost greatly.
Typically, a small business app with basic eCommerce integration and essential features will cost you around $10K.
This is if you manage to find Android developers whose salaries won't ravage your budget.
Can you afford to pay an Android developer salary in the US?
Entry-level Android developer salary
Android app development is in high demand, and so even juniors expect that you pay them quite a lot.
In New York, you will have to pay entry-level Android devs around $75K per year.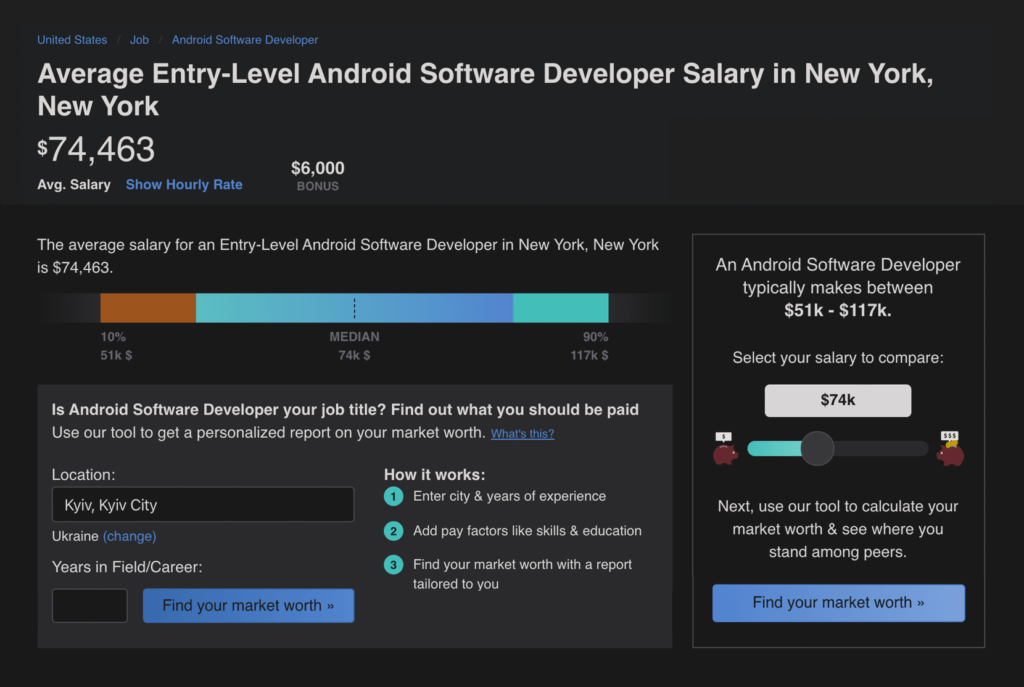 Closer to Silicon Valley, annual rates get even higher: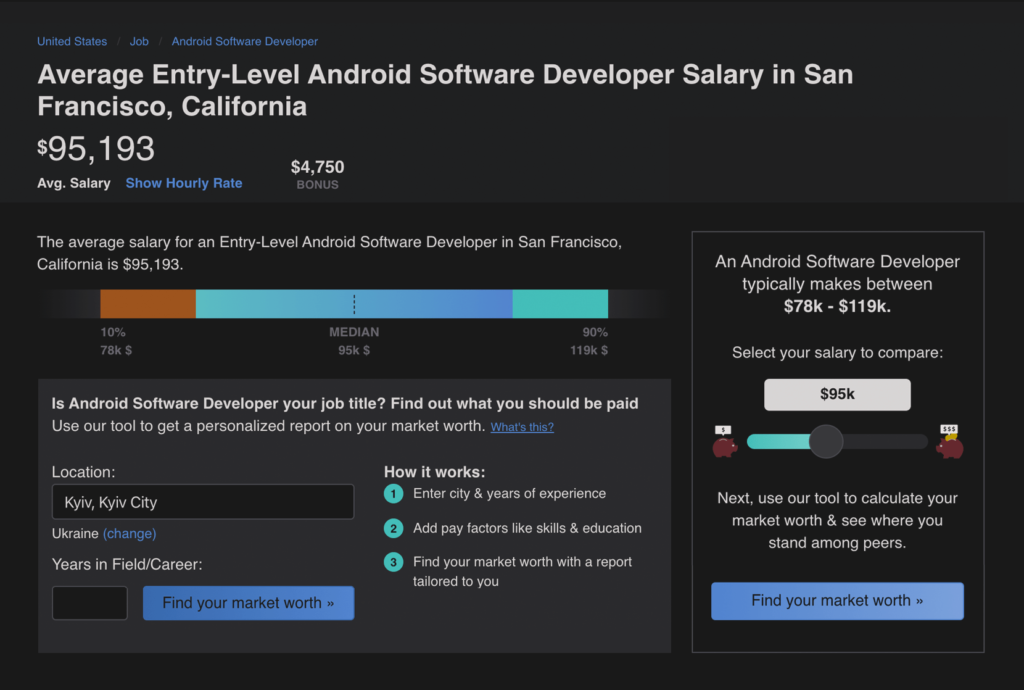 $95K per year for a junior? Can you really afford to pay that much?
If you try looking for an English-speaking Android developer overseas, the United Kingdom could be your first thought.
But, the prices there are high too.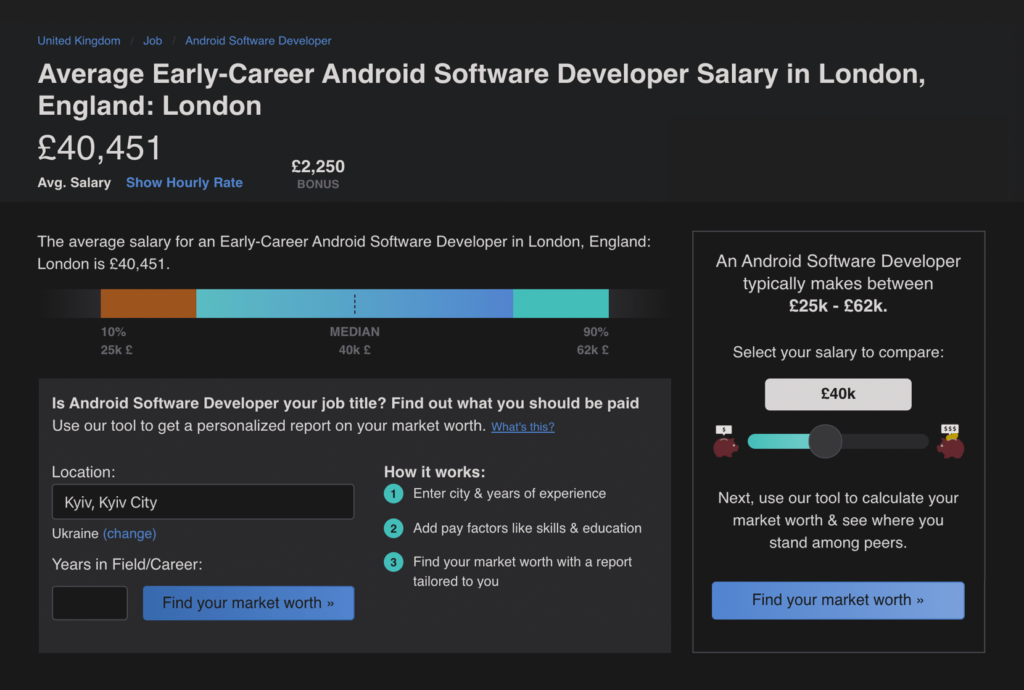 Mid-level Android developer salary
If you are looking for more experienced Android developers, get ready to pay up to $150K per year.
In New York, a mid-career Android developer will demand $124K per year.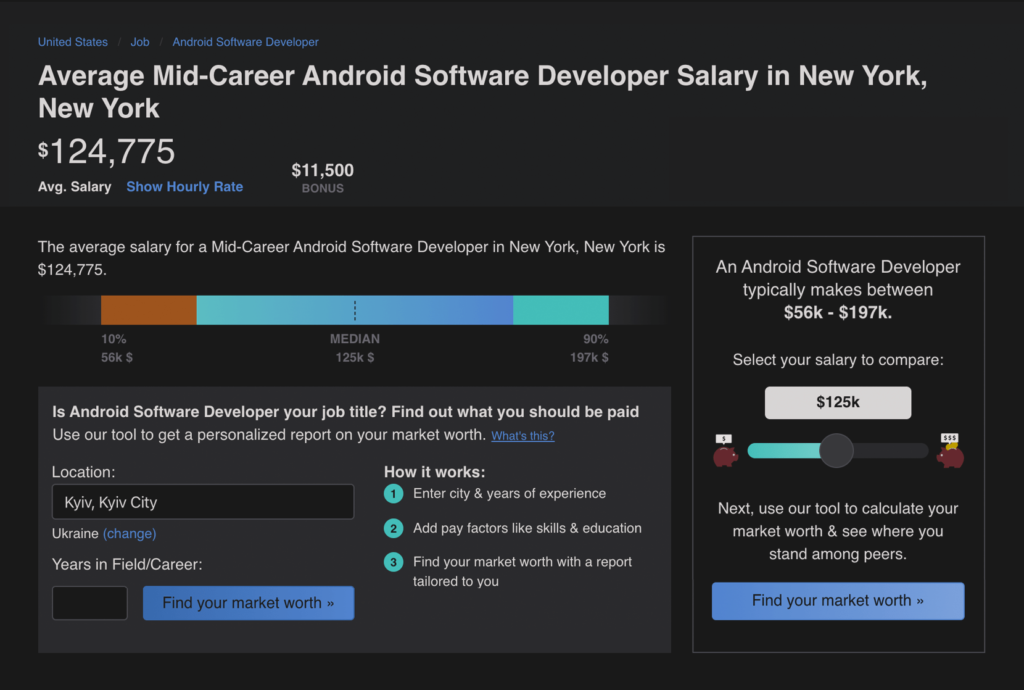 San Francisco Android developers work for the annual salary of $149K.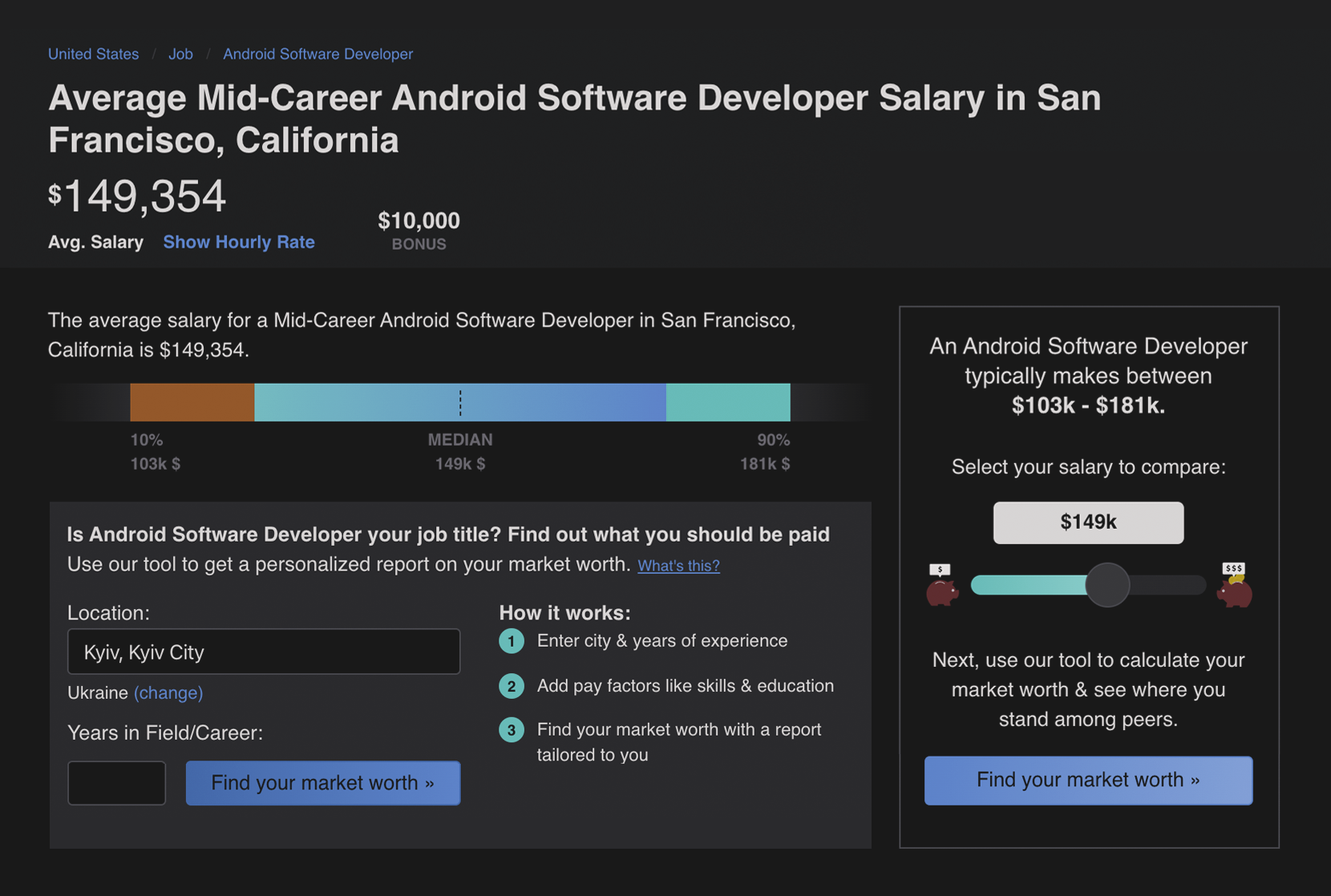 In the United Kingdom, seniors take up to £60K a year. This is $75K annually. More affordable but still too expensive.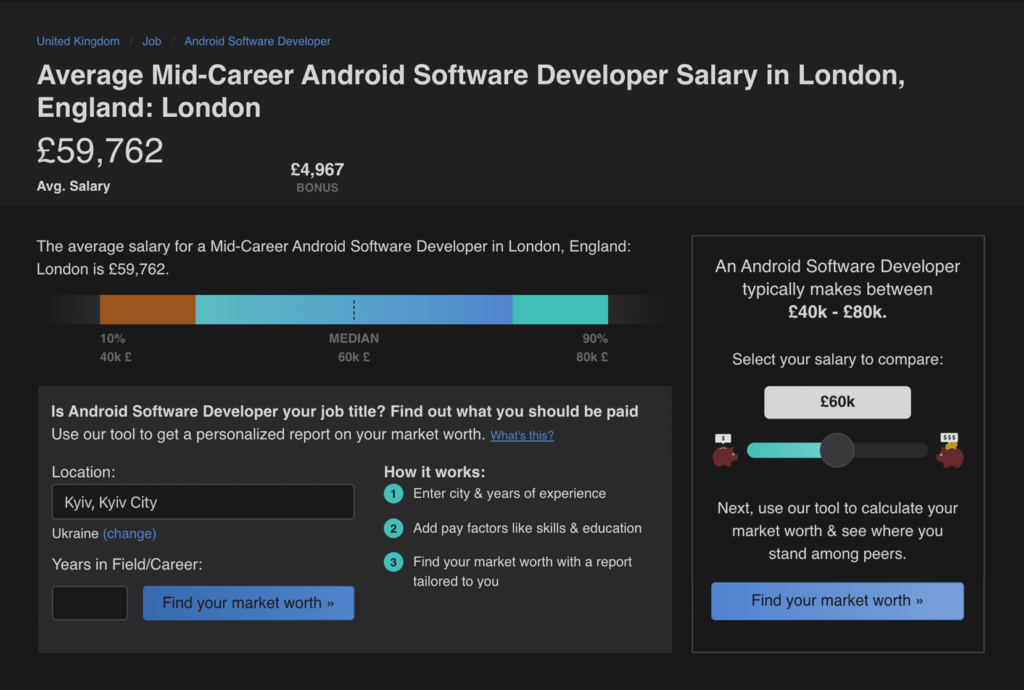 Now you have a dev's annual salary adding up to the initial prices of the application. If you are hiring in the United States, here are the additional costs you will have to budget to find Android developers:
Social Security and Medicare taxes (aka FICA taxes)

Equipment

Paid vacations and sick days

Office rent. A small reference point for you: renting an office in New York costs, on average, $15K per employee

Unstable workloads. When working with in-house developers, you have to pay them even when there is no work to do.
Android app development companies
Knowing all this, you probably already don't want to hire an Android app development company. This is what happens if you do: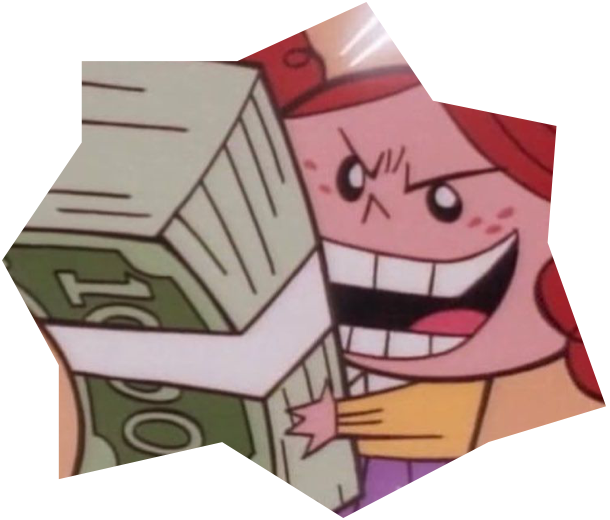 The company needs to sustain all of its in-house employees, from developers to office managers. So, it will budget salaries and staff maintenance costs into the price of developing an app.
The company will charge you for revisions, changes, and corrections you request.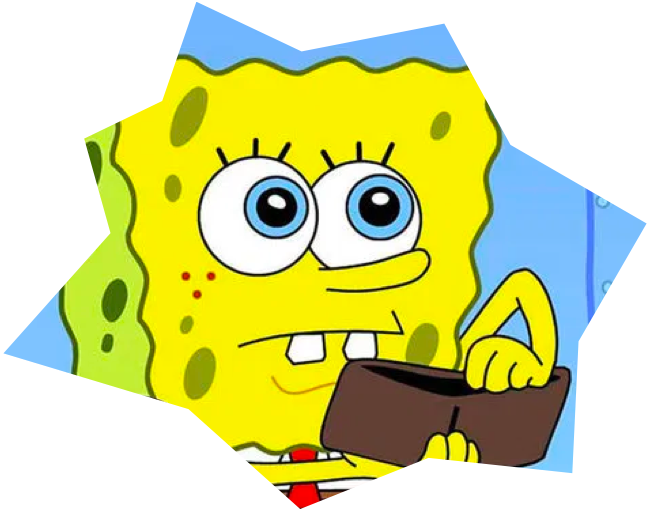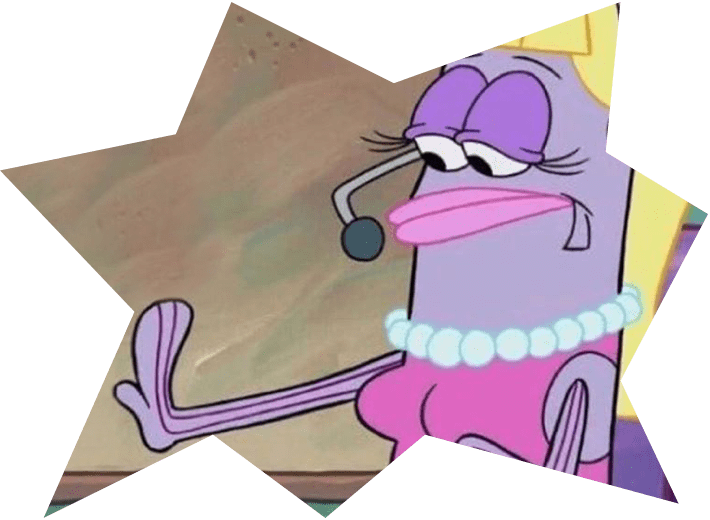 The company will communicate with you through a project manager. You will have no direct access to the development team.
The company won't let you directly monitor and control the development process.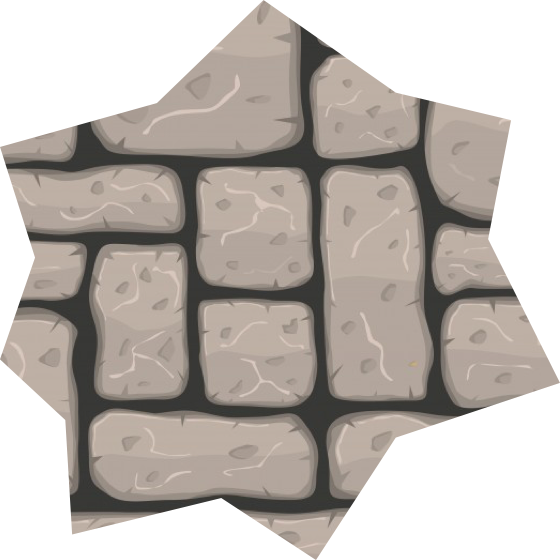 When you grow into a mature business you will be able to afford to hire an Android app development company. While you are a startup, you probably should not do it.
Don't hire Android developers yourself if at least one is true
As a startup, you are constantly under time pressure. Things need to be done «yesterday.» But when you hire Android app developers, you cannot rush and hire just anyone. You must meticulously do the recruiting routine:
Browse job boards, industry-specific resources (GitHub, Stack Overflow) and online marketplaces
Review portfolios and profiles, and read through dozens of CVs
Select the candidates
Interview the candidates
Hand them paid test assignments (more expenses!)
Assess each candidate's performance
Hire and on-board the candidate.
You have little experience in hiring/management
You're a CEO, not an HR manager. Your software engineers suck at interviewing candidates (trust us on this). Your recruiters may not be tech-savvy enough to ensure a candidate's qualification.
Regardless, you will need to address these problems to find a good Android programmer:
You are on a tight budget
This is common for many startups. High salary expectations, hidden expenses, and unexpected emergencies during the course of development can drain your project budget dry.
Where to hire cost-effective Android
developers easily
As it often happens, the solution is right in front of you. If hiring in-house devs does not work that great for you, hire freelance Android developers instead.
Why we advise you to hire freelance Android developers
Unlike in-house employees, freelancers do not require payment when there is little to no work to do. You pay only for the hours they work on your app.
No additional costs or hidden expenses. Pay the price you initially agree upon.
You can find a developer with the exact skill set you've been looking for
Freelancers are mobile and flexible, and can implement project changes on the fly.
You can communicate project requirements, revision requests, concerns, and suggestions directly to the freelancer. No sticky project manager meddling around!
You can monitor the freelancer's performance and progress anytime.
Here is how you negate all the risks of hiring freelancers at once
There are two common concerns regarding freelance app development: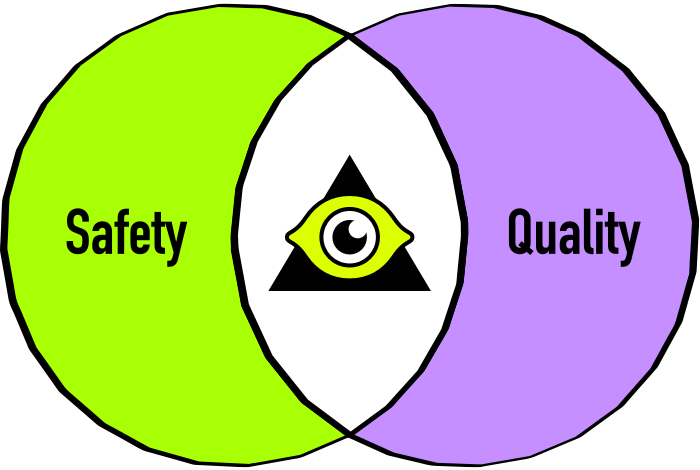 You could have heard stories about scammers and cheaters of all sorts. Or, you heard how someone paid thousands of dollars for half-baked spaghetti code. Or, how a freelancer stole project data and vanished.
Sometimes, things like that do happen.
But, we believe that they occur only if you hire on generic marketplaces such as Upwork, Fiverr, Freelancer, etc.
The ultimate solution to these and other risks of working with freelance Android devs is to hire them on Lemon.io – a platform for vetted developers.
We do the hiring routine for you
Lemon.io specializes in finding and testing freelance developers. We are 100% sure that freelancers who work on our platform can nail any task you have for them.
Why are we so sure of it?
Lemon has a 4-stage QA procedure. We never hire a developer who fails to pass any of the stages.
Only 4 out of 100 candidates pass our hiring procedures.
Candidates who pass all the tests get to our talent pool.
When you leave an order on our website, we pick a freelancer whose skills match your requirements from the pool, and assign them to your project.
Freelance developers who never fail you
Android developers perfect for your particular project
Our matching is super-precise. 98% of our customers successfully finish projects with the first developer we offer them.
We know what you need.
Your project is 100% safe
If you are unsatisfied with the performance of a freelancer we assigned to your project, we will provide you with a free replacement.
Hire a ready-to-work developer in 24 hours
The recruitment process usually takes weeks. We can help you hire in a day, tops.
Safely stay hands-off on the project…
Because our Android developers know what they're doing. Your company already needs you to be in 1000 places at once. Leave app development to our devs.
Or monitor the developer's work directly
Time-tracking
Behold, how our devs ceaselessly toil for you, sire!
Keep an eye on the engagement level of the developer working on your order.
Weekly reporting
Updates mean a lot during Android app development. The process may take months, and as a client, you must know what's going on with your project. Our devs will keep you up to date.
Save hundreds of dollars every day
Lemon.io mostly works with Ukrainian developers. Their hourly rates are about 40% lower than in the United States, due to lower costs of living in Eastern Europe.
The highest hourly rate currently available on Lemon.io is $65.
This alone lets you save hundreds, if not thousands of dollars during the course of development.
TL;DR
We eLEMONate all your Android dev hiring problems.
Our 4-stage vetting process allows us to get the typical problems of hiring Android developers off your back.
If you feel like your hiring/managing experience is not enough to address problems related to hiring Android developers, leave it to us. We know how to do things right.
Difficult to find relevant stack

Lemon solution
Lemon.io houses over 350 developers of different profiles. This number includes developers with skill sets perfectly suitable for Android app development
Large competition

Lemon solution
Our developers are already reserved for you. We always have an available Android developer ready to work on your application.
Limited talent pool and large skill gaps

Lemon solution
Lemon.io houses Android developers of different skill levels. Regardless whether you need a junior for routine tasks or a skilled senior – we've got you covered.
The lack of formal software engineering education

Lemon solution
We house freelancers with and without formal software engineering education. All of them have successfully passed our proficiency tests, and can develop any Android app you want.
Difficult to find relevant stack

Lack of soft skills
Oh, the human touch! We never rely on a pragmatic approach alone, and hire only those devs whom we felt comfortable communicating and working with.