How to manage content production with remote teams
One thing we don't lack in our company is consistency – especially when it comes to working with remote employers, freelancers, and distributed teams. Makes sense for a freelance platform, right?
The same thing goes for our marketing team — we only have one person who chose to work at the office, and that's me. As a content strategist, I'm responsible for the biggest part of our entire marketing — content (duh!), and everything that goes with it.
A few years ago, I became the first marketing hire, gained some initial traction with our experiments on content marketing, and, since then, have hired another in-house writer, PPC manager, marketing assistant that helps with the research, and outsourced to digital agencies and freelancers.
Back then, when we were just figuring out how to produce content at scale, I couldn't find any articles that were written by someone who actually had experience with that kind of thing. So now, when I feel I've finally figured it out, I decided to write one. Just in case you are now at that point in your career where I once was. So, let's start with the basics and layer it up.
Basics of content strategy
First things first – what is content strategy anyways? Simply put, it's the way you plan, create, and distribute content, which constantly turns out to be efficient. There are as many strategies as there are strategists, so there's no point in trying to list all of them here or to craft some kind of a universal content strategy template. I believe that the best content strategy is the one that works and that you've figured out yourself. So, I'll just tell you about the digital content strategy that works for me.
If you want your content to sell, the first thing you should learn about is the customer awareness stages. It's a very basic concept familiar to every marketer. But, being an inpatient millennial myself, I know how often we tend to disregard the basic stuff and aim for the trending growth tactics, hacks, and traffic sources. That doesn't work with content marketing.
You'll have to do this groundwork before you start producing content. Otherwise, you end up with content that took you forever to produce but doesn't convert. I know this because I've made those mistakes. So, if you don't want to do useless work, spend some time strategizing first!
Customer awareness
First of all, you'll need some kind of content strategy map. In this regard, a great place to start is learning about your customers' journeys. Every person that faces a problem your business solves goes through 4 awareness stages:
Completely unaware;
Problem-aware;
Solution-aware;
Product-aware.
At each stage, your prospective customers will have their specific needs, interests, behaviors, and, most importantly, will search for different information and consume different types of content. I'll give you an example.
Let's say, you're an owner of a digital marketing agency, and you're the best at managing Facebook ads for small local restaurants. Naturally, your target audience is the owners of local restaurants, who want to get more clients. And one of them is Jeff.
Jeff inherited the restaurant from his dad who's been running the place for the past 40 years, had many loyal customers who enjoyed his tiny diner and comfort food.
But Jeff wanted to do things differently, and chase his passion for the environment, so the restaurant that used to serve all-day diabetes is now gluten-free and vegan. Another big change that came to the restaurant with Jeff, is that regulars are not a thing anymore.
So, Jeff needs to find new customers, but he has no idea where to start, and to be honest, so frustrated, he is still a little bit in denial. At this moment, Jeff is completely unaware.
A month after the re-opening, Jeff's high-school friend, Sarah, comes to the restaurant. They haven't seen each other in years. Sarah is now a marketer who works for an ocean-cleaning startup in Silicon Valley, and she absolutely loves Jeff's idea and the food. She says it's a shame the place isn't yet packed with the customers and asks Jeff if he has done any marketing yet.
Jeff feels slightly embarrassed. Having no clues on how to create a content strategy, he says he has done some advertising but tries to escape the conversation because he knows that the only marketing thing he'd done so far was buying a sandwich board.
When Sarah leaves, Jeff googles "marketing for restaurants", and clicks on the first article he sees: "25 marketing strategies for local restaurants". Now Jeff is problem-aware.
From that listicle, Jeff learns about Facebook ads and all the targeting options they have and thinks to himself that's probably a great way to promote the new restaurant since he'd be able to show his ads to the right audience: vegans and clean eaters who live or work in a 5-mile radius.
But Jeff doesn't have any experience with digital marketing and wants to focus on his job as a chef and restaurant manager, so he needs to find a way to do it without getting his own hands dirty. At this point, he decides to find a local digital agency in Queens.
Now Jeff, our solution-aware prospect, will be googling "best digital agencies in Queens" and will be clicking either on the lists of digital agencies, or their landing pages.
After a bit of research, Jeff narrows down to three options: you and two other competitors. He's made it all the way through to being a product-aware lead. Now his only concern is which agency is better, and he will be using search queries that follow one of these formulas:
"company X vs company Y"
"company X competitors"
"what's better company X or company Y"
"differences between company X and company Y"
"company X and company Y" comparison".
Learning about how your customers' journey goes and what they do, what they look for, and which competitors they compare you to, is the key to building a killer content strategy. Your most important task is to create content that reflects customers' actions. And if you don't yet know your customers well enough to make the assumptions, pick a few people, ask them for an interview, and find out all the information you need from them directly.
Now, let's analyze some of the key elements of the content marketing strategy framework I developed for myself.
Where to start
It's always a good idea to pick the low-hanging fruit to gain the initial traction that can keep you going while you're figuring out the more complicated parts. If you decide to follow the tactic I'm describing, you should be looking at the bottom of the awareness funnel.
The more aware your lead is — the more likely they are to convert. Our best-converting leads come from the content designed for customers in the last two stages of awareness: solution-aware and product-aware. In other words, we've become very good at converting those who are looking for alternatives to their current vendor, and those who are looking for the best option in the category of freelance platforms.
Gradually, when you feel you've produced enough content to cover all the topics which might be interesting to someone who's product-aware, you can shift to the earlier stages. That way, your customer acquisition machine will always be running.
Core content & distribution
In the perfect world, your content development strategy should be built around producing content for each awareness stage and make it visible to your prospective leads throughout their journey.
For that, you will need two types of content: core content published through owned media (your website) and distributional content. Content distribution definition is simple: it's everything you publish on social media, industry websites, personal blogs, and other content distribution channels. As for the core content, it serves one main purpose — to help you gather the target audience and leads you can either approach through direct channels or remarketing.
For these purposes, you can do one of these things: lead your website visitors to sign up for a newsletter or blog updates, make them opt-in for a free trial, produce gated content, or simply gather audiences with tracking pixels.
Content marketing distribution helps you gain the initial traction, get some referral and social traffic, and strengthen your SEO positions.
10/100 content rule
Although, both of the above-mentioned types of content are equally important, for every piece of core content you should produce at least x10 distributional content. The more — the better.
The most common mistake we see other businesses do with their content marketing strategy is not producing enough distributional content. Content marketing strategy only starts with your blog, but for sure doesn't end there.
Pipeline
I love simple solutions that still work when you don't look at them and can be scaled. And that's exactly why I think every content strategist, or whoever is in charge of content marketing at your company, should start their work with defining the content pipeline.
Your pipeline is one of the major elements of content strategy. It should reflect the step-by-step process you follow for content production starting with an idea for content production, continuing to writing and editing, and all the way to the last piece of distributional content you create.
For better cooperation, especially when it comes to remote, distributed, or freelance teams, I strongly recommend using a task management tool. Having a variety of content strategy tools is extremely important, but, to be honest, ever since I started, I have never tried using anything except Trello for only one reason: it does the job. It's very simple and lets you create as many task lists as you want, which is the best thing for keeping track of the process, especially when you have to manage several people at once.
For example, here's how our process looks now:
Content strategist researches topics for core content and adds them to the backlog with a short description;
One of the content writers reviews the topic. If they have enough expertise to write the article on their own, they write a pitch. If they don't, they either ask one of the in-house experts for an interview or ask the strategist to write the pitch for them;
Strategist approves (or writes) the pitch;
A content writer creates the draft;
An editor (or whoever plays this role in your company) reviews the draft, and highlights the parts that need to be rewritten and corrects the mistakes;
The content writer makes all the necessary edits and publishes the piece;
Social media manager writes the posts for Facebook, Twitter, LinkedIn, Quora, Reddit, and whatever other channels you prefer;
Content writers rewrite content for guest posts and Medium publications.
Of course, some of the content you are going to create will require additional work and out-of-the-box thinking. But if you're only starting out with content marketing, and you need fast and significant results, I highly recommend a simple and clear conveyor-belt-type process that's going to be easy to scale even in case of a bus factor situation.
And it takes literally less than a minute to create a self-explanatory Trello board that will make your process transparent and accessible for every team member.
Pro tip: at Lemon.io, we attach all the files and links to the associated Trello cards. That way our content pipeline doesn't only serve as a convenient management tool but also turns into the best filing system I've ever seen in my entire life.
Pitches
If your audience is a demanding one (like ours) the quality of content can't be underestimated. And, trust my experience, finding a great writer who is also an expert in your niche is not only expensive, it's difficult even if the money isn't an issue.
Our solution was to aim for good writers and help them with the research. That's how pitches became the most important part of our content marketing strategy checklist.
There are a few rules to a good pitch.
Rule 1
Use collaborative software like Google docs or similar. Real-time co-operation is crucial.
Rule 2
Outline the structure. Every good article needs to have a logical structure that makes your texts easier to read and helps SEO.
Here's how to make an outline visible in Google Docs: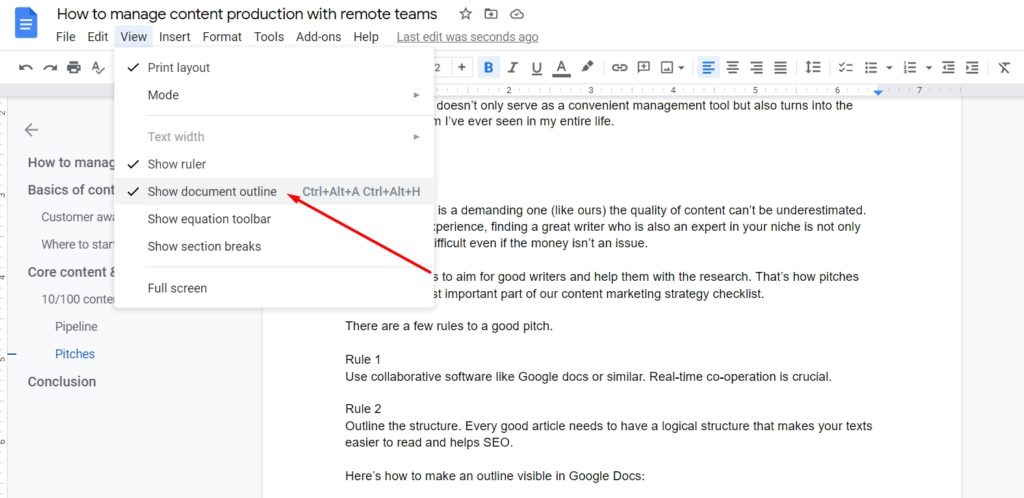 Rule 3
Use h1-h6 headings to make your article's structure more logical. For example, this is how I would arrange a comparison article on two different cars: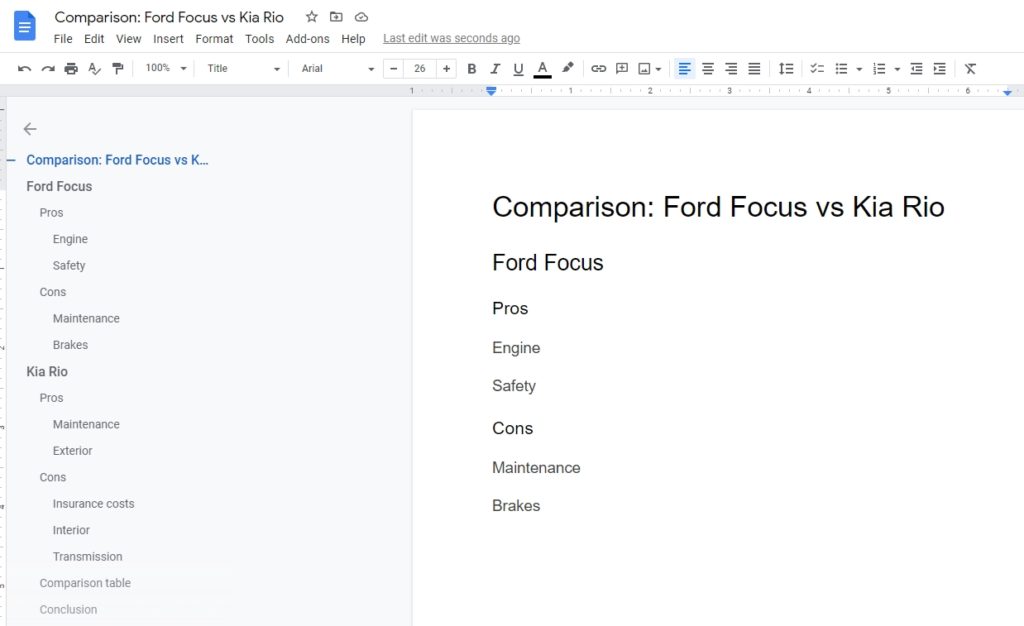 You can find the headings formatting options in this menu: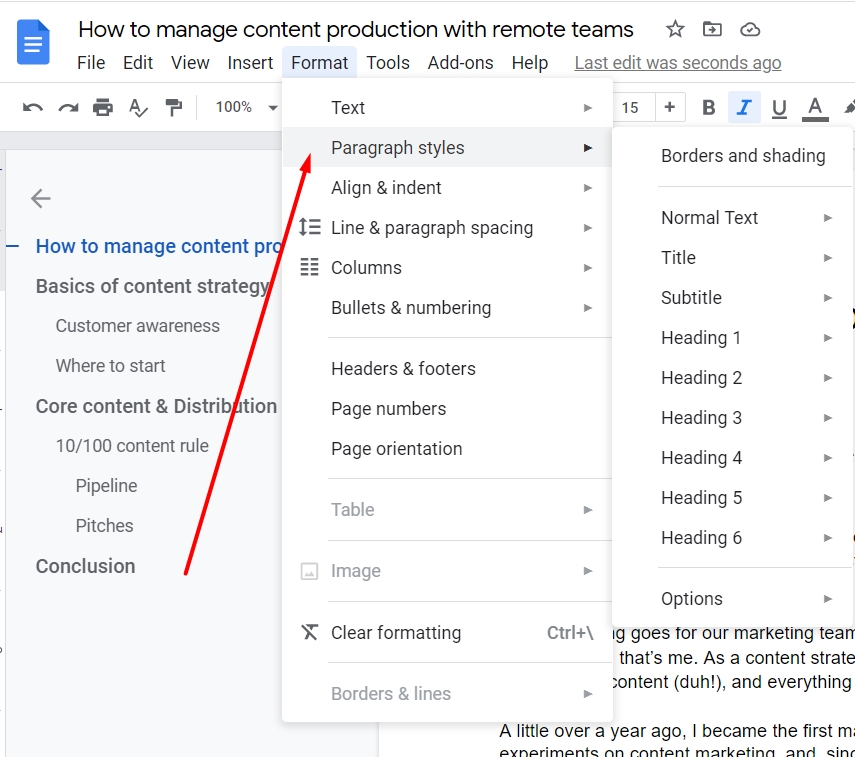 Rule 4
Once you come up with a doc structure and outline, expand your pitch to include a short description for every separate paragraph. One to three sentences is enough to describe the main idea you want to pursue in the passage, and the person reviewing your pitch will be able to comment and add something important or bring to your attention something that might have slipped.
Rule 5
Use references. If you find a great article on the topic you're covering, don't be afraid to use that content in your pitch or even the article itself. My only kind request is to, please, include the link to all the original content you reference. That's the honest way.
Rule 6
Do the keyword research, and list all the keywords you want to use within the article in the pitch.
Conclusion
To sum up, here's how your content marketing strategy framework should look like:
Figure out the point of a customer journey at which your target audience is currently at. As a tip: the closer to the bottom of the awareness funnel your customer is, the more likely they are to convert. Typical content strategy deliverables include docs with the description of your customers' personas, timelines, and content audit results.
Define the work process pipeline. Create some sort of a content marketing strategy guide for each team member involved in content production, so that they knew who's responsible for what.
Create pitches for your core content articles, or delegate this task to your writers, if they are competent enough.
Create distribution content for social media.
Post and share your content, and analyze the results and feedback. Based on them, make corrections to your content strategy.
That's how we create every content piece that goes through our marketing team. A thoroughly designed content strategy plan is the guide that will take you through all stages of content production. I hope you find at least some of the lifehacks useful. And if you have something to share, we're always excited about any ideas that can help us work better and be happier, so drop us a message.