10 interesting newsletters for CTOs and software engineering leaders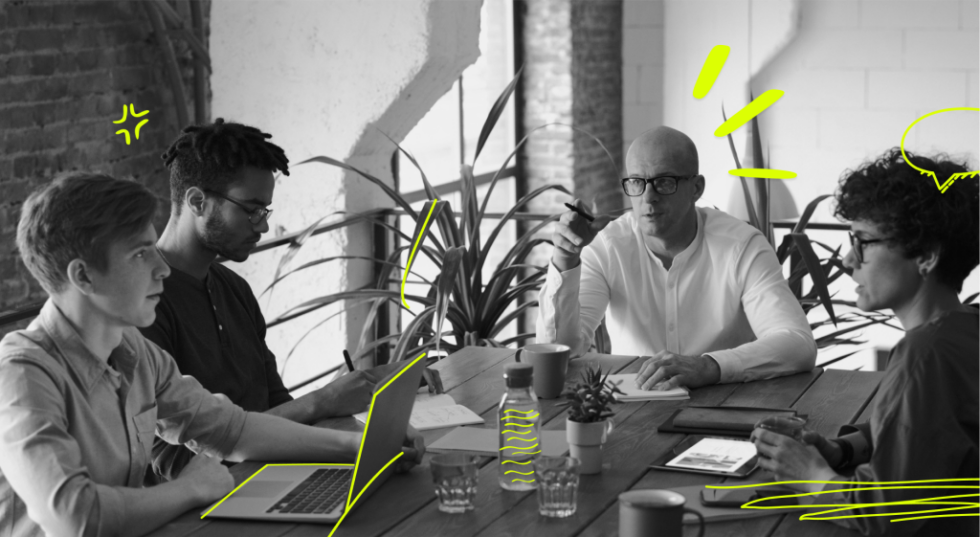 If you are a CTO, engineering manager, or software engineering leader, you probably have too much on your plate. Hiring, onboarding, planning, and delivering products take too much time, and I feel your pain (as I'm a CTO myself).

How can you make your work more efficient and stay up-to-date without too many distractions? Try learning from bite-size engineering newsletters crafted by community leaders.

For me, such a strategy turned out to be a huge time-saver. It's always nice to have someone who will provide you with all the needed industry insights, in-depth articles, engineering & tech leadership case studies, CTO best practices, useful engineering tweets, and hot tech news. Especially if this someone is a fellow engineering leader who follows everything in the engineering space.
One day, I questioned myself: if I had to pick only a few engineering-focused newsletters, what would they be?
My list is based on several criteria: usefulness, relevance, authors' expertise, and community feedback. Some newsletters are free, and others cost $10-15 per month, with several free issues for everyone (fair enough).

After putting together all newsletters I like, my co-founder shared those with our Twitter community and got plenty of positive replies. The community definitely liked those newsletters as well!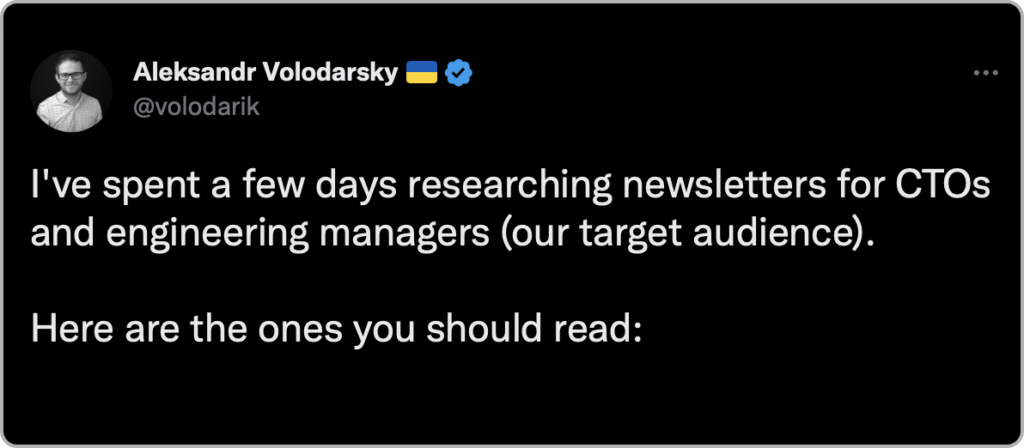 So let's dive deeper into the ten best picks for software engineering managers!
Level Up's newsletter by Patrick Kua provides engineering leaders with advice and industry insights on useful management habits, building a culture of trust, DevOps, software architecture, infrastructure best practices, and much more! Patrick shares his experiences and reflections on software engineering, current technology trends, and industry changes.

When reading the Level Up newsletter, you might find interesting articles on GitHub's Copilot, AI tools, and Slack mobile team practices, as well as recommended posts from CTOs at Calm, Harvest, Adobe, or Spotify. While being an engineering leader myself, I love the topic selection!
Patrick Kua is a seasoned technology leader with 20+ years of experience. His current mission is accelerating the growth of technical leaders through coaching, mentoring, and training. So ​​Patrick is the right person to curate a newsletter for you 🙂

A newsletter and a blog focused on the high-level topics of tech leadership, building engineering teams, engineering velocity, measuring team effectiveness, and conceptual questions (hard work vs. life balance). "Irrational Exuberance" is unlike anything else on the list: every issue is a short essay (not just work-focused) full of thoughtful ideas from Will Larson.
Will is someone you want to learn from. He is currently a Chief Technology Officer at Calm, ex-Stripe, Uber, and Digg. He is also the author of Staff Engineer and An Elegant Puzzle books and an angel investor. The newsletter reflects his strong tech leadership background and lessons learned in the top tech companies.
One of the most interesting issues is Stripe's product-led, developer-centric growth approach and "the flying wedge pattern" in hiring.
That's what Will says about why he decided to create a newsletter: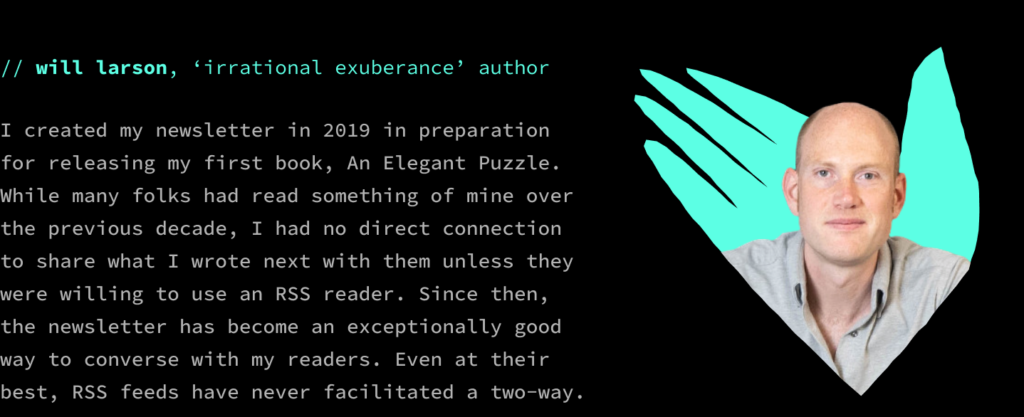 An essential resource for anyone who wants to keep being technical as CTO. "ByteByteGo" offers a perfect mix of deep tech topics, such as system design algorithms, REST API design, CAP theorem, and everything database-related.
Some of the most interesting issues include "What happens when you swipe a credit card?" and "How to scale a website to support millions of users?"
Their author, Alex Xu, is a senior engineering leader with more than a decade in tech. He worked at Oracle, Zynga, Apple, and Twitter and wrote the bestselling book series called 'System Design Interview.'
Each Saturday, Alex Xu sends short-form posts on large-scale system design. Those posts will be a perfect weekend read for technical engineering leaders interested in the topic. The cool part is that Alex makes the content easy to digest, keeping newsletters brief and very nicely designed (with many visuals).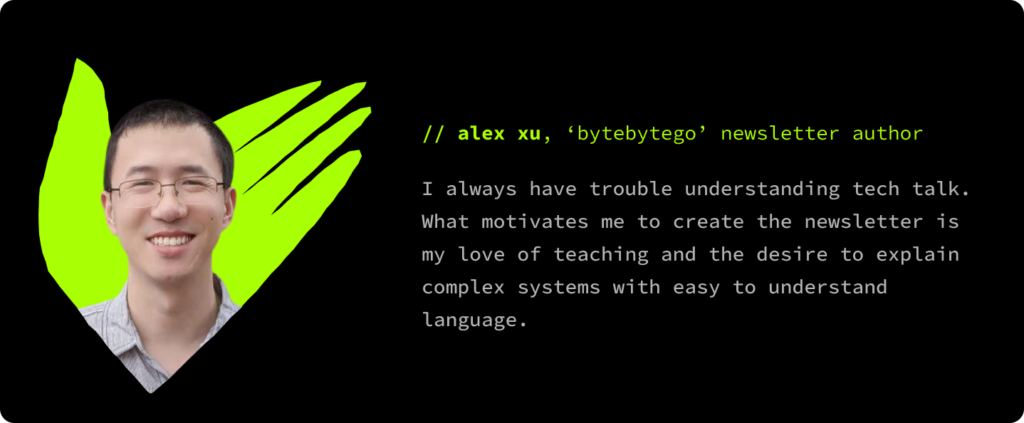 Our Lemon.io team has been following "Refactoring"'s author Luca Rossi for quite a while because his content is unbelievably cool. The topics focus on those engineers who want to jump to the next career level and become better leaders. The newsletter covers everything from running engineering 1:1, allocating devs time for hiring, and workstation setup — to code reviews, developer experience at work, choosing dev tooling, and much more!
It's more like an essay-style newsletter rather than recommended article list (but you can occasionally find some things to read on top of the main topic). "How to Improve Engineering Productivity" and "The True Meaning of Technical Debt" are the must-reads we advise you to check immediately.
Luca also invests time into making every issue look nice. So he adds nicely-designed illustrations, explanatory screenshots, and plenty of emojis. It looks so cool — and covers almost everything a newbie engineering lead might be interested in.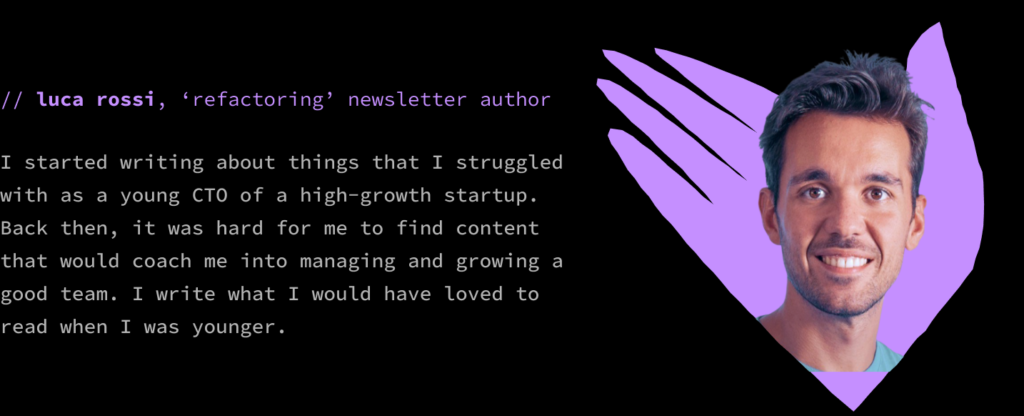 Before you even open this newsletter, take a moment to enjoy its name. Who told engineers are not creative? "Enjoyneering" is such a cool name — and it reflects this newsletter's essence: lessons on how to make tech leadership enjoyable.
"Enjoyneering" is the newsletter about tech people management, and Julien Plée is the perfect person to teach it. Julien is a VP of Engineering at GitGuardian, where he scaled the team from 20 engineers to more than 100! As CTO myself, I know how challenging it is. Julien is also an engineering manager since 2010 and a mentor for the tech community.
"Enjoyneering" covers everything management-related: building trust and credibility, planning your day as an engineering manager, measuring the performance of new hires, devs' onboarding practices, etc. The author shares his insights from GitGuardian, where he now leads the engineering team. All issues are short-form practical essays.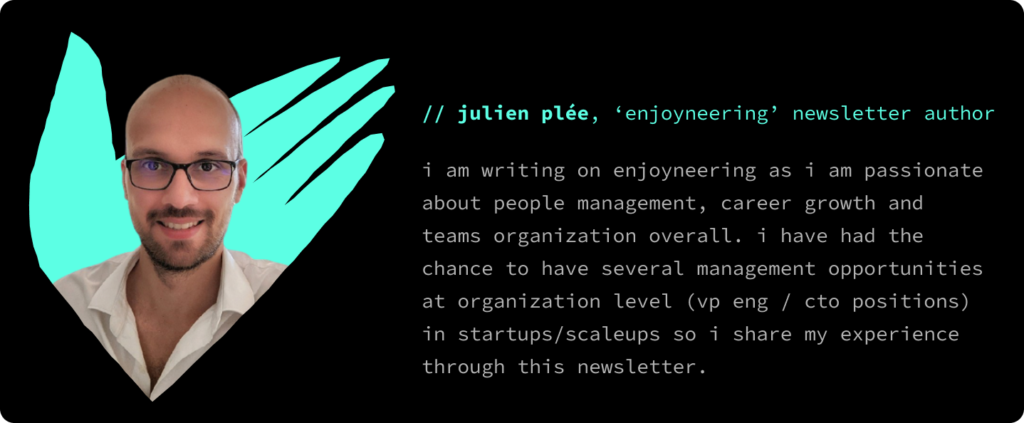 Each week, "Software Lead Weekly" provides links to the top stories around hiring, overcoming CTO challenges as engineering managers, and obtaining new skills. You can find interesting articles on writing for developers, running negotiations, better planning, or building dev communities here. It's a good selection of topics to grow your soft skills.

The newsletter contains interviews with experts, industry insights into the software development process, CTO tips on becoming a better version of yourself, and a section with inspiring tweets where you can grab some bites of community wisdom.
"Software Lead Weekly" is maintained by Oren Ellenbogen — the VP of Engineering at Forter, ex-Commerce Sciences (acquired by Taboola), ex-Delver (acquired by Sears), and ex-Mercury (acquired by HP). He is also a popular writer and an Israeli Air Force ex-conscript.

It's impossible to ignore "The Pragmatic Engineer" as it is the #1 technology newsletter on Substack! It offers a fine selection of long reads covering topics that engineering managers and CTOs would love:
Engineering approaches;
Engineering culture deep-dives;
Hiring, compensation, onboarding, retaining, attrition;
Career;
Working Big Tech and high-growth startups;
Industry insights, patterns, technology trends, and tech news (The Scoop series).
Each newsletter issue contains CTO tips and best practices, interesting engineering-related stories, and everything that happens in the industry (layoffs, rescinded offers, hiring freezes). The author, Gergely Orosz, is an engineering manager (ex-Uber, Skype, Skyscanner) with decades of experience in the industry. He often invites industry leaders to talk about their engineering practices, like Measuring Engineering Efficiency at LinkedIn or The Story of Linear as told by its CTO.
"The Pragmatic Engineer" is packed with useful information for engineering leaders. As Orosz mentions: "Altogether, these newsletters add up to about 5-7 books' worth of information; more than half a million words (550,000 to be more exact.)"
"Tech Manager Weekly" provides a wrap of interesting articles for software developers, engineering leaders, and tech executives. Topics vary from remote culture, building a non-toxic environment, engineering salaries overviews, and giving feedback to the list of useful events and communities.
On top of that, "Tech Manager Weekly" has an occasional essay-style issue and sometimes focuses on sharing conferences where you can participate as a speaker or attendee. So keep an eye out for calls for papers.
It is a great resource for anyone looking to get insights into the software development process, tech news, technology trends, industry insights, and CTO tips on becoming a better tech manager. To sum up, Tech Manager Weekly is a pretty comprehensive resource for engineering leads and CTOs.
"The Engineering Manager" newsletter is written by James Stanier, a software engineering leader, Director of Engineering at Shopify.

It is an essay-style collection of thoughts and stories around engineering management. The newsletter is pretty personal, covering James' thoughts on managing energy providing hands-on tutorials for new managers, and occasional book reviews and self-reflection. Some interesting essays to check out:
The TLDR newsletter has 750,000 readers! This is the biggest newsletter on my list. It is written in a concise and easy-to-understand format, making it perfect for busy tech leaders like me (who need to keep working and deal with my desire to read 300 articles per year).

Dan Ni's newsletter covers the latest technology and software development news around:
science (new discoveries);
futuristic technology (Artificial Intelligence, medical tech, 3D printing);
Programming (useful GitHub Repos, engineering guides, and design posts);
design (interesting posts);
life in startups and big tech (news from Meta, Microsoft, AWS, Apple, and Tesla).
Each issue includes summaries of the latest news and links to relevant articles and resources. It's less engineering-focused but useful for keeping yourself in the news feed.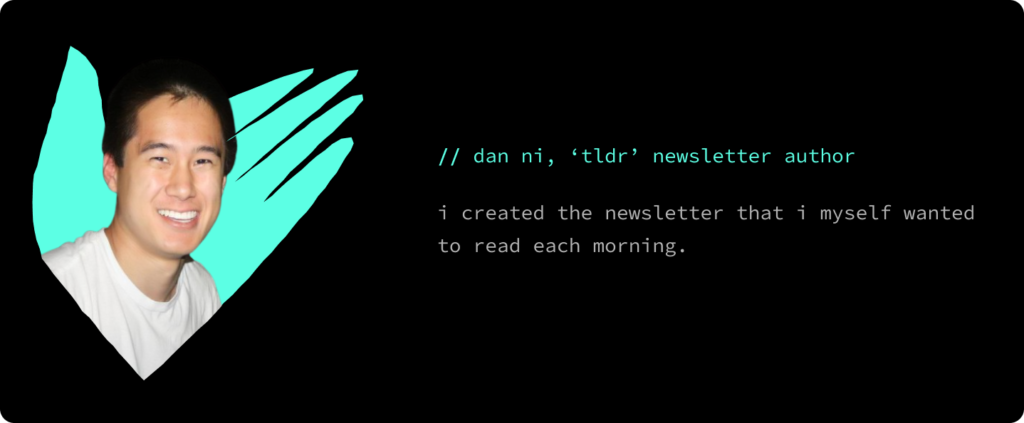 Should you subscribe to these engineering newsletters?
Definitely, yes. All of them are very practical. Their authors share well-curated content and learnings from VPs, CTOs, engineering managers, book authors, and tech community leaders. I would like to learn from those people.

So, if you are a tech leader who wants to create a motivated, high-performing team, a founder who wants to scale your startup or an engineer who wants to level up your skills — you've found a treasure. Pick the ones that meet your current needs — and subscribe!

Should you pay for newsletters?
By paying for them, you reimburse for high-quality content and support their authors simultaneously. Engineering newsletters provide links to the top stories and news and practical industry insights in the article format. The content in these newsletters helps the VPs of Engineering, CTOs, and tech leads build the engineering teams' smoothly and effectively. .
So it's like buying a good book to boost your skills or paying for an online course. Considering how much time it takes to create a newsletter and how much value it brings, it makes sense to pay a fair monthly subscription.
Explore our stacks and pages: ActiveMQ, Helm, Auth0, Ruby on Rails, Vendure